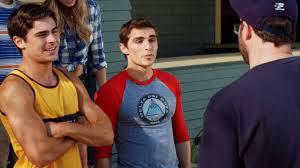 Starring: Seth Rogen, Zac Efron, Rose Byrne, Dave Franco, Christopher Mintz-Plasse, Craig Roberts
Directed by: Nicholas Stoller
Synopsis: A couple with a newborn baby face unexpected difficulties after they are forced to live next to a fraternity house.
First up, I thought Neighbors (or Bad Neighbours as it was called here in the UK, due to our love of a certain Australian day time soap opera) was pretty funny in many places. I can't say it was particularly original or innovative in anyway. I can't say that Seth Rogen played somebody other than Seth Rogen or that it was littered, as is usual with most comedies now, with dick and weed jokes. But it was still very funny. Although, if this was a documentary, never mind the frat house, social services would be in like a shot to take the baby away from Rogen and Byrne, who leave it at home unattended a host of times throughout the movie. At one point they were even going to take it to a rave! Come on!
Not that Neighbors is meant to be a commentary on parenting though of course. It's merely another Rogen-esque comedy which will leave you entertained for the large part whilst wondering when Zac Efron became funny. The trouble is there are so many comedies of a similar nature that you have to really stand out from the crowd now, and I'm not sure Neighbors really does that to a huge extent.
We have been down this road before don't forget. The older guys mix it up with a fraternity thing was also done, better in my opinion, with Old School back in the early noughties. I've not seen that for some time, and I'm sure it had some faults, but I can pretty much remember every stand out moment in it. I'm not sure I will say the same for Neighbors in ten years.
The story goes that Rogen and Byrne (looking hot, hot, hot) have a new baby. Their old neighbours move out and in moves, the horror, a fraternity. They party hard day and night and leave the oldies in a dilemma. On the one hand they like to think they can still party with the best of them, but on the other hand they want their baby to sleep. It all goes well at the start, they make friends with the frat guys, party into the wee small hours (yep, baby home alone) and part on good terms. The trouble starts the next night when despite repeated requests to turn down the volume, they get no respite, so call the police. A war ensues between the two households.
The comedy arises mostly from the 'getting even' situations that both houses find themselves in. Whilst it is quite funny watching it, I must say, writing this a full week after seeing it, that I'm struggling to remember many of the moments I laughed at.
Efron improves every time you see him and has come a long way since the heart-throb days, Rogen is Rogen, Byrne is beautiful and the rest of the cast are solid enough.
Therefore Neighbors is a solid, at once funny and forgettable, movie that will entertain you for ninety minutes, but just don't expect any more than that.