New to little Indiana? Subscribe for free to my RSS feed. Thanks for stopping by!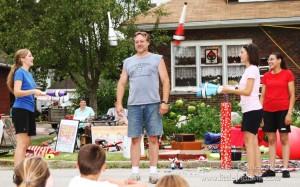 Neighborhood Block Party: Reluctant Helper
Nothing says summer like our neighborhood block party and circus!
The performers are the grandchildren of a neighbor–and are part of a circus club where they live. These girls juggle, ride the unicycle, and then some.
As you can see from the image on the left, they even juggled around a neighbor!
It's quite a site to see–and a really nice way to spend a late summer afternoon and evening in my small Indiana town. Did I mention that everyone brings a side dish and sandwiches are served?
My favorite part? Once the circus is over, everyone gets a chance to try out the stuff!
Watch little Indiana and The Neighborhood Block Party & Circus on YouTube or below.
See the neighborhood block party and circus images as well as other pictures in Indiana on my Flickr, photostream.
And One for You!
If you are my neighbor and want a copy of the entire circus show that is unedited or the above video highlights, please let me know. It's not a problem.
little Indiana: Where to Stay, Play, and Eat in Small Towns in Indiana. Discovering Indiana's best small towns! Now get little Indiana on your Kindle.
New! Offering affordable online advertising for your small Indiana business! little Indiana Businesses is the online presence that you've been looking for.