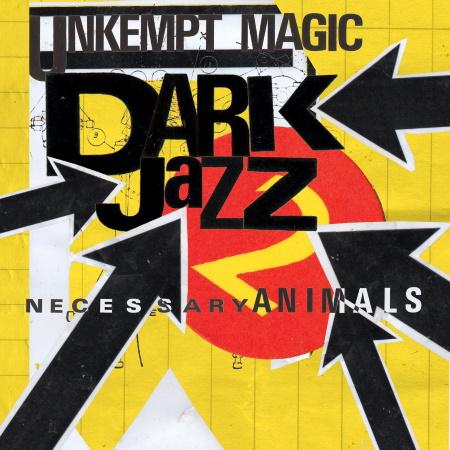 English avant-garde psych supergroup Necessary Animals has a rotating roster of contributors, finding common ground in an anything goes approach to create albums where ambient, downtempo, Krautrock, modern classical, post-rock and jazz find a safe haven and are allowed to interact. Unkempt Magic: Dark Jazz 2 is dominated by veteran sound artist and former Lethal Poor band member Steve North who contributed three tracks: the noise rock meets jazz meets spoken Plaguey Island Waltz and its stripped down sibling Plaguey Island Waltz Dubspace, and the freak funk excursion What a Smile.
Holly Finch's singsong track who is she covers the no man's land between Siouxsie and PJ Harvey, with some backwards masking to make it weird and captivating. Eugene Kalamar's Dengemarsh is a study in less-is-more, with his piano providing the backbone for bass, guitar, more piano, and slightly unhinged vocalizing. The pulsating instrumental version of Weaver of the Wind, with its Sci-Fi effects and Tex Mex horns, was recorded during the Playboy of the Western Word sessions, a James Joyce tribute album to celebrate 100 years of Ulysses.
The album's undisputed peak is the title track. Unkempt Magic is a long-form poem by music journalist, novelist, poet and spoken word performer Richard Cabut covers a lot of ground: it features a girl who listens to shit music, the painter Francis Bacon, having to live in a house with acting up amenities, a nod to "searching for my mainline" from the Velvet Underground's Sister Ray, Facebook, Country & Western, Rorsach tests, monsters, porn magazines, and much, much more. Stockhausen meets Lou Reed and Patti Smith on top of an unrelenting backing track that will clear the room of visitors who have overstayed their welcome.
Necessary Animals:
Ryan Bollard: drums
Richard Cabut: words on "Unkempt Magic"
Fritz Catlin: synth, percussion, wooden flute
Holly Finch: vocal, guitar on "who is she"
Sebastian Greschuk: horns
Lee Igglesden: guitar on "Dengemarsh" and "What a Smile"
Steve North: words, vocals, instruments
Amanda Thompson: keyboards, guitar
Kim Thompsett: vocal on "Dengemarsh"

Unkempt Magic: Dark Jazz 2 is a self-released album (CD, digital). Buy it from their website.
Tracks:
Plaguey Island Waltz
who is she
Dengemarsh
Weaver of the Wind (instrumental)
What a Smile
Unkempt Magic
Plaguey Island Waltz Dubspace
» necessaryanimals.bandcamp.com