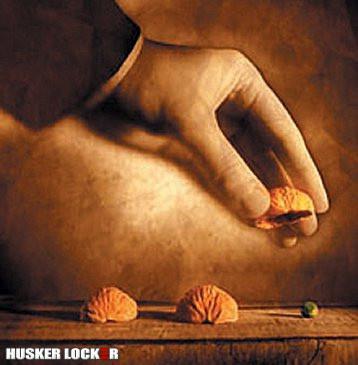 Share this story
By Chris Labenz
With many of Nebraska's key starters from the 2011 season moving on, the Huskers must start laying a foundation that'll carry through spring, summer and fall.
Who'll make the cut following the Spring Game and be in position to start the season as top dogs?
Likely Post-Spring No. 1s
Offensive Tackle:
Jeremiah Sirles, Jr., Tyler Moore, So.
Sirles and Moore both enter the 2012 season with starting experience. Last season, Sirles was the primary backup to Yoshi Hardrick at the left tackle spot, while Moore was in a constant battle with Marcel Jones for the starting right tackle position.
Moore showed flashes of his raw ability, but the coaches had him on a short leash. This was emphasized when he was yanked following a false start penalty on Nebraska's first offensive play against Wisconsin.
In 2012, both of these big men will be called on to shore up the tackle spots on an offensive line that has been inconsistent under Barney Cotton.
Assistant offensive line coach John Garrison has added strong teaching ability to the unit, and has stated that both Sirles and Moore can play either tackle spot if necessary. Look for Sirles to start out on the left side while Moore anchors the right.
Offensive Guard:
Spencer Long, Jr., Seung Hoon Choi, Sr.
Long's may not be a household name, but both players and coaches have stated that the junior guard is the Huskers' best all-around offensive lineman. At this point, he appears to be in the driver's seat to start at left guard.
Choi had fans buzzing about his fiery play following his start against Michigan State in place of Andrew Rodriguez. While he performed well, the Husker walk-on was inconsistent during the rest of the season.
This left many wondering if his starts were an attempt on the part of the coaches to drag some passion out of A-Rod. The Aurora, Nebraska native is acknowledged across the staff as having amazing potential, but for some reason, he lacks the desire to tap into it.
Whatever the reason, he will have to be even more motivated this spring to unseat Choi. In a classic battle of motivation versus apathy, Choi will go into fall camp No. 1 on the depth chart at right guard.
Center:
Cole Pensick, Jr.
Pelini and company find themselves in a tough spot this year with the departure of Mike Caputo. While never a superstar, he possessed strong leadership and was relied on heavily by the other linemen for proper calls.
Despite being aware of Caputo's obvious graduation, Pelini didn't address the center position through recruiting. Apparently, he decided that someone who could anchor the offensive line was already on the roster.
Due to lack of depth in the middle, Cole Pensick will get a strong look for the starting role as he's the only player on the roster with any in-game experience, subbing in for Caputo on rare occasions.
Pensick may not be the most heralded member of Nebraska's offensive line, but he will have to elevate his play immediately for the unit to improve.
Should the spring, summer and fall be beneficial in all aspects including strength and conditioning, look for this to be Nebraska's starting two-deep against Southern Miss:
First String –
LT:
Tyler Moore, So.
LG:
Spencer Long, Jr.
C:
Ryne Reeves, RFr.
RG:
Ryan Klachko, RFr.
RT:
Zach Sterup, RFr.
Second String –
LT:
Jeremiah Sirles, Jr.
LG:
Andrew Rodriguez, Jr.
C:
Cole Pensick, Jr.
RG:
Seung Hoon Choi, Sr.
RT:
Jake Cotton, So.
Nebraska didn't recruit athletes like Reeves, Sterup and Klachko to sit on the bench. If the trio of highly-regarded redshirt freshmen can pick up Tim Beck's system and develop with the strength and conditioning crew, there's no reason that they can't push for serious playing time this fall.
What this projected first group lacks overall experience, they make up for in elite athletic ability. Behind this tremendous bunch, Beck's high-speed system could thrive at getting to the second level of a defense to free up holes for Rex Burkhead and Aaron Green.
In addition, Moore and Sterup have the sort of size, arm length and quickness that give defensive ends fits. They'd provide more than adequate protection for Taylor Martinez on obvious passing downs, an area where the Huskers have severely struggled over the past few seasons.
Reviewing the projected second string, you'll notice names with some experience that can play efficiently enough to justify heavy rotation.
This leads to fresh legs in the fourth quarter, a trait that was common under offensive lines of the Osborne era. This second unit would give with the first teamers consistent challenging battles during practice, increasing competition and forcing starters to be game-ready seven days a week.
It's not to say that Pensick, Choi and Sirles won't earn solid minutes, or that Rodriguez won't finally have the light bulb turn on this spring. Instead, it's a sign that Nebraska has managed to recruit some very talented linemen under Bo Pelini.
Any further excuses cannot continue to justify their poor play during the season. It's time for Nebraska's offensive line to truly earn back the "Pipeline" nickname, and there are players on the roster who have the ability to make that happen.
Much like Andrew Rodriguez, the entire unit has plenty of potential. It's up to the coaching staff to ensure that this translates to results on the field, perhaps stealing some thunder away from Big Ten brother Wisconsin's vaunted big men in the process.
Follow Chris on Twitter:
@chris_labenz
Follow Husker Locker on Twitter:
@huskerlocker
Like us on Facebook:
Official Husker Locker Page
Permanent Link to this Blog Post