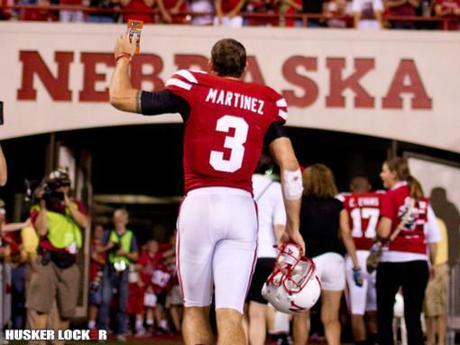 By Brian Towle
John Madden once said, "Winning is a great deodorant." If that's the case, then Nebraska used up a lot of Right Guard last Saturday night. The Fresno State Bulldogs should have a decent season. Derek Carr is going to be a player that the Cornhuskers won't look forward to playing in the coming years, especially in the Silicon Valley.
Pat Hill had his bunch ready to go and it showed early on. However, the second half showed that this Nebraska team can come out and answer the call on both sides of the ball. Granted, there are still some kinks that need to be worked out for this team to head to Indianapolis in December, much less win the Big Ten's first championship game.
Husker fans knew that there were going to be offensive growing pains this year. Regardless of the redundancy in Tim Beck's first half play calling, the second half showcased several playmakers. Kenny Bell, Jamal Turner, Kyler Reed and Quincy Enunwa demonstrated that they're all studs.
Ameer Abdullah likely saved the day with his 100-yard kickoff return. Many fans wanted to give this offense an identity off a 20-play script from the spring. Martinez is learning and continues to slowly improve. There were moments of clarity in the first half, but by game's end, he had statistics that mirrored a performance from the first half of 2010.
There needs to be trust in Tim Beck's system. He did something that hasn't happened in three years in Lincoln. He opened up the playbook and allowed the offense to create its own opportunities. Martinez always has and needs to be an option, not the only option for this offense. Burkhead's a rock Ameer Abdullah's stock is rising.
Kenny Bell displayed a deep threat ability to compliment Kyler Reed and Quincy Enunwa. Jamal Turner is going to be electric if he doesn't lose the ball in the lights. Those alone represents six other options that are available to help this offense. That doesn't count Brandon Kinnie, who is certain to get back to his 2010 ways.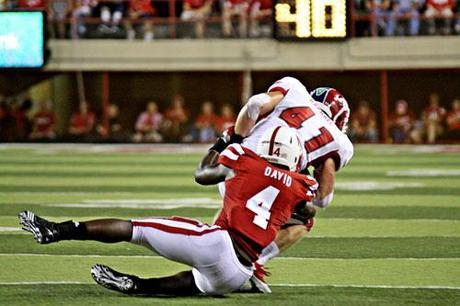 The defense will improve. This season resembles 2008, when the staff and schemes were new. Sure enough, there were growing pains. Losing Alfonzo Dennard hasn't helped, but the experience for Ciante Evans and Andrew Green will pay dividends. Derek Carr was a good test for this secondary, because Dan Persa and Russell Wilson are both accurate and are quick on their feet. Let's not forget that Denard Robinson will likely be watching tape of last Saturday's game.
Some players need to improve, of course. Justin Blatchford needs to step his game up as does Damian Stafford. Stafford had flashes of brilliance, but needs to be more consistent, like former Huskers Dejon Gomes and Eric Hagg. Austin Cassidy had a few mental breakdowns, but he'll rebound. Will Compton and Sean Fisher both played well, but not spectacularly.
The defensive line also played at an average level. If Fresno State was a bad game by Pelini brothers' standards, is the line in Vegas looking temping with a revenge game against Washington coming up? History encourages betting on Nebraska following a poor defensive performance from Pelini's bunch. (Of course, this article mentions it for entertainment purposes only)
Offensively, going against defenses that stack the line of scrimmage seems to be the main problem for this team, so why not use formations that take people out of the box? Perhaps installing play-action for Taylor or using misdirection? Regardless, the bottom line is that when the game clock read all zeroes, Nebraska won.
It was a victory sparked by a stud named Ameer Abdullah, great second half work by Beck, and a Nebraska team's realization that this they can't look forward to anything other than the next play. A triumph that, while not 60 minutes of a Picasso, was better than Monet. Once the pads came off, a 2-0 record is all that mattered.
Follow Brian on Twitter: @btbowling
Follow Husker Locker on Twitter: @huskerlocker
Like us on Facebook: Official Husker Locker Page

Permanent Link to this Blog Post