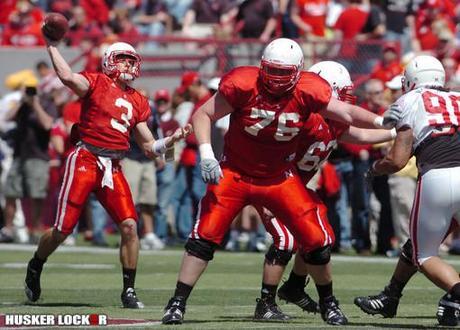 Share this story
By Erin Sorensen
Saturday marks the return of College Football Lite a.k.a. spring practice. Regardless, it is football all the same. What is unique about this period is the opportunity for early competition that carries over into the summer and fall.
Nebraska has several positions up in the air such as at WILL linebacker. David Santos and Alfonzo Whaley will both have the first shot at replacing Lavonte David.
While there are many positions worth keeping their eye on, there is one that may stand out more than the rest – quarterback.
Taylor Martinez will enter the 2012 football season as a legitimate veteran, a junior with two starting seasons under his belt. Spring football is exactly what the quarterback needs to cement his place as No. 1 on the depth chart.
During Tuesday's press conference, head coach Bo Pelini said he feels good about the quarterback position as a whole and where it stands as of now.
He was also not shy to say that Brion Carnes will bring ample competition to the table. "He's going to be fun to watch," Pelini said.
While Carnes may bring and athleticism to the field, the question remains whether he will actually have a legitimate shot at the starting position.
Over the past two years, Martinez has won his spot over the likes of Zac Taylor and Cody Green. Pelini has clearly always had an immense amount of faith in the California native.
By fall, Martinez may find himself in a quarterback controversy thanks to incoming freshman Tommy Armstrong. Until then, Carnes will be the primary threat for Martinez's starting role. Former safety Bronson Marsh will also take snaps, but his chances of replacing T-Magic are remote.
If fans should be grateful for anything, it should be that the rumors of Carnes transferring before spring practice were false. Martinez needs to be pushed now more than ever if he is to truly improve.
Fans want to see more of the rarely-seen Carnes, who gained immense popularity after the 2011 spring game. Pelini speaks higher of Tommie Frazier's cousin these days than he ever has.
It appears that maybe, just maybe, he has a shot at leveling the playing field. However, it is what Pelini says between the votes of confidence that are important to note.
"We have a lot more confidence in Brion than people think," Pelini said last week to the Lincoln Journal Star's Steve Sipple. I sometimes get the feeling that people think we don't have confidence in him. That isn't the case," Pelini said.
"I think Brion's going to be a good player. But he's a young guy. He's still learning, still developing. He was in a new offense last year. Didn't have the experience Taylor had. I think this spring will be big for Brion."
The most notable theme from Pelini's comments is that Carnes' is "a young guy."
Pelini and his staff clearly do have faith in Carnes. However, actions do speak louder than words. For every positive message about the athletic Floridian, there is the visual reminder that Martinez plays the vast majority of actual minutes.
The 2011 season was a challenging one for Martinez. A new offensive coordinator and a new system put the second-year starter in unfamiliar territory.
His opportunities for break-out runs were limited, while his decision-making improved. He continues to add to his experience, which both Pelini and offensive coordinator Tim Beck are excited about.
From what Pelini and Beck say, the gap between No. 1 and No. 2 is smaller than fans think. Is that statement true? Only time will tell.
If anyone were to hedge their bets on the starter coming out of spring, put your money on Taylor Martinez. An improved Carnes will help all involved, but will hold onto the lead role. Truthfully, the veteran's biggest threat wears no jersey.
The biggest obstacle standing between Martinez and immense improvement is the person that stares back at him in the mirror.
Follow Erin on Twitter: @helloerinmarie
Follow Husker Locker on Twitter: @huskerlocker
Like us on Facebook: Official Husker Locker Page
Permanent Link to this Blog Post