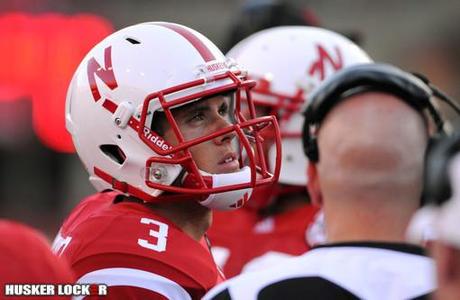 By Brett Baker
Athletes use clichés as often as a ball fake, a drop step or a juke move. Writers try to avoid them, but fail. Clichés are clichés for a reason. They're true, and following Saturday's game, it was clear what a difference a year makes.
A year ago, Nebraska fans were all riding the high off of the electric debut of quarterback Taylor Martinez. His performance against Western Kentucky sparked a wildfire of enthusiasm and expectation. By the end of the season, that wildfire had been doused by two feet of water and expectation had been replaced with uncertainty.
Where's Nebraska, or more perhaps more importantly, where's Martinez after game one? Snap judgment suggests some improvement. With that in mind, here are ten tips for T-Magic as we go forward:
10. Be Progressive. B–E Progressive
Read your progressions better and faster, because it's the basis for any great quarterback. Start at your primary, work down the reads, and take the best option. That happens in two or three seconds, but they are crucial seconds. Great quarterbacks can move a safety with their eyes alone which can open up a seam for big gains with his speed.
9. To Know Your Tight End Is To Love Him:
Kyler Reed was voted to the Big Ten preseason team for a reason. Make him part of the game plan. Phillip Rivers & Tony Romo have made their money by feeding Pro Bowl-caliber tight ends. Do the same and ride Reed all the way to Indianapolis.
8. Hit 'Em in The Nose:
Hall of Fame quarterback Dan Fouts shared a great anecdote: Johnny Unitas was playing out his career during Fouts' rookie year with the San Diego Chargers. Shortly after meeting, Unitas told Fouts to aim for his receivers' faces.
Fouts asked the legend why receivers would catch the ball if they had to do it or get a broken nose. While equipment has certainly improvement since 1973, basic human instinct hasn't. Put a laser on their beak and they'll get their hands up almost involuntarily.
7. Sell It:
One of the great things that Brett Favre did during his career (Yes, he did some great things before his long, slow slide to the middle) was what he did without the ball. After a handoff, he faked a jump pass. It looked silly and he knew that, but it also served a purpose. If he made linebackers freeze for just a second then his running back would have that much more of an advantage.
6. Build Positives:
String together a series of downs where the ball is always moving forward. Lean into the play when going down on a short gain. If you can get two or three yards when no one's open, take them. Be smart and get the ball past the line of scrimmage.
5. Get Classic:
With the return of heavy option, Martinez would be well-advised to find Tom Osborne and ask him for some old game tape. Then he should get some popcorn before watching Turner Gill, Tommy Frazier and Scott Frost until his eyes hurt. The option isn't a play, it's a con game made for defenses.
Doing this requires discipline, repetition and balls of steel. Put all of that together and the option is a pretty lethal weapon in the field general's arsenal. A pitch to Rex Burkhead in the first quarter was a great example of this. Make that play every play & you'll be in the pantheon of legendary Huskers.
4. Be Efficient:
There are hundreds of choices during every play. Sometimes the necessity of this is choosing the path of least resistance. Martinez needs to master how to live to play the next play as well.
3. Footwork, Footwork, Footwork:
This was perhaps the most disappointing part of the quarterback's game on Saturday. It was pretty obvious early on that he hadn't really worked on this during the off season. His feet never settled when he dropped back to pass. He needs look no further that the NFL's current MVP to see what great footwork is about.
Watch Tom Brady's feet in the face of an NFL rush. The guy may as well be trying to catch a cab in downtown Boston, and that's a good thing. There's no wasted energy, effort or motion. With his body, mind, and feet settled, he's able to dissect the secondary. Yes, he's been doing this for a long time, but he had to start somewhere.
2. Find a Rhythm
Martinez has no rhythm when he drops back to pass. A well-executed pass play goes like this: Snap, drop, set and throw. It often seems like Martinez isn't sure what he's to do in the pocket. Bill Parcells use to run a great drill with Drew Bledsoe when the veteran quarterback was holding onto the ball too long.
Bledsoe had to find a steady pace to throw and if he didn't, he'd get an air horn in the ear. The Big Tuna was never known for subtly. What that drill did was instill the speed that his quarterback needed to work at.
1. Leaders Lead:
For all of the knocks against Tim Tebow, the one thing that can never be denied is his leadership ability. It's perhaps the toughest thing to develop in someone that doesn't naturally possess it. At some point, Martinez has to be the guy that his teammates can look to when times are tough. They have to be able to see in the possibility of reaching their goals in him.
This trust has to be both real and earned. Athletes can smell a fraud from a mile away. Martinez's sophomore status has little to with anything. This is his third year at Nebraska. Tebow was a leader when he showed up. Throughout his career, Tommie Frazier was not necessarily a well-liked teammate, but he was the epitome of a leader and respected as such. Martinez can get there, but it has to start now.