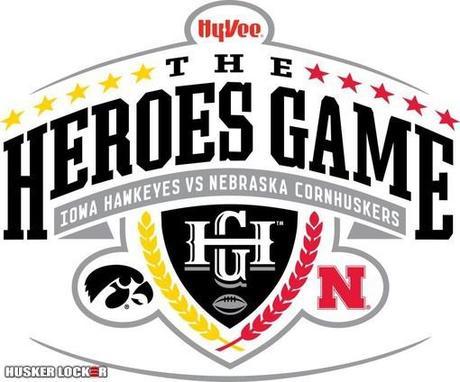 A new day has come for Nebraska traditions and rivalries. The 2:30pm game the day after Thanksgiving is no longer. Colorado and Oklahoma have been traded for a new Big Ten rival. Today, on November 25, 2011, Nebraska faces the University of Iowa at 11am for the first-ever "Heroes Game." It will take time to build this rivalry but it is already off to a strong start. What happens on the field today will definitely determine the rivalries direction, so what should fans be looking for?
1. "Bounce-Back Ability"
Losing to Michigan in Ann Arbor was tough. Walking into last week's game, Nebraska was still able to make it to the Big Ten Championship game with a win over Michigan and a loss for Michigan State. By game's end, those chances were dashed. Michigan quarterback Denard Robinson had successfully picked the Cornhusker defense apart. It was a difficult loss for all those involved.
Today is a chance to redeem that loss. Nebraska has not lost two in a row this season. It is imperative that the team wins big against Iowa. With no Big Ten title to look forward to, the Cornhuskers need to treat this like the championship. A win would possibly give the Huskers a 10-win season. It is time to bounce back.
2. Defense, Defense, Defense
Coming into the Big Ten, all anyone heard about was the tough Nebraska defense. Unfortunately, the Blackshirts have not exactly lived up to their name. There have been shining moments (Michigan State) that have provided hope, but there have also been really big struggles (Northwestern). This is the last game of the regular season for Nebraska. It is do or die time.
The talent on the defense is there. Both Alfonzo Dennard and Lavonte David are seniors. This is it for them. Both should be chasing and taking down every Iowa player they can. With strong support of the teammates around them, the fans will be expecting a big show. Anything less and the fan concerns for the defense will only grow louder.
3. Strong Run Game
Iowa has Marcus Coker, but Nebraska has junior I-back Rex Burkhead. How Burkhead's legs are even still moving is a miracle, but fans know "Sexy Rexy" will put up big numbers no matter how tired he is. Iowa's defense is not the most consistent and should allow Burkhead plenty of opportunities to run.
Depending on how the game goes, it would not be a bad idea to get the younger running backs in also. Experience never hurt anyone and if the score is at a comfortable point, it would only seem right to get them more involved. Ultimately though, fans should be looking for a lot of running from Burkhead and quarterback Taylor Martinez. The two of them together, with the supporting cast of the three young backs, should tire out Iowa if executed properly.
4. Coach Competence
It has been said before and it's time to say it again: Tim Beck needs to call a near perfect game today. In addition, all of the coaches need to be ready to make adjustments to win. In the past few games, it has been a rollercoaster for the team. Adjusting to Iowa's game plan rests on the coaches' shoulders and fans will be watching for what they do.
Iowa has proved to be a challenge for a few teams this season but Nebraska does not need to be one of them. With proper communication among coaches, this game can be easy one. Beck should not be afraid to make adjustments when necessary. If the running game stops working, put the ball in the air. If that doesn't work, hand it back to Burkhead. This game is about winning, not about being stubborn.
5. A Win For The Seniors
It's senior day and Nebraska is saying goodbye to 21 seniors. Included in that list are Brandon Kinnie, Yoshi Hardrick, Mike Caputo, Alfonzo Dennard, and Lavonte David. This class is filled with a lot of talent. It will be sad to see them all go. It is only right to send them out with a big win.
Regardless of anything else going on, this win needs to be about the seniors and the team. Every member of this team should be playing for the men who will never play in Memorial Stadium again. It's always a bittersweet moment every year as beloved players prepare to move on, but the Huskers can make it as sweet as possible with a win. Fans should also be as loud as can be to send this season out the strong.
Three months ago, things looked a lot different than they do now. Nebraska was entering the Big Ten as the new kid on the block. Promise filled Memorial Stadium on the first Saturday of the season. What the season held was yet to be determined but fans were ready to watch.
Now, on November 25th, there is no Big Ten title and the national champion dreams are long gone. This season has still provided a lot of learning lessons and growth, for both the team and the fans. There is still one more game to be played in Memorial Stadium for the 2011 season and fans will be looking for a win.