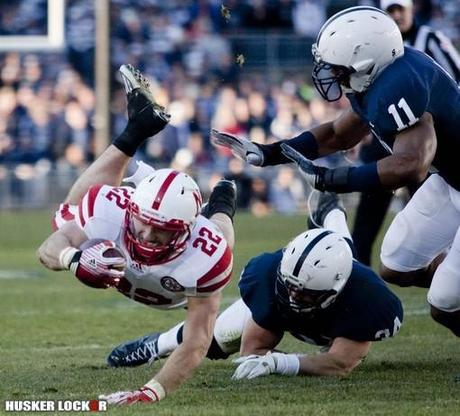 Share this story
By Chris Labenz
Statistics don't always tell the whole story of why a team wins or loses, but the old adage remains true – the numbers don't lie.
During the course of the 2011 season, Nebraska struggled in key areas, and statistics help underline why Bo Pelini's squad failed to capture the Big Ten Title.
Let's have a look at the areas where Nebraska must improve in order to have any hope of getting to Indianapolis for a chance at the conference crown this season.
Offense:
-
Scoring Offense:
29.2 points per game (fourth in the Big Ten); Wisconsin led the conference in scoring with 44.1 points per game.
-
Completion Percentage:
56 percent (seventh in the Big Ten)
-
Yards per attempt (passing):
7.2 yards (sixth in the Big Ten)
-
Passing touchdowns:
13 (ninth in the Big Ten)
-
Passing yards/game:
162.7 (tenth in the Big Ten)
"Long" Plays from Scrimmage:
-
Total plays where 10-plus yards were gained -
162 (seventh in Big Ten)
-
Total plays where 20-plus yards were gained -
51 (sixth in Big Ten)
What the Numbers Say -
During Tim Beck's first season as the Huskers' offensive coordinator, Nebraska showed flashes of quick strike ability.
The Huskers also continued to lack consistency against the Big Ten big dogs when it came to sustaining drives and converting on crucial third downs.
The Taylor Martinez-led passing game went stagnant far too often, allowing opposing defenses to play eight or nine defenders close to the line of scrimmage. This boxed Rex Burkhead in, and removed the threat of Martinez's big runs, perhaps his best asset.
If the Huskers can't find ways to be more effective in competing passes, especially downfield the offense will again struggle.
To make matters worse, athletic defenses that can keep Martinez's running threat in check, and force Beck into making risky calls on third and long will have a field day.
Nebraska has the talent at wide receiver to complement a solid running game, but only if No. 3 becomes a true dual-threat quarterback on a weekly basis.
Defense:
Passing Defense:
-
Yards per attempt allowed -
6.9 yards (seventh in the Big Ten)
-
"Long" pass plays (20-plus yards) allowed -
38 (ninth in the Big Ten)
Rushing Defense:
-
Yards per carry allowed -
4.00 (seventh in Big Ten)
-
Rushing yards allowed per game -
158.46 (eighth in Big Ten)
Other Key Defensive Stats:
-
Opponent's third down conversion percentage -
40.21 percent (sixth in Big Ten)
-
Tackles for loss per game -
4.31 (last in Big Ten)
-
Opponent's red zone conversion percentage -
69.23% (eleventh in the Big Ten)
What the Numbers Say –
Again, the stats mirror what Husker fans witnessed. Nebraska allowed opponents to easily move the ball on the ground, giving up four yards per carry. This led to easily-converted third downs.
Since opponents had confidence in being able to run right at the Husker defensive line, deep passing lanes opened up against an inexperienced secondary that had little confidence due to poor run support
On third down, the Blackshirts were forced to gamble in hopes of making a big play since they struggled against both the run and pass, leading to broken assignments and far too many easy conversions.
This problem only became amplified in the red zone, where opponents could essentially pick and choose how to score. Because of this overall uncertainty, neither Bo nor Carl Pelini could draw up many blitzes and expose the Husker back seven, thus leading to such a small number of tackles for loss.
Other Notable Statistics:
-
Turnover margin:
On defense, Nebraska forced 18 turnovers, including eight fumbles and ten interceptions. On offense, the Huskers lost 11 fumbles and threw eight interceptions, for a total of 19 turnovers lost.
Nebraska's -1 turnover margin was good for ninth in the Big Ten. If the Huskers want a legitimate shot at winning the conference, they must win the turnover battle and stop opponents from gaining momentum as seen against Wisconsin, Michigan and South Carolina in 2011.
-
Penalties per game:
Nebraska committed an average of 6.6 penalties per game in 2011 (ninth in the Big Ten). The Huskers have been known to draw a handful of yellow flags per game during Pelini's tenure, and this trend continued in the Huskers' first year of Big Ten play.
While there weren't many sideline outbursts, this didn't stop Nebraska from making costly mental errors, stalling offensive drives, and allowing opponents an extra down which they often turned into six points.
Overall, the Huskers obviously have several areas that demand improvement entering 2012. If they can turn the passing game into a legitimate threat across the field, and shore up the defensive line, the Huskers can easily top last season's results.
However, to return to elite status, Nebraska must learn to focus by limiting turnovers and penalties, which is the tell-tale sign of a disciplined and well-coached football team.
Follow Chris on Twitter:
@chris_labenz
Follow Husker Locker on Twitter:
@huskerlocker
Like us on Facebook:
Official Husker Locker Page
Permanent Link to this Blog Post