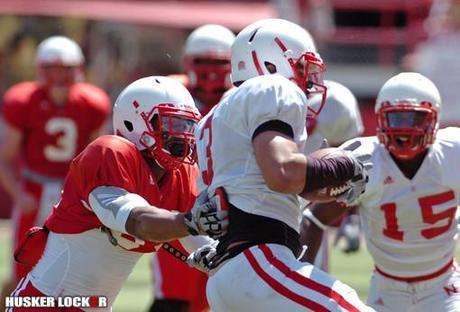 Share this story
By Brandon Cavanaugh
Quarterback:
Without Tommy Armstrong in camp, Martinez has no threat to his starting spot. He's showed tremendous athletic potential last spring.
If Carnes continues to improve athletically, and the mental aspect of the game can be reinforced, while the gap between he and Martinez isn't likely to shrink that much, a legitimate backup candidate could be crowned.
Running back:
Ameer Abdullah and Aaron Green start on equal footing heading into Saturday and could very well end up where they started following April's spring game.
Thanks to Abdullah's edge in experience during actual FBS play, one has to think he has a leg up on Green. His fumbling problems may level the playing field, however.
Wide receiver:
Kenny Bell, Quincy Enunwa, Tim Marlowe and Jamal Turner will all have the opportunity to solidify their starting roles.
With the departure of Khiry Cooper, look for Taariq Allen, who followed wide receivers coach Rich Fisher from Weston, Massachusetts, to vie for the fifth spot. KC Hyland and Tyler Evans are two other talents with an opportunity to shine.
Tight End:
Ben Cotton and Kyler Reed aren't going anywhere, but David Sutton and Eddie Ridder have the opportunity to showcase their potential.
Offensive Line:
Departed center Mike Caputo's replacement could come from a number of candidates including Cole Pensick, Nick Ash and Ryan Klachko. Pensick and Ash may have seniority, but Klachko sticks out as the prospect with a higher ceiling.
Brandon Thompson, Andrew Rodriguez, Mike Moudy and Ryne Reeves look to be the favorites to hold down the guard spots. Rodriguez's attitude has reportedly been lackadaisical, but Moudy and Reeves have the tenacity to step up should he slack off.
Sirles and Qvale will start out spring at the tackle spots with Tyler Moore giving them all they can handle in an attempt to take one of their spots. Zach Sterup is a likely backup candidate with Givens Price needing a strong spring to assert himself as a legitimate threat for playing time.
Defensive Line:
Cameron Meredith, Jason Ankrah, Eric Martin and Joseph Cater have the end positions on lockdown barring injury. Donovan Vestal and Walker Ashburn need huge springs to hold off the incoming Avery Moss and Greg McMullen come the fall.
The interior's been decimated by injury with Chase Rome and Todd Peat, Jr. now out for the entirety of spring ball. Once Kevin Williams and Thad Randle return from injury, they'll be plugged in next to Baker Steinkuhler in an attempt to hone their abilities, and find a suitable replacement for Rome's spring absence.
Having a deeper interior for rotation's sake won't hurt heading into Big Ten play. Jay Guy and newly-placed Tobi Okuyemi will have the opportunity to show that their work ethic has improved.
Linebackers:
Will Compton has the MIKE slot on lockdown while Sean Fisher will spend most of his time trying to cement the BUCK slot by the end of spring. Max Pirman could find himself trying to work into rotation behind him.
Pelini mentioned to look for David Santos and Alonzo Whaley to work at the WILL position to begin the essentially-impossible task of taking over for Lavonte David. Don't be surprised to see Santos win that battle by mid-April.
Defensive back:
Mohammed Seisay will be one of the most-watched players on the entire team this spring. Not only will he be wearing the departed David's No. 4, but he looks to lock down the title of Nebraska's elite cornerback.
Andrew Green, Cinate Evans, Stanley Jean-Baptiste and recently-switched Braylon Heard will likely get the opportunity to lock down the opposite end.
Safety:
Daimion Stafford, Courtney Osborne and P.J. Smith are the likely candidates to lock down starting role. Osborne's recent concussion issues may cause Pelini and company to take things slow with him.
Kicker/Punter:
Brett Maher is light years ahead of Mauro Bondi, but it'll be interesting to see if the Boca Raton native can narrow the gap in the slightest.
Follow us on Twitter:
@huskerlocker
Like us on Facebook:
Official Husker Locker Page
Permanent Link to this Blog Post