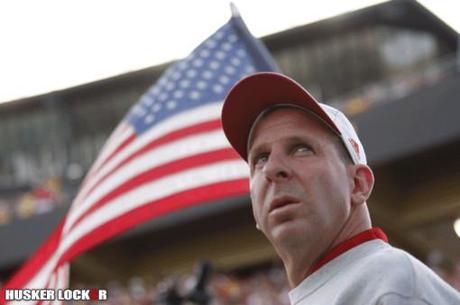 By James Stevenson
Following the festitivies of National Letter of Intent signing Day, Nebraska head coach Bo Pelini was involved in a car accident. The coach is okay, but the car wasn't as fortunate. In some ways, this mirrors the Cornhuskers' 2012 recruiting cycle.
Nebraska came into the 2012 recruiting class with a limited number of scholarships. Due to poor roster management (such as mass redshirts in 2008), the Huskers found themselves with only 18 scholarships to give following attrition and graduation. This forced the staff to be selective with their offers.
In some aspects, this is helps force one vast improvement over earlier Bo Pelini classes. The 2008 class was filled with players who didn't contribute, and used redshirt years to compound the problem.
While there were certainly questionable offers to recruits, Pelini did have to recover a class during a coaching transition. Of course, the coach didn't even start on the job until mid-January after LSU won the national championship, putting himself at an additional month's disadvantage.
As a general rule, I try not to look too much at recruiting rankings. There is far too much speculation. Notice how one major site has Nebraska right around the top 25 (third in the Big Ten), while another has the Huskers at No. 50 (seventh in the conference). That's a huge swing. Who's right, who's wrong and why the large discrepancy?
A better indicator is taking a look at who offered a recruit. If big schools like Ohio State, Alabama, LSU, and Southern California offer recruits, it generally is assumed they are an excellent recruit. Many times, the recruiting services will raise a prospect's ranking after schools with strong reputations show interest, or even after they commit to one of said institutions.
In the 2008 class, Nebraska signed two prospects with no offers from any FBS school. Two had offers from only one other BCS school, and another two had only two BCS conference offers. Other highly-regarded players either never qualified or contributed, and the best player in the class, Baker Steinkuhler, has been playing out of position on the defensive line.
This continued in 2009 with two recruits having no other FBS offers, one having no other BCS conference offers and three with only one BCS offer (one of these being starting quarterback Taylor Martinez). Five commitments had only two BCS offers (two of these being defensive back Dejon Gomes and wide receiver Brandon Kinnie). Out of those 11 commitments, only three contributed heavily.
Recruiting pundits were expressing serious concerns about Nebraska's recruiting effort under Pelini at this point. While they didn't expect Pelini's staff to win huge recruiting battles against the likes of Nick Saban and Alabama, the Huskers should've been winning at least some battles against other non-elite programs, and not extending offers to so many questionable candidates.
2010 improved vastly in this regard, however. Only three recruits lacked BCS offers with one holding a single BCS offer. 2011 featured four recruits with only one. While Nebraska's offers to potential "diamonds in the rough" have been greatly reduced, there are still some concerning aspects to how Nebraska approached to the 2012 recruiting season.
First, Nebraska's usage of official visits must be called into question. Each program is allotted 56 official visits per season. Through mid-January, Nebraska only used 39, 32 of those were provided to prospects who hadn't already committed. Over the first three home games, Nebraska only hosted three official visits.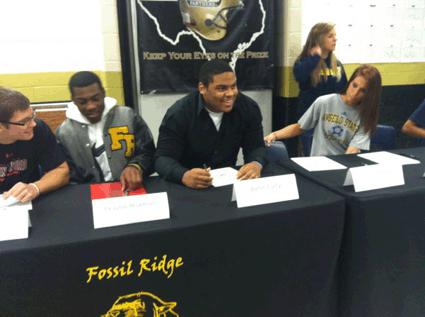 Defensive Tackle Aaron Curry signing his Letter of Intent
Pelini commented during yesterday's press conference on the difficulty of getting recruits into Lincoln for a football game on Saturdays taking into account high school games on Friday night. This is certainly an issue, but the Nebraska staff must do a better job getting on prospects early and working around potential scheduling road blocks.
Furthermore, the Big Ten announces all of its night games early and Nebraska had three great opportunities to get official visitors in for one. They failed to utilize the first two opportunities against Chattanooga and Fresno State.
The second concern regards the staff still not understanding players' true stances, nor appropriate back-up plans. Pelini's staff was so reliant on gaining the commitment of five-star offensive tackle Andrus Peat that when he surprised pundits and even the coaching staff themselves by committing to Stanford, there was no Plan B, only silence.
Peat's decision left Nebraska's small class with only 17 of its 18 potential slots filled and with only two offensive tackles brought in over the course of two recruiting cycles (Paul Thurston and Tyler Moore). That simply won't cut it at such a critical position. Recruiting efforts should ensure that a solid back-up plan is in place in the event of a surprise like Peat's decision.
The Huskers also missed on key linebacker and defensive back targets down the stretch. Pelini revealed that both Leroy Alexander and Alonzo Moore will be starting in the defensive backfield. Still, the lack of a true safety in the 2012 class and misses on key targets at the position forces Nebraska to convert athletes and current running back Braylon Heard into defensive backs.
Finally, looking at the depth chart, Nebraska will have serious needs at tight end, offensive tackle, linebacker and defensive back in 2013. The Huskers badly needed a second tight end this year, and desperately needed another legitimate offensive tackle. The key misses, lack of back-up plans and inability to address certain areas of long-term needs make the class of 2012 an overall disappointment.
Nebraska has improved its recruiting in terms of better offers and not reaching on questionable athletes. However, there are still areas where significant improvement is needed. A year-round focus on recruiting combined with better usage and coordination of official visits, and solid back-up plans to absolutely ensure depth at positions of need will be critical if the Huskers want to have a far better 2013 Signing Day.
Follow James on Twitter: @jamesstevenson
Follow Husker Locker on Twitter: @huskerlocker
Like us on Facebook: Official Husker Locker Page

Permanent Link to this Blog Post