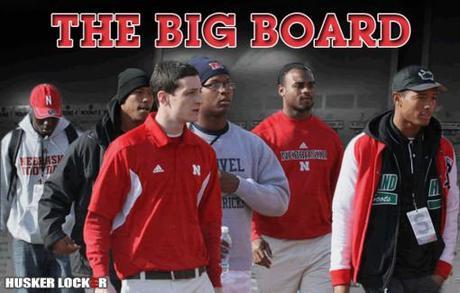 Share this story
By Brandon Cavanaugh
1. OLB Josh Banderas, Lincoln, NE –
A flip happens at the top spot after Banderas somewhat surprisingly received a new offer from Iowa.
While the Hawkeyes give him plenty of opportunity to do his thing as an interior linebacker, if he's going to commit to a Big Ten school, it'll likely be Nebraska. The Cornhuskers' biggest competitor in this race may very well be Iowa State.
While it's been assumed for some time now that Banderas will be a Husker, underestimating Paul Rhodes hasn't ended well for Nebraska.
Banderas still wants to get his decision out of the way before his senior year. At this stage, the wait seems to be about offer-padding and enjoying the spotlight. There's nothing wrong with that.
2. S Tahaan Goodman, Rancho Cucamonga, CA –
While Goodman continues his slow and steady pace, his teammate and former Big Board member Chris Hawkins recently visited Oklahoma and things are apparently narrowing down for him.
It wouldn't be a shock to see Hawkins commit by mid-season. This will truly test just how badly Goodman and Hawkins want to remain teammates.
3. ILB/HB Chans Cox, Lakeside, AZ –
Arizona, Arizona State and Oregon all want Cox's verbal commitment, but it doesn't appear that they're going to be getting it any time soon.
With Cox still nursing his shoulder, expect the love to keep coming from Nebraska as the opportunity for versatility as a Husker appears tempting.
4. TE Keith Towbridge, Toledo, OH –
Towbridge is now scheduled to attend Nebraska's Spring Game. He'll also be taking in Louisville's in mid-April as those two events are during his spring break.
It would do Tim Beck well to feature tight end Kyler Reed as much as we've heard early this spring. Ben Cotton is arguably Nebraska's best run blocker, so being pitched as a tight end that can contribute in multiple ways wouldn't hurt Nebraska's pitch at a position of need.
*NEW* 5. DE Christian Lacouture, College Station, TX –
Deon Hollins leaves the Big Board by way of commitment to UCLA, but his replacement should raise some eyebrows. You'll note that Christian Lacouture's from College Station, Texas a.k.a. home the SEC-bound Aggies.
He was their first commitment of the cycle, but decommitted after staff turnover. Nebraska has some stiff competition, but they're far from out of this fight.
LSU, Michigan, Missouri will also also be fighting for his commitment and A&M wants to regain it. He's familiar with what the Aggies have to offer. Now it's time for another school to wow him and likely split his eventual choices down the middle.
Unless a school shows him an amazing time and checks every possibly desire off his list, this could be a tight race between A&M and one or two other schools. There's enough love going both ways to indicate that Nebraska could get the Big 12 back for a few bad calls.
6. DB Priest Willis, Tempe, AZ –
Willis has a full dance card for the near future. He'll be participating with B2G Sports in Las Vegas this weekend before headed to Southern Cal's campus to participate in a Nike event.
Scheduled visits over the next several weeks include Virginia, Oklahoma, Oklahoma State, Florida, Florida State and Miami (FL). Will some time open up for the Huskers in April? We'll find out soon.
7. QB JT Barrett, Wichita Falls, TX –
This is a critical juncture in Barrett's recruitment. He'll be returning from his unofficial visit to Baylor where the RG3 wooing was no doubt in effect. If the Bears soar up the charts, it's not an impossible mission for Nebraska to snag him, but it's going to be difficult.
Fortunately for the Huskers, they also had a Heisman trophy winner who was a dual-threat quarterback that can be touted. Unfortunately, it's been a while since he's been on television. Patience is the name of the game with Barrett.
8. OT Kenny Lacy, Phoeniz, AZ –
Lacy's starting to lay out his visit plan with trips to Cal and UCLA in the near future. While he plans to take things slow, UCLA was tenacious with Deon Hollins, and he's now a member of their class.
While that may happen with Lacy, expect a press to be put on him if the Bruins truly want him. Nebraska still remains in the conversation and badly need a player of Lacy's size and caliber. The Huskers are also the only Big Ten team he appears to be giving much consideration right now.
9. QB Malik Zaire, Kettering, OH –
With Zaire pushing back his announcement due to Alabama and Ohio State's presence, the air seems almost gone from the Big Red balloon. While things could turn on a dime (as evidenced by Zaire's own recruitment), this battle appears to be coming to a head with the Buckeyes and Crimson Tide as the two leaders.
The good news is that if that's the case, we'll know by mid-summer as that's when Zaire is slated to make his announcement. Should he commit elsewhere, expect Nebraska to start looking for JUCO quarterbacks in addition to keeping up with other current offers.
10. ILB Nick Ramirez, Lee's Summit, MO –
While Nebraska has had Ramirez on their radar for a while now, other schools are gunning for the Missouri native just as hard. We've covered Arkansas' exploits, but don't count the home state Tigers out.
With Pinkel's crew headed to the SEC, they know they'll have to step up their recruiting game if they want to be more than a middle-of-the-pack team. We'll see how things develop over the next week to determine whether or not Ramirez drops from the Big Board.
Mike Minter Watch:
Nothing to see here, folks. That's a good thing.
Follow us on Twitter:
@huskerlocker
Like us on Facebook:
Official Husker Locker Page
Permanent Link to this Blog Post