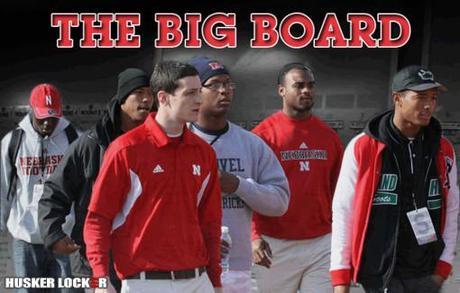 Share this story
By Brandon Cavanaugh
1. S Tahaan Goodman, Rancho Cucamonga, CA –
This week officially marks the split of the Rancho Duo for now. Goodman's pace has continued to be slow and steady as a few teams are starting to come to the forefront, mostly from Pac-12 country.
California, Oregon and Washington are three teams to keep an eye on, but there's plenty of time for Goodman to see all that there is to see between now, his play over the summer with teammate Chris Hawkins on B2G Sports' elite teams, and after his official visits.
2. OLB Josh Banderas, Lincoln, NE –
Banderas now has offers from Nebraska, Kansas State, Iowa State and Tulsa. The first three are the ones he initially wanted, so with his coveted trio in hand, why play the waiting game?
If Banderas insists on sitting on his offers, the Cornhuskers may find themselves ramping things up with other outside linebackers in addition to keeping up with him.
3. ILB/HB Chans Cox, Lakeside, AZ –
Making a
Jordan Westerkamp-esque jump
into the top three is Cox, a guy who sat in the lower half of initial Big Boards as a linebacker. There's no doubting his ability at that position, but Nebraska has a different plan for Cox.
Causing many Husker fans to scratch their chins, Nebraska is the only school to offer him as an offensive weapon as an H-Back. Apparently, Cox digs the idea and could end up as a member of the 2013 class before the summer wraps up.
4. TE Keith Towbridge, Toledo, OH –
It's about time a tight end made the Big Board, and of course he's from Ohio. What might excite Husker fans most about Towbridge is that he's closer in stature and style to current TE Kyler Reed at 6'4" 240 pounds (Reed is 6'3" 230) than he is to blocking behemoth Ben Cotton (6'6" 255).
Tight end's another area of severe need as once Reed and Cotton depart following 2012, only David Sutton and Cotton's brother Sam remain. Look for Nebraska to not only go the high school route with guys like Towbridge, but also keep an eye on any major JUCO prospects.
5. ILB Nick Ramirez, Lee's Summit, MO –
Arkansas is hot on the trail of Ramirez and with good reason. The Razorbacks are familiar with what he's capable of as he's been close on film to teammate Jamone Boyd.
Boyd received an offer as he walked out of the Razorbacks' Junior Day. Ramirez doesn't appear in a hurry to commit as he, much like Big Board No. 1 Tahaan Goodman, wants to see all that is available to him.
5. CB Chris Hawkins, Rancho Cucamonga, CA –
A big drop for Hawkins, but remember the Big Board isn't only about need. Talk of academics is always prominent early in any recruiting cycle, and about 99 percent of it is lip service. Hawkins' is that other one percent.
It appears that some of the west coast academic powerhouses are starting to press. Since he wants to get his pledge out of the way prior to his senior season, Hawkins could easily be off this list by next week due to commitment.
6. QB Malik Zaire, Kettering, OH –
Bad news and good news. The bad news is that not only does Zaire still have that Ohio State offer, Nick Saban and Alabama have extended one as well.
The good news is that Nebraska remains in Zaire's plans and he's looking to visit in the near future. The Cornhuskers are going to have to wow him to keep the allure of the Buckeyes and Tide at bay.
7. DB Priest Willis, Tempe, AZ –
Willis' offers continue to pile up, but his recruitment could go the distance. Right now, he appears focused on preparing for summer 7-on-7 work with B2G Sports much like fellow Big Board members Goodman and Hawkins.
8. OL Zach Hannon, Kansas City, MO –
Hannon continues to slowly march up the Big Board, and it's about time to see what he truly thinks of the Cornhuskers.
He's scheduled to make a trip to the Big Red homeland in the coming weeks and there's plenty of love going both ways. At this rate, Hannon could be getting a big bump in the weeks to come.
9. OLB Deon Hollins, Jr., Missouri City, TX –
As it sits, Hollins seems to be giving the most love to Washington, Oregon and Texas A&M. He'll be visiting the first two during the spring with his trip to Eugene already set for the Ducks' spring scrimmage.
Following the cancellation of Hollins' visit last weekend, could it be that the Huskers and Hollins have decided to mutually part ways?
10. DB Mike Minter, Jr., Lincoln, NE –
No news is good news with Minter. Assuming this continues for another week, we may have to sit him aside as a placeholder. For now, he keeps his spot at No. 10.
Follow us on Twitter:
@huskerlocker
Like us on Facebook:
Official Husker Locker Page
Permanent Link to this Blog Post