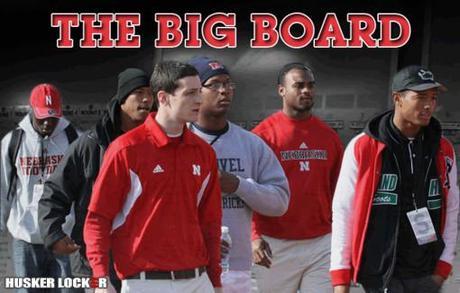 Share this story
By Brandon Cavanaugh
Note: All new additions will have highlights posted if available. If no highlights are accessible and prospects remain on the Big Board, highlights will be shown as soon as they become obtainable.
1. S Tahaan Goodman, Rancho Cucamonga, CA –
Goodman's teammate Chris Hawkins was recently offered by Oklahoma. The idea of having the California duo as a package must sound tempting to the Sooners as Goodman now holds an offer from the crimson and cream as well. There is one notable difference between the two, however...
2. CB Chris Hawkins, Rancho Cucamonga, CA –
Hawkins has frequently mentioned that he'd like to get his decision out of the way before his senior season begins. Goodman seems to have a more laid back approach.
While the two likely want to play at the same school, it appears they may not be as attached at the hip as initially thought. As of this writing, the two are still scheduled to visit for Nebraska's Spring Game.
3. OLB Josh Banderas, Lincoln, NE –
Mostly quiet on the Midwestern front for another scheduled Spring Game visitor. Banderas now has three offers: Nebraska, Kansas State and Tulsa.
It'll be interesting to see if he continues to hold out long past the conclusion of the Huskers' spring football. It's possible that he could wait until May or June to see if any other schools show interest, but it's in Nebraska's best interest to secure his commitment now, and likely in Banderas' to close things down.
4. OLB Deon Hollins, Jr., Missouri City, TX –
Hollins was scheduled to visit this weekend, but unfortunately is unable to. He reportedly does want to reschedule, likely for the Spring Game. It's a shame that Nebraska wasn't able to get him in for a visit, but it's still early in the process. If the Cornhuskers can get Hollins in for the Spring Game and an official visit while fighting the likes of Arkansas, that's a step in the right direction.
5. ILB Nick Ramirez, Lee's Summit, MO –
Marcus McWilson, we hardly knew ye as he flies from the Big Board due to commitment to Nebraska.
Despite McWilson being a Cardinal Mooney guy, any prospect in Ohio coveted by a staff other than the Buckeyes needs to be locked down immediately. He's an unlikely flip should Meyer come calling, though. Pelini's got too much stroke in Cardinal Mooney's hallways.
Meet his replacement, Missouri native Nick Ramirez. He visited Nebraska for its Junior Day on February 18 and the Big Red shows major interest in the 6'2" 225-pound prospect. Will Compton departs following the 2012 season and depth must be built to lessen the blow of losing his veteran knowledge.
6. OLB Shane Jones, Cincinnati, OH –
Jones will be tripping to Michigan and Illinois this month, and while he still doesn't have an Ohio State offer, a different challenge has emerged for Nebraska. Oklahoma not only has their eye on Goodman and Hawkins, but is also interested in Jones' services.
At this point, there appears to be interest in Nebraska on his behalf, but not much is coming out of the Huskers' camp. He may end up dropping off the Big Board before too long if the silence keeps up.
7. DB Priest Willis, Tempe, AZ –
Willis is the proud owner of yet another big time offer. LSU is now calling and with Corey Raymond switching addresses from Lincoln to Baton Rouge, it wouldn't be a surprise to see him assigned to Willis.
Terry Joseph may already have a way to make an impact if he's wearing red around the same time that LSU starts making more phone calls and visits. Battling a passionate Raymond for Willis' services would be difficult, but if it comes down to the Cornhuskers and the Bayou Bengals, Joseph may earn his keep very early in his Nebraska career.
8. QB Malik Zaire, Kettering, OH –
Does this story sound familiar?: Nebraska's after a highly coveted dual-threat quarterback. Said quarterback is also very interested in Notre Dame and will be giving the Irish a hard look. No, it's not Bubba Starling Part II, but Zaire will be listening to what Notre Dame has to say intently.
However, he's not playing games. He may very well find himself a member of someone's recruiting class come the end of April. While brawling with Notre Dame over a quarterback isn't a desirable position, Zaire's been talking with Nebraska primarily through offensive coordinator Tim Beck.
While the Kettering native is good with his feet, he's even better with his arm. Beck could be talking up plans of implementing the same system that took Kansas to the Orange Bowl.
9. OL Zach Hannon, Kansas City, MO –
Bashing cornerback Cole Luke out of the No. 9 spot is another member of SEC country (sure, why not?).
Some list Hannon at tackle, others at guard, but Nebraska needs the former in a bad way and at 6'6" 295 pounds, he can be built as necessary. Hannon appears to be giving love to the home state Tigers along with now-fellow SEC member Arkansas.
He also attends Rockhurst High School, which likely sounds familiar to diehard Husker recruitniks. This would be because de facto recruiting coach and incoming linebacker Michael Rose is an alumnus.
Rose won't keep quiet if he's given the green light. He's proven that much this past cycle. He's just the weapon to combat anything Missouri or Arkansas can throw at Hannon.
10. DB Mike Minter, Jr., Lincoln, NE –
Dropping Minter to the bottom of the Big Board isn't anything personal, but he's the only one on this list without an offer. The name of the game is "Straighten Up and Fly Right." If he can prove that rumors of personal issues are put to rest for Nebraska's coaches, he'll get an offer and will be off the Big Board before you can blink.
Follow us on Twitter:
@huskerlocker
Like us on Facebook:
Official Husker Locker Page
Permanent Link to this Blog Post