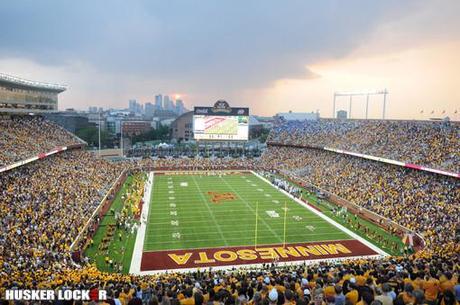 The Husker Locker staff will be presented a number of questions addressing various aspects of each week's game all season long.
This week:
What does Nebraska need to work on versus Minnesota both offensively and defensively?
Brian: Offensively, the Cornhuskers need to do what they have done so far. Let the line earn their ribeyes and stuffed baked potatoes on this one.
Defensively, get better in base formations and find out if SJB is what the other side of the secondary needs.
Erin: Offensively, Nebraska just needs to work on playing consistent football. If the offense can replicate the second half of the Ohio State game for an entire game, they will be a force to be reckoned with. For me, it's not about improving the talent or play ability, it's about improving the consistency.
On the defense, it's going to be all about the secondary. I'm aware Jared Crick is out, but our line will be just fine. Guys like Terrence Moore and Chase Rome will fill the void nicely. The secondary is where the improvement needs to be focused.
With Stanley Jean-Baptiste's new role at cornerback, it will be crucial for the secondary to rotate players around and find the right fit. Minnesota shouldn't give the defense too much of a struggle, so the secondary needs to take this as an opportunity to grow.
Greg: Create turnovers on defense. This game gives the Huskers the opportunity to dominate, and they need to do more than just claim a moral victory on defense. From the offense, let's see a perfect game from the offensive line. If they are solid, the offense will have a good day.
James: Offensively, the biggest opportunity for Nebraska is to continue working on its passing game. Getting Taylor more comfortable in the pocket, going through his progression, and hitting his dump off man will be critical for offensive success against Michigan State and Penn State's strong defenses.
Defensively, containing and sacking Minnesota quarterback MarQueis Gray will be the main thing I'm looking for. Nebraska's defensive line hasn't always done the best job in contain against quarterbacks like Ohio State's Braxton Miller and Wisconsin's Russell Wilson.
Furthermore, both the defensive line and linebackers have missed plenty of tackles either in the backfield, or after the quarterback has taken off. Limiting those mistakes will be important with perhaps the most dangerous dual-threat quarterback in the country still on the schedule in Michigan's Denard Robinson.
Brandon: On offense, the Cornhuskers need to work on their rhythm and basic fundamentals. Starting with ball-handling and crisp blocking to effective short and long-range passes, Tim Beck needs to call a game that gets these guys clicking heading into next week.
On defense, the obvious answer is finding a replacement for Crick whether it's a lone individual or by committee. What's more important is strengthening the defensive line as a whole. Nebraska's going to be facing some punishing rushing attacks including Michigan State's next week. They need to find a way to at least slow opponents' ground games down.
Another obvious statement is the secondary, but not just getting Stanley Jean-Baptiste live game action. It would be advisable to work other safeties in as this is going to be the final game on the schedule where Carl and Bo can experiment.
Will the number of Taylor Martinez's passes outnumber Rex Burkhead's carries?
Brian: It should, but at the same time, the number of carries by Green/Abdullah/Heard should out number Rex's. Keep Burkhead healthy for the upcoming stretch.
Erin: I hope not. I have my fingers crossed that it is a nice balance. The ball should only go in the air when it needs to.
Greg: The only way that happens is if Rex has a massive first half and Bo opts to spell his legs in the second half. Otherwise, all running backs should have a field day.
James: Yes. From the coach and player comments during the bye week, Rex was pretty nicked and bruised up from being Nebraska's workhorse. The Huskers will need him against stiffer competition, and will utilize the three freshman running backs to carry some of the load and gain experience.
To further lock this in, Minnesota has one of the worst passing defenses in the conference and country. If there was ever a time to give Taylor Martinez additional reps in the passing game in live game action, this is it.
Nebraska will need balance against the better defenses they have yet to play, and its borderline criminal how few touches Jamal Turner and Kyler Reed have been getting.
Brandon: Honestly, I believe so. Minnesota's a poor football team and if there's any defense for Taylor to practice his passing against, it's the Golden Gophers'. I'd look for every range of pass from short out routes to heaves over the Minnesota secondary to Kyler Reed.
This is also a game where Rex can afford to get some rest. You'll see him out there, but it's hard to think that Abdullah, Green and Heard won't see time, especially if Heard is fully recovered.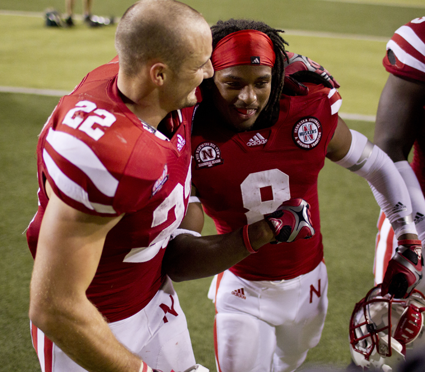 What are three things that Nebraska needs to have seen as a result of this game?
Brian:
1.) 400-plus yards rushing. Let the big dogs on the line eat.
2.) Memorial Stadium North. Revive the memories of Notre Dame Stadium in 2000.
3.) A good ol' behind the woodshed stomping. Minnesota is not good at all. There's no reason that past the first 10 minutes of action that this game should be close. These are the games before the Callahan era that we'd just look at them and say "My decent is better than your better."
Nebraska needs to put their foot on the Gophers' throats, run them out of the building, and get that swagger back before Michigan State comes to down. Put something in Sparty's head.
Erin:
1.) An offensive showing similar to the one against Ohio State. Can the Huskers keep improving? This week will show us.
2.) A powerful defense. Our defense has been lacking its luster and spark. Someone like Lavonte David has to be tired of it. Can he get the team fired up for good? Let's hope so.
3.) A big win. I don't think anyone wants to see this game be a close one.
Greg: I'll let Erin tackle these in her "5 Things to Look for" column.
James:
1.) Nebraska needs to see Brion Carnes get plenty of playing time in the fourth quarter. He's still just an ankle injury away from being the starter, and he needs more playing experience. This also means Nebraska needs to put Minnesota away early.
2.) The defense beginning to gel by holding Minnesota to their season average of points, or less. Minnesota benefits from the return of a healthy Gray, but has been averaging 18 points a game thus far. Nebraska is averaging giving up 21. I'd like to see the Huskers hold a team UNDER their season average. This Minnesota team scoring in the high 20s would concern me.
3.) A set rotation on defense. It's been a merry-go-round in the defensive backfield. Daimion Stafford has played safety and corner, Eric Martin's been at linebacker and defensive end, and Stanley Jean-Baptiste is now playing cornerback.
Nebraska needs some stability on the defensive roster to help this unit come together and trust each other. The loss of Crick probably hurts this though, as Nebraska will now be tinkering with a defensive line that hadn't blown anyone away even with Crick.
Brandon:
1.) Confidence on Defense: There needs to be a sense that there is improvement no matter how small. Some momentum will do this unit a world of good. That said, if Minnesota covers the spread, that should be considered a red flag.
2.) An Effective Passing Game…From Two Quarterbacks: There's absolutely no reason that Brion Carnes should be on the sidelines in the fourth quarter of this game. There's no logic in having Martinez under center if Nebraska leads by 35, especially when Carnes needs live action badly if No. 3 goes down.
3.) Jean-Baptiste Solidify Himself: This could be filed under No. 1, but there needs to be a solid No. 2 opposite Dennard. Even if SJB can be the primary cornerback in a rotation, it would be a step up from the current status quo.
What is your prediction for Nebraska's final record including any post-season play?
Brian: If this team can get to 9-3, it's a successful season. After all we have seen, unless something changes, running the table isn't realistic. There will be one, maybe two losses somewhere down the line.
Erin: Nebraska will go 9-3, and will be in Indianapolis facing Wisconsin again. I'd even say Nebraska has a post-New Years bowl game to look forward to such as the Capital One Bowl on January 2nd.
I would be willing to change my overall record depending on whether or not the defense can find its swagger. If they can ignite that spark, our team could be lethal. Until I see that, I'll stand by 9-3.
Greg: I don't think this team, the way it stands now, is a one-loss team. If they were to face Wisconsin again in Indianapolis, I don't see where enough improvement has been made to beat the badgers. 11-2 with a bowl win.
James: 10-3 - Without some improvement defensively, I think Nebraska splits the Michigan games, and drops one more to the trio of Northwestern/Iowa/Penn State. They miss the inaugural Big Ten Championship, but a nice trip to the Gator Bowl and a surprising win over an SEC team like Florida is just what the Huskers will need to finish out the season.
Brandon:
At this point, Michigan State appears to be a toss-up, but the combination of quarterback Kirk Cousins and running back Edwin Baker along with a stout defense doesn't bode well.
Northwestern's Dan Persa is hobbled and the Wildcats' leading rusher is out. Michigan's Denard Robinson will be difficult to be kept in check, but if he can be forced to pass, Nebraska has a solid chance. Penn State's best weapon is Beaver Stadium and Iowa…well, is Iowa.
I think the Cornhuskers drop two of those games. If I had to guess, I'd say Michigan State and Michigan simply due to Sparty's defense and Robinson's speed. That puts Nebraska at 9-3, but missing out on the Big Ten Championship Game which we may be seeing a preview of this evening with Wisconsin at Michigan State.
Expect Nebraska to go to the Gator Bowl to face Georgia ending on a 9 or 10-win note.
Follow the panel on Twitter:
Brandon: @HuskerLocker
Brian: @btbowling
Erin: @helloerinmarie
James: @jamesstevenson
Like us on Facebook: Official Husker Locker Page

Permanent Link to this Blog Post