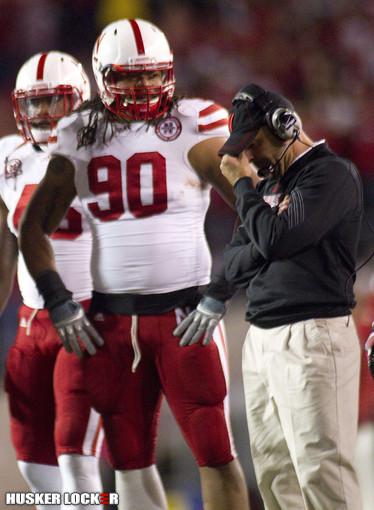 By James Stevenson
Nebraska's defense has taken a step back this season. Despite playing against the Big Ten's middling-to-average offenses such as Ohio State, Michigan State and Penn State, the Husker defense only ranks No. 38 in total defense, No. 36 in scoring defense and No. 66 in rushing defense.
Compare that to the Husker defense's performance 10 games into their final season as a member of the "Offense-First" Big 12. The Blackshirts led the nation in pass efficiency defense, ranked No. 6 in total defense, and No. 10 in scoring defense. Interestingly, Nebraska is about on par with last year's efforts when it comes to defending the run, ranked No. 63 in 2010.
This regression, despite facing less dangerous offenses, was somewhat expected. Nebraska lost a huge chunk of its starting secondary - the strength of last year's defense. The Huskers also now face more power-oriented teams in the Big Ten. This plays to Nebraska's greatest defensive weakness in 2011: the depth of its linebacking corps.
Nebraska's weak 2008 and 2009 recruiting classes are contributing to the results on the field. While recruiting moved in the right direction in last year and the 2011 class, while small, appears to be filled with quality players, Bo Pelini's first two classes didn't stock the depth chart with elite talent. In many ways, the nasty defenses of 2009 and 2010 were built on the back of Bill Callahan's recruiting.
To take this analysis a step further, one wonders if coaching may be part of the issue in regards to the Blackshirts' performance slipping. There is absolutely no argument that Bo Pelini is a defensive coaching genius. His zone match-up scheme is one that only a few coaches (Alabama's Nick Saban, Florida's Will Muschamp) can successfully implement.
His is a pro-style defense successfully built to shut down college football's most popular offense, and a Big 12 favorite, the spread. While Bo Pelini is a defensive mastermind who players will openly and privately admit they love playing for and being coached by, one has to wonder if he has focused too much time on the offense this season.
It's been reported that he and new offensive coordinator Tim Beck have spent plenty of time breaking down opposing defenses. This helped to create a new (and wildly improved) offense to suit Nebraska's talents. Letting go of former offensive coordinator Shawn Watson and diverting some of Bo's time away from the defense has obviously paid off.
Will a similar shake-up will be needed on the defensive side of the ball as the Huskers head into 2012 without star defensive tackle Jared Crick, defensive back Alfonzo Dennard and linebacker Lavonte David? Perhaps addressing the other coordinator spot would be appropriate following 2011.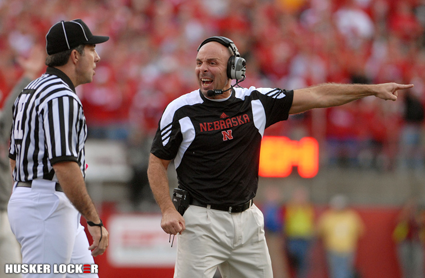 Carl Pelini came to Nebraska from Frank Solich's Ohio staff, where he acted as defensive line coach. Carl's hiring was based more on Bo's trust in the person, rather than direct credentials as has been the case in many of his selections. In reality, it appears that Carl's title was ceremonial, as Bo was coordinating and calling the defensive plays himself.
Early this season, we heard hints that things might've changed. There were more comments about Bo spending time with the offense and Carl making observations regarding plays that he himself had called.
This seems to have died down as 2011 has progressed, with Bo beginning to take more direct questions about and responsibility for the defense. We can't be certain, but based on early results, it seems possible that Bo may have given Carl too much responsibility early in the season as evidenced by Nebraska being scorched by Fresno State and Washington.
The older Pelini brother's previous coaching experience must also be questioned. Shifting from coaching a single position at a MAC school to coordinating an entire Big Ten defense is a major switch. Bo and Carl can be seen getting into it on the sidelines. This can be a good thing if coaches can express different opinions, but it can also be potentially disastrous if there is disharmony.
Carl's attack on a cameraman following the 2010 Texas A&M game didn't go over well, and other rumors all carrying unfortunate suggestions have been popping up on message boards across the Internet. If his personal life is causing distractions, and Nebraska's early-season lapses were due to Carl being at the helm, a reassessment of defensive leadership may be best for the Huskers' future success.
While Ross Els (from that same Frank Solich Ohio coaching tree) and Corey Raymond are both in their first season with the program, perhaps Carl's departure could allow Bo to bring in another superstar defensive coach/ homerun recruiter.
This would allow Bo to continue spending time with the offense and acting as the CEO, while bringing some new perspective defense at the same time. There are some excellent options likely to be available following season's end. As mentioned previously, it's essential that Pelini trusts a hire. Former Arizona head coach Mike Stoops is available, and is a family friend.
Another interesting Ohio connection would be current Illinois head coach Ron Zook, who isn't expected to retain his position. Zook is known nationwide as an excellent recruiter, and is a legitimate option for the Huskers. Some other interesting options may include current Ohio State defensive coordinator Jim Heacock, Ohio State interim head coach Luke Fickell, and Penn State interim head coach Tom Bradley.
If it's time for a change, there is some exceptional talent available. Complementing Bo's abilities with another proven college coordinator might provide a more stable path for the Huskers as they look to rebound in 2012 with a Big Ten championship-caliber defense.
Follow James on Twitter: @jamesstevenson
Follow Husker Locker on Twitter: @huskerlocker
Like us on Facebook: Official Husker Locker Page

Permanent Link to this Blog Post