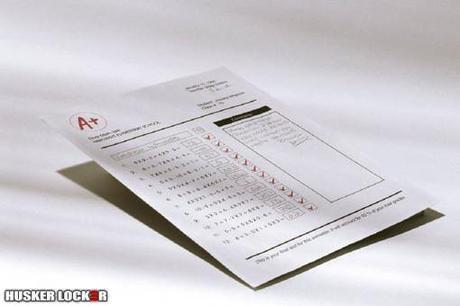 By Ryan Donahue
Corey Raymond – Secondary
After the season opener, it was tough to get a read on Coach Raymond's new unit sans Alfonzo Dennard. Well, he's back so it's time to rip off the band-aid. The secondary is not good. Losing three players to the NFL doesn't help, but there is a cavern between the performance of last year's group and this outfit. Dennard is still getting his legs back but there is no one who can fill in the other corner spot with confidence.
Ciante Evans has been fragile. Andrew Green has been horrendous. The Corey Cooper experiment was ill-conceived from the start. Every team left on the schedule knows to throw where Dennard is not, and that's a lot of open field. With Bo Pelini holding full pad practices, here's hoping someone steps up.
As for the safeties, Austin Cassidy has been serviceable and Daimion Stafford is excellent against the run, but both starters and even reserves have had plenty of busted assignments in coverage. Clearly, a lot of this is coaching. Raymond needs to get his unit figured out in a hurry because it's the weak link in the defense through five games.
Grade: D
Ross Els – Linebackers
We are still waiting for not one, but two capable sidekicks for Lavonte David. The Peso formation is sorely missed and it appears Nebraska will move forward with a three linebacker base. The biggest problem with that is Nebraska has only one truly talented linebacker in David, and he can't be everywhere at once. Will Compton would be the educated choice to help, but Compton hasn't looked great in run support and still gets burned by shifty receivers on crossing routes.
Sean Fisher and Alonzo Whaley don't seem to be coming around and also look lost in coverage. What good is having three big bodies if opposing offenses can easily toss the ball around them? Going back to the Peso isn't a possibility because there aren't enough bodies in the secondary to run a permanent nickel, and a dime formation makes any Husker fan shudder. The common theme emerging here: it's all on David until someone else steps up and consistently makes plays for this unit.
Grade: C-
John Papuchis – Special Teams/Defensive Line
If you had said before the season began that special teams might actually be the strength of this team nearly halfway through, you'd likely have received many odd looks. Ameer Abdullah constantly puts the Husker offense in great field position and Brett Maher appears to have a booming leg and some real skill in all facets of the kicking game. Since the grades are harsh this week, let's judge Papuchis only on special teams and leave the defensive line analysis for Carl. There needs something to be excited about and the special teams has looked the best.
Grade: A-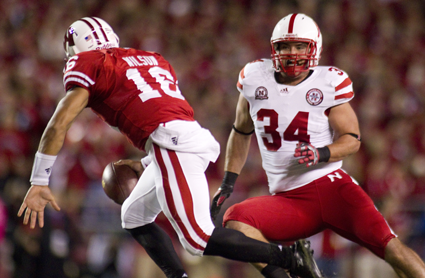 Carl Pelini – Defensive Coordinator
After week one, Carl Pelini had apparently reloaded and possessed the most complete defensive unit in the Big Ten. Apparently, this is not the case. It's hard to say what Coach Carl has at this point. This unit has lost its identity. Some point to the loss of Ndamukong Suh, but he left two years ago. What happened last year?
There was a huge loss of secondary talent that hasn't been replaced and has caused stress on the other levels of the defense. A shift in philosophy is also hurting the Blackshirts. This unit isn't ready to play a base 4-3 defense, and perhaps not even nickel. Honestly, last year Nebraska played a dime defense against some pretty finesse offenses, and it worked every time. Now teams know they can smash the Huskers in the mouth and if that stops working they can air it out fairly easily.
The Brothers Pelini need to do more than carry out full pad practices. They need to revisit their philosophy for stopping Big Ten offenses. The good news is Wisconsin was the best of the bunch, but the Spartans and Wolverines can be explosive and the Huskers will be staring down more embarrassing losses if they don't get a handle on the Blackshirts' identity. If they can, the talent is there and this unit can be more than competent.
Grade: D
Ron Brown – Running Backs
Brown's unit continues to come along and Rex Burkhead is looking the part of leader. Burkhead continues to make great plays and churn out hard-fought yards. Behind him, the young three-headed monster has been used effectively with each freshman tailback getting meaningful carries. Brown appears to have a solid group on his hands and while this unit needs to be relied on much more in big games, that's no fault of Brown's who appears to have done a fine job developing the talent he's responsible for. Ohio State will be a great test for the running game, which should be featured more than ever.
Grade: A-
Barney Cotton/John Garrison – Offensive Line & Tight Ends

A few weeks back, Nebraska fans didn't have much of an idea how good the offensive line was going to be and how the Cotton/Garrison package would work out. While things are still murky, it's clear that Nebraska has a young line that is going to make mistakes. The false starts and holding penalties are still plentiful. The inexperience is real and won't get much better this season, although Seung Hoon Choi has been a great story.
Still, the offensive line doesn't seem to be the most troubling area on offense. This young line pushed Wisconsin off the ball on many running plays and looked capable against Washington and Wyoming. The potential for this line is great, but actual production will have a ceiling this year. There are too many fresh faces. As for the tight ends, they haven't been featured enough.
Kyler Reed is the best receiver on the team and still only makes brief cameos in each game. Ben Cotton needs to perform better with the opportunities he's given. The dynamic duo at tight end needs to show up often during the conference slate.
Grade: B-
Rich Fisher – Wide Receivers
There seems to be a youth movement emerging for Nebraska's wide receivers. Quincy Enunwa seems destined to be a solid possession receiver by season's end. Jamal Turner and Kenny Bell are both electrifying when they touch the ball. That's a big when, however. This assumes the ball can be delivered properly and unfortunately, that rarely happens.
The Husker wide receivers seem capable of making big plays if the ball gets in their hands. Route running has been sloppy at times and it took Brandon Kinnie awhile to shake the butterfingers, but this group seems to be doing all it can. Most importantly, they've all been open enough to get first downs. The ball has to come their way more accurately and on time, though. If that happens, this group could be above average and take real pressure off the rushing attack. Until then, it's just average.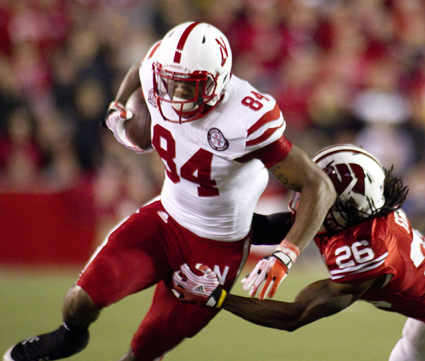 Grade: C
Tim Beck – Offensive Coordinator
It's almost halfway into the season and Nebraska fans are still wondering what Tim Beck's vision for the Nebraska offense is. It turns out he was serious about the option. He's dialed back, but not eliminated the zone read. He's placed more emphasis on stretching the field, but also fell into the same trap that Shawn Watson did - getting an itchy trigger finger when he feels a shootout is at hand and abandoning the run when it is working.
He seems all in favor of an air-it-out passing attack that almost no part of the offense is properly equipped to run. The line still can't pass protect very well. The receivers are not All-World and will not always be open. When they are, Taylor Martinez cannot find them. He panics, runs too early and too often while forcing the ball on his way to becoming a turnover machine.
That isn't all on Beck, but if he continues to build his offensive strategy around Martinez's passing, the fallout will steadily become his problem. The Husker faithful have no patience for an offense that attempts to impose its will, changes things up haphazardly, and gets shell-shocked on a big stage. It's been happening for four years now and Beck will have a short leash to change things.
So far, he does not appear up to task. The Wisconsin debacle could be a great turning point so early in Beck's coordinator career and if he rediscovers the run while slowly finding Martinez's comfort zone in a limited passing attack, the offense could be more than serviceable. It will take incredible patience to achieve this. If Beck can't do it, things could get ugly fast and even uglier than in years past as fans' patience has run out.
Grade: D-
Bo Pelini – Head Coach
Nothing went his way in Madison, but Pelini made the right move in immediately making a post-game apology to the Husker faithful for such a disappointing loss. One thing that unnerved fans about Bill Callahan was his stubbornness and inability to fault his own schemes. Pelini avoids this by simply being honest and sharing in the disappointment. He also seems resolute about fixing the problems.
Whether or not a tougher approach by way of full pad practices will do the trick, fans can't be sure. Pelini does seem to be trying. He knows this isn't Year One and last Saturday was a Year One-style loss. What is most troubling is Pelini's statement of disbelief regarding some of the mental errors the Huskers displayed against Wisconsin.
He offered that perhaps some players weren't taking to coaching. That is especially disturbing because these are almost all Pelini's players and they have been schooled in the same system since they arrived in Lincoln.
If they aren't taking to the coaching, it appears to be a mental issue. These issues are the most deadly because they don't fix easily. Think 2007 – that was a team stacked with talent from the neck down, but rotting from the neck up with lack of confidence in convoluted schemes and shaken from humiliating losses. Pelini can use one bad loss to recharge the team, but if there are more blowouts things will go off the track fast.
Can Pelini get a handle on this team? Does he need to get more involved in the schemes or in the day-to-day processes? Does he treat this team like a 2008 squad that needed a serious overhaul laced with tongue-lashings or does he have confidence that current problems can be fixed and this squad is championship-caliber with only a few tweaks and adjustments?
His decision on how to handle this troubling bunch of Huskers will be a turning point in his tenure as head coach.
Grade: C-
Follow Ryan on Twitter: @DigitalRyan
Follow Husker Locker on Twitter: @huskerlocker
Like us on Facebook: Official Husker Locker Page

Permanent Link to this Blog Post