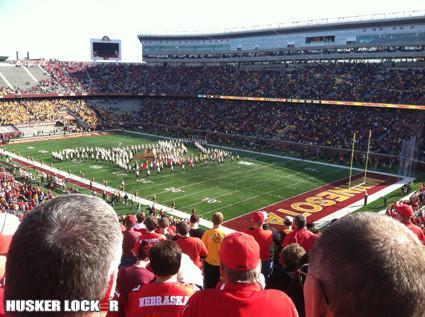 By Brett Baker
"It's good to have things to look forward to." - "Nucky" Thompson
Life as a displaced Husker usually revolves around their football schedule and more specifically, which games I can actually attend. Such was the case these past few weeks as I eagerly looked forward to my trip to Minneapolis to see the Huskers take on the Golden (in name only) Gophers.
The astute football fan would look at Nebraska's schedule and wonder, "why Minnesota?" There are certainly more attractive match-ups on the Cornhuskers' road itinerary. For me, it comes down to two things: What time is kickoff and how easily can I get there? Since I can't fly on Fridays due to prior work commitments, that narrows the field of candidates. If I was going to see the Huskers play on the road this year, it was going to be in Minnesota.
One of the things you should know about me is that I'm a planner. I'm almost obsessive-compulsive about it. I started planning for this trip in May and prefer to think of it as a hobby rather than a debilitating condition.
I finally boarded my nonstop flight at 6:25 A.M. last Saturday morning bound for Minneapolis. It was a great flight, and we even landed 20 minutes early. We departed the plane and I made my way to the Metro Transit light rail station in the airport after having purchased a rail pass (online, of course and three months before my trip.) It was easy as pie.
So easy, in fact, that I didn't even see the pay kiosk to swipe my card. I boarded the next train bound for downtown wondering where I was supposed to pay my fare. Oh well, I too late and got a free ride. This trip was off to a tremendous start.
Minneapolis has a lot of great history and enjoyment to behold. Naturally, the first thing I see as I walk the two blocks to my hotel is the Occupy Minneapolis contingent at Government Plaza. My first thought at seeing these few dozen slightly stinky protestors: "I bet this lasts until the first freeze."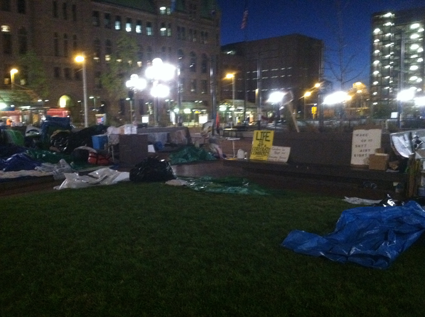 Soon, I was at the door of The Grand Hotel Minneapolis. I found it online and with a great rate attached…last June. Like I said, I'm a planner. You never really know what you're getting when you book a new place online but The Grand was a very pleasant surprise. I can't recommend this place enough. If you are going to be in the area, it's worth a visit.
Even though it was only 10:00 A.M., they had a room ready and waiting for me. This is likely due to the fact that I called them on the Monday prior asking about an early check in. Once settled, I grabbed my gear, headed out the door, hailed a cab, and headed for TCF Bank Stadium. My first stop was to meet fellow Husker Locker scribe Erin Sorenson.
Erin and I had chatted, tweeted, connected via Facebook, emailed and recorded podcasts together on Skype, but we had never actually met in person. It was another case of turning social media into being social. She is a 5'4"-ish dynamo. We spent the next 30 minutes or so doing what you do at a great tailgate - shared a few adult beverages and some great conversation.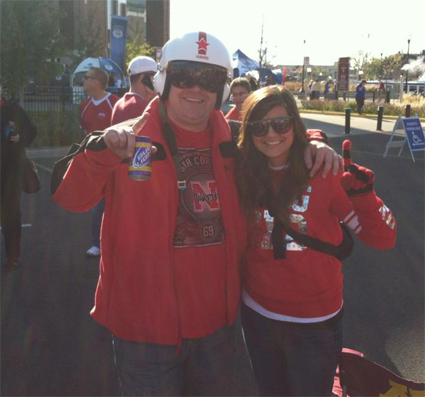 From there, I headed over to the Buffalo Wild Wings located right across the street from the stadium to meet up with my buddies Aaron Palmer, David Huey & Josh Coates. Aaron and I actually met on Twitter while talking Husker football.
We then met in person at the 2010 Sweet Sixteen in Houston which is where I met his longtime friend David who is a diehard Duke hoops fan.We all hit it off and have been tweeting back and forth ever since. Josh was a longtime friend of Aaron's and a Husker to the bone. It was a great quartet to be a part of.
After a few more adult beverages, we headed over to the stadium. Since we had seats in separate sections we parted ways until postgame.
As this was my first visit to the Gopher's den, I made sure to take it all in. Opened in 2009, the stadium returned football to the campus for the first time since 1981. The Gophers had played at the Metrodome in the years between. This place is a major upgrade. What it lacks in history, it makes up for in looks. It's pleasing to the eye and has the feel that a college football stadium should have.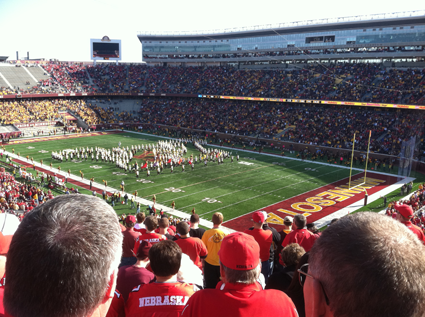 From the opening kickoff, there was little doubt of a Nebraska victory. The Huskers scored on five of their six first half possessions, but with two minutes to go before the half ended, a funny thing happened.
My phone started going crazy. I reached into my pocket and pulled out my phone to see a text message from my daughter, Jessica. It was in all caps, not unusual for a teenage girl. What was unusual was the message, "I JUST SAW YOU!!!!"
That's right, four exclamation marks. It's worth noting that she was a mere 1,156 miles away in Round Rock, Texas. Apparently the ABC/ESPN cameras had captured me in my game day gear.
A few months back for nothing more than kicks, I bought a fighter pilot's helmet on eBay and modified it to look similar to a Nebraska football helmet. I had no idea what I was going to do with it. Then my friends got a look at it and implored me to wear it to the game.
I'm not normally one to try to stand out in a crowd. I wear red and blend in. However, they were insistent. Husker Locker Editor-in-Chief Brandon Cavanaugh went so far as to say that if I didn't wear it, he would have to reconsider our friendship.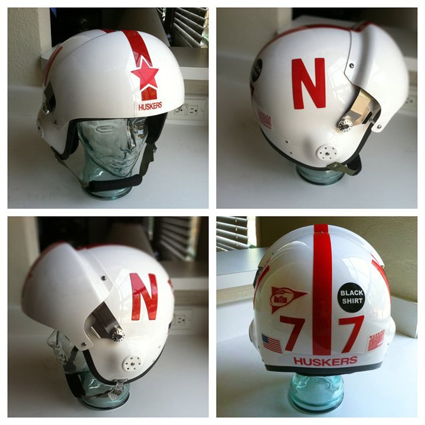 Eventually, I bowed to peer pressure. I wore it to the game along with a pair of those Blackshirts football gloves that Adidas broke out for the team this season. Naturally, I was easy to spot when the cameras took a shot of our section reacting after the defense came up with a stop on fourth and one against the Gophers' haphazard offense.
Shortly thereafter, my phone started buzzing like mad. A few minutes later another Husker Locker cohort, Greg Mehochko, tweeted out a couple screen grabs of yours truly on the telly. It was a personal highlight.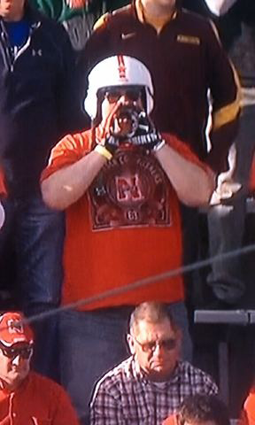 Following game's end, I reunited with the gang and we made our way to downtown Minneapolis. The plan was to get a bite to eat and then go to the legendary live music venue known as "First Avenue" to see The Lemonheads.
After parking a fellow Husker on the street recommended, we hit up Kieran's as we were looking for a place to eat. The Irish pub was a great choice. A good crowd, great service and the food was fantastic. Another high recommendation.
Following dinner, we headed over to First Avenue. Its reputation lived up to the billing as a cool venue with a very diverse crowd. To paraphrase Supreme Court Justice Potter Stewart, I can't define cool, but I know it when I see it, and this place was cool. I felt cool just being there, and I'm not a particularly cool individual.
As for the show, I didn't know much about The Lemonheads' music, but it became pretty obvious early on that lead singer Evan Dando has been on the road a long time. Perhaps even what many of us consider a lifetime. He was present, if not actually connected to his audience. Still, a good time was had by all.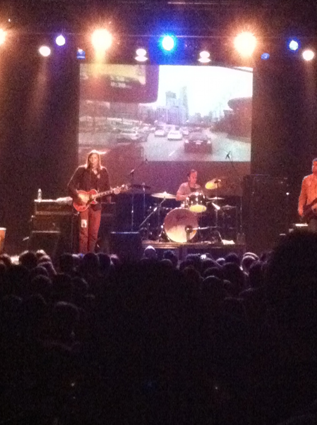 From there, we headed out in search of a bar to share a few drinks and a few more laughs before calling it a night. My friend Aaron's cousin had joined us for the show with a comrade of hers and he was sure of our destination. We set out onto the streets and made our way, much to our surprise, to the bar at The W Hotel.
Remember, we had gone to the show straight from the game. To say our crew was underdressed is to say that Gaddafi had a bad last day in office. There were plenty of young, pretty and well-dressed people there. Don't get me wrong, given the proper attire, I can fit in anywhere, but we were game for a laugh and a drink.
We soon made our way past the gyrating DJ and chuckles turned into full-on laughter as we exited the W, officially ending our socially awkward encounter. We all concluded that the only thing that would have made it better was if I had been wearing the Husker flight helmet. With that said, it was a place to see and be seen. If you're in that neck of the woods (and meet the dress code), check it out.
After saying good bye to the fellas, I finally hit the sheets. I'd been up for 36 hours, traveled more than 1,300 miles, met new friends, saw old ones, enjoyed a Nebraska victory, been on network television (twice), took in a Lemonheads show and was yanked far out of my comfort zone. All in all, it was an awesome day as a part of Husker Nation.
What's next? I think Nucky was onto something. That's why I booked a room in Indianapolis for December 3rd.
Follow Brett on Twitter: @BigRedinTejas
Follow Husker Locker on Twitter: @huskerlocker
Like us on Facebook: Official Husker Locker Page

Permanent Link to this Blog Post