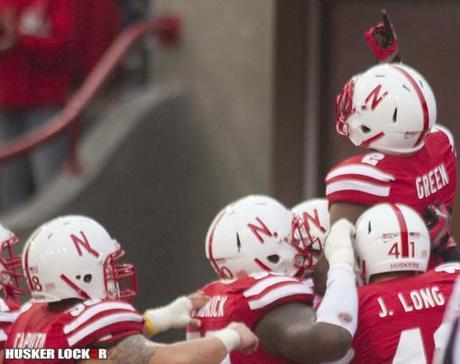 By Brett Baker
It's hard to believe that it's been four years since I first saw Aaron Green create magic on the football field. If "magic" seems like hyperbole, I'd be hard pressed to come up with another word for 428 yards rushing and nine touchdowns in a single game. It was also just his second game as a varsity running back at San Antonio's Madison High School.
In his third game as a Cornhusker, he's beginning to show Nebraska fans a glimpse of that amazing athletic ability. With Ameer Abdullah sidelined with a tweaked ankle after another monster kickoff return during the Huskers' contest against Washington, Green got his biggest dose of Beck Ball on Saturday and he made the most of it. With 61 yards of offense and two touchdowns on only six touches, the freshman put his stamp on the game.
As impressive as his two scores were, they weren't what impressed me the most. Early in the fourth quarter with Nebraska up 20 points and looking to put the game out of reach, Green got the bulk of his carries, but there was one that stood out. On first and ten at the Huskies' 23-yard line, Green got the handoff and broke right for an eight-yard gain. The run was most impressive for what he didn't do.
During his high school days, the only knock on Green was that he tended to look for the sidelines after a big gain. After this particular carry, Green was headed for the sidelines, but before getting there he turned up field, put his nose into the chest of the defender and gained another two yards.
To most fans this would be just an average play. To me it showed a lot more; that the kid is tough, hardnosed and has a head for snap live game decisions. Keeping the clock running and picking up a couple of yards was the right call, and he made it.
Given all of the teeth gnashing that's gone on with Taylor Martinez and his decision-making over the last 12 months, it's good to accentuate the positive when it happens. What makes this all the more satisfying is that Green didn't expect to get the touches that he did, but he was ready, willing and plenty more than able.
The best part is that Nebraska fans haven't seen his best yet. With each tote of the rock he's that much closer to breaking off the kind of run that kept him in the same sentence with Texas' Malcolm Brown during the recruiting process. While Husker fans dream of Green running in acres of space, I'm going enjoy the thought of him doing the little things that make for a great running back.