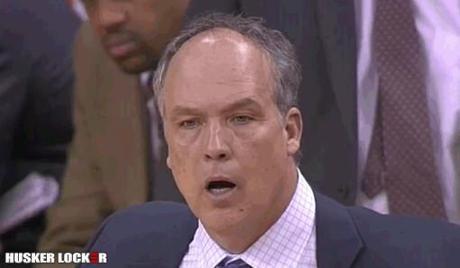 Share this story
By Brian Towle
On ticker boards littering an emptying Bankers Life Fieldhouse, a final score that had already been forgotten crept across. It was ultimately meaningless to Big Ten and national media - Purdue 79, Nebraska 61.
As the Boilermakers jogged off the court to begin their preparation for the Ohio State Buckeyes, a few red-clad fans watched this season's final exit for Doc Sadler and his team.
The mood was somber for members of the Huskers' traveling companions, but another sharp sense filled the air - closure.
It was the end of an era that saw Nebraska spin its tires on the basketball court like literally never before. Sadler will likely get the word from athletic director Tom Osborne that his services will no longer be needed in the Hendricks Center within the next 48 hours.
He'll take a $3.4 million check for his trouble and settle into an assistant coaching gig this summer. One team apparently anxious for Sadler's services is Billy Gillispie's Texas Tech Red Raiders, but where Doc falls is anyone's guess. By now, many in Lincoln simply don't care.
Did Doc give the Nebraska job his all? Of course he did. Even when the Huskers were sluggish on defense and impatient at times on offense yesterday night, there was a glimmer of hope. That the Big Ten tournament could be the turning point.
Unfortunately, like countless other times over the course of Sadler's tenure, the Huskers couldn't get out of their own ways
Bo Spencer showed up in his final game as a Husker tallying 22 points in just over 32 minutes. It appeared that he was the only key player for Nebraska who decided to pack his "A" game for the trip to Indiana.
Brandon Richardson and Dylan Talley disappeared again. If there's one thing this season's squad did as a team, it was tank.
Admittedly, Mike Fox and Brandon Ubel were playing their hearts out, but do they belong at this level? No, but you can't blame them for wanting to wear scarlet and cream.
If you had the opportunity to play in the Big Ten conference with limited physical skills and knew you'd see time on the court, you'd probably be all for the idea.
In the end, Doc and Nebraska need to call it a day and part ways. While the Huskers are handing out pink slips, executive associate athletic director Marc Boehm should get some boxes to collect his belongings, too.
Since Boehm has been at his post, men's basketball has produced zero NCAA tournament appearances and a sub-.500 in conference winning percentage.
While Husker roundball fans aren't expecting Sweet Sixteens every season, asking for Boehm to have overseen at least one NCAA victory during his tenure doesn't seem like demanding the impossible.
Where does Nebrasketball go from here? It depends heavily on who's going to be making the decisions. Osborne will lean on people like Boehm (if he sticks around), and support staff such as Paul Meyers for names.
Oregon's Dana Altman might be more willing to relocate than many think if the Ducks' loss in the Pac-12 tournament ends up preventing their ticket to the Big Dance from being punched.
Ohio's John Groce isn't a bad choice, but some will roll their eyes at another mid-major coach cutting his teeth in Lincoln.
Larry Eustachy of Southern Mississippi's name has been thrown around and even former Bowling Green coach and ESPN commentator Dan Dakish could be considered a viable candidate.
VCU's Shaka Smart could be had if some big checks were cashed. The Huskers' list is both long and distinguished.
Sadler surely wants to stick around, but there are only two clear options:
Pinnacle Bank Arena needs season tickets to be purchased, concessions to be bought and parking to be sold. It can potentially feature product on the same level or worse than this season's in November 2013.
The other option is ponying up the dough for Sadler's buyout and a new head coach. That likely comes to a grand total of $4.5 million including assistants and sales tax. Which is the cheaper, more logical route?
Don't go away mad, Doc. Just go away.
Follow Brian on Twitter:
@btbowling
Follow HuskerLocker on Twitter:
@huskerlocker
Like us on Facebook:
Official Husker Locker Page
Permanent Link to this Blog Post