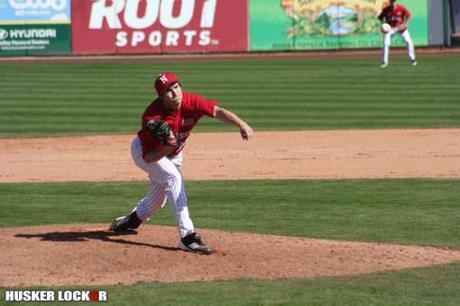 Share this story
By James Stevenson
What a difference a week makes.
Nebraska rebounded quickly after being swept by Gonzaga by sweeping a four-game outing in Corpus Christi, Texas. The Huskers returned to Lincoln with a 4-3 record, having outscored their opponents 35-10 in the Lone Star State.
Meanwhile, Gonzaga looked solid in Beaumont, Texas, going 4-0 this past weekend including two games against defending Big Ten Champion Illinois.
The Huskers looked the part in Corpus Christi, beating up on Pac-12 basement dweller Utah to the tune of 5-2, and 15-0, stomping host school Texas A&M-Corpus Christi by a score of 7-1.
They also conjured some magic with a ninth inning two-run homer by Chad Christensen to edge UNLV 8-7 one week after being victimized twice by Gonzaga's late game heroics.
Christensen is pacing the Huskers with a .414 batting average in 29 at bats, with a .690 slugging percentage. While it's too early to talk batting averages, the team took a huge step forward this weekend.
They're now batting .329 as a team on the season, with five of the more regular starts over .350. This is reminiscent of the hot starts Dave Van Horn's clubs would often begin with.
Meanwhile, the pitching has come around following the Gonzaga series debacle. The team ERA has dropped to 3.86, and Tyler Niederklein redeemed himself after blowing a 3-run save last weekend.
He provided three strong innings and earned a win. The effort dropped his ERA from 99.0 to 12.27 which underscores the volatility of statistics at this point in the season.
The Husker coaching staff appeared to dial back the energy this weekend. Perhaps an adjustment to their first time on the diamond as a unit, the change in intensity appeared to be effective.
Much like their statistics, it's too early to judge this Nebraska baseball team as a whole. The sweep against Gonzaga made the Huskers look worse than they are. However, The sweep in Corpus Christi probably made them look better than they truly are.
In reality, the Big Red should be 5-2 or 6-1, which isn't bad considering the level of competition they've faced. Only seven games into the Erstad era, it feels like Nebraska hasn't even scratched the surface of their potential.
- B-Hacks
In Darin Erstad's first win as Nebraska head coach, the Huskers allowed more than one hit in only one inning.
Travis Huber may be settling into the closer role for Nebraska. He earned two saves by closing out the Huskers' first and fourth victories of the season, only allowing one hit in two innings of work.
The Huskers dominated the All-Tournament team, with the entire infield being named to the team along with outfielder Rich Sanguinetti, designated hitter Richard Stock, and pitcher Jon Keller.
Chad Christensen, who moved back to shortstop after a being projected at outfield for the 2012 season, was named the tournament MVP.
It was a promising weekend for the Nebraska starting rotation. Zach Hirsch allowed one earned run in six innings of work while striking out six batters in his first win of the season.
Jon Keller allowed only two hits in seven innings of work while Nebraska blanked Utah 15-0. Tom Lemke returned to the starting lineup under a strict pitch count and pitched a solid 3.2 innings, allowing five hits while striking out four.
The only low point of Nebraska's starters was true freshman Kyle Kubat who was hit for three earned runs on three hits and threw three walks in just 2.1 innings.
After giving up five earned runs in just 0.1 innings and blowing his first save opportunity of the season, Tyler Niederklein retired all ten batters he faced in relief of Tom Lemke. This was the closer the Huskers expected to see, but he may have found his niche in long relief.
Besides Christensen's stellar weekend at the plate, Richard Stock had a great weekend, going 9 of 20 for the Huskers from the designated hitter role.
After committing five errors in three games versus Gonzaga, the Huskers shored up the defense with Christensen at shortstop, playing three error-free games and finishing the weekend with only two errors to his name.
The Huskers return to action this weekend at the Dairy Queen Classic at the Metrodome in Minneapolis, Minnesota. They play West Virginia, New Mexico State and a technical non-conference game against Big Ten opponent Minnesota on Sunday.
Following the Dairy Queen Classic, the Huskers open a 17-game home stand at Haymarket Park against former Big 12 rival Kansas State, before playing a four-game weekend series against No. 25 California.
Follow James on Twitter:
@jamesstevenson
Follow Husker Locker on Twitter:
@huskerlocker
Like us on Facebook:
Official Husker Locker Page
Permanent Link to this Blog Post