Because the last give-away in June was a succes, Neatorama in cooperation with The Presurfer is doing another one. And again it's a Zombie-themed give-away. Neatorama is giving away 5 Zombie Wine Bottle Stoppers for Presurfer readers.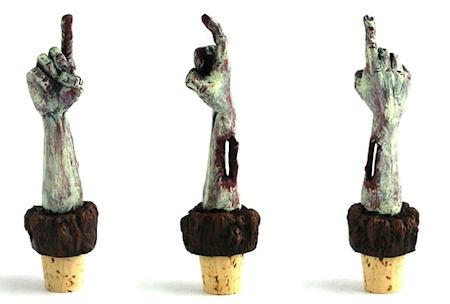 The Zombie Wine Bottle Stopper is a wine bottle cork or bottle stopper shaped like a zombie hand rising from the ground. It is made from tough urethane resin and cork. Each Zombie Wine Bottle Stopper is unique. No two are exactly alike - paint details may vary as it is handpainted.
Here's what you have to do. Go to the
NeatoShop
and take a look around. See if there's anything that you're interested in. There's tons of new stuff along with old favorites.
If you like the
Zombie Wine Bottle Stopper
send me an email and tell me you would like one for free.
Here are the rules:
Go to the NeatoShop and take a look around.
If you would like to receive a free Zombie Wine Bottle Stopper send an email to
[email protected]
.
Give-away runs from Monday August 8 until Thursday evening August 11, 12 o'clock GMT.
Winners will be picked by a True Random Number Service.
Winners will be contacted by me and asked for their postal address.
Neatorama will send the prizes directly to the winners.The Presurfer