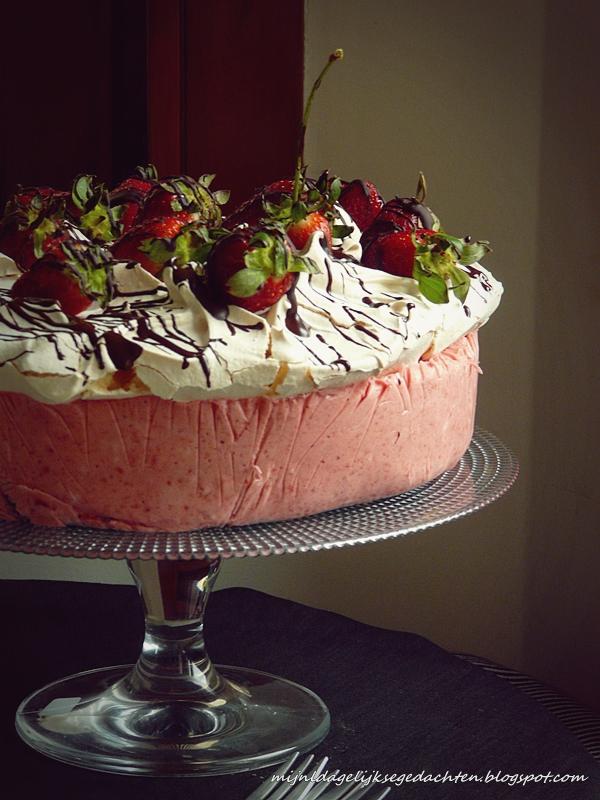 For the love of brownies and strawberries this summer treat has been created. What can I do if my guys always ask for chocolate brownie? How to adjust a good trusty brownie for spring or summer dessert? I added strawberry cream mousse and a meringue topping with some fresh strawberries and a drizzle of dark chocolate. Well, it was delicious!
Living in Istanbul for over tree years now I still managed not to know where do people get gelatine??? I always have to bring it with me from wherever I go. But this time I just did not have any left, so I had to use strawberry flavoured one. You could substitute with plain gelatine and extra sugar...I guess it would be better to get rid of any artificial additive. But well, we enjoyed every bite of this light and flavourful cake as it was.
Addition of meringue was a good decision too, not only did it make the cake look nice it also gave this lovely crunchy structure with soft airy center. Of course, you could change strawberry to any other berry to your liking. Another interesting thing was to bake brownie without chocolate, actually. Only with cocoa powder. It absolutely worked and I would recommend doing so if you run out of chocolate or to minimize the cost also.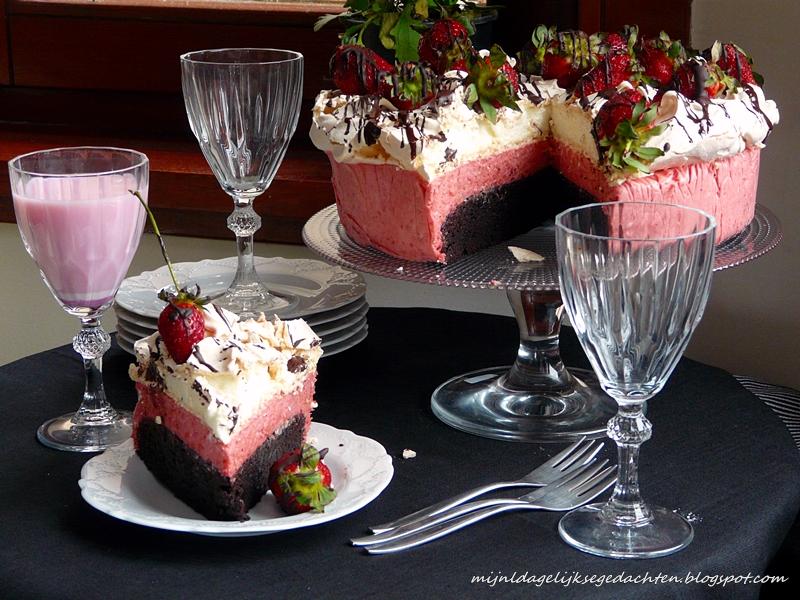 Brownie cake (adapted from here, doubled the recipe)
250g butter
2 cups sugar (was enough)
0,5 t.s. salt
vanilla extract
1.5 cups cocoa powder
4 eggs
1 cup AP flour
As usually melt butter, sugar and cocoa, stirring occasionally until it is all well combined and hot. Set aside to cool down a little. Add vanilla, eggs and flour and stir until well combined.
Pour the dough into 23cm round spring form lined with baking paper and bake at 160C during 28 minutes.
Let it cool completely. Remove brownie from it's form, cover the form with cling film and return brownie into it.
Strawberry Mousse
400ml puréed strawberries
2x100g strawberry flavoured gelatine
200ml 35% cream
1 cup vanilla powdered sugar
some strawberries for topping
melted chocolate for drizzling
Blend strawberries to get 400ml purée.
Whip cream with powdered sugar.
Heat strawberry purée and add gelatine powder into it, stir well. Let it chill in the freezer during 7-10 minutes.
Add gelatine mixture into cream and whip quickly just to incorporate.
Pour this mousse onto brownie and set into the fridge for about 2 hours.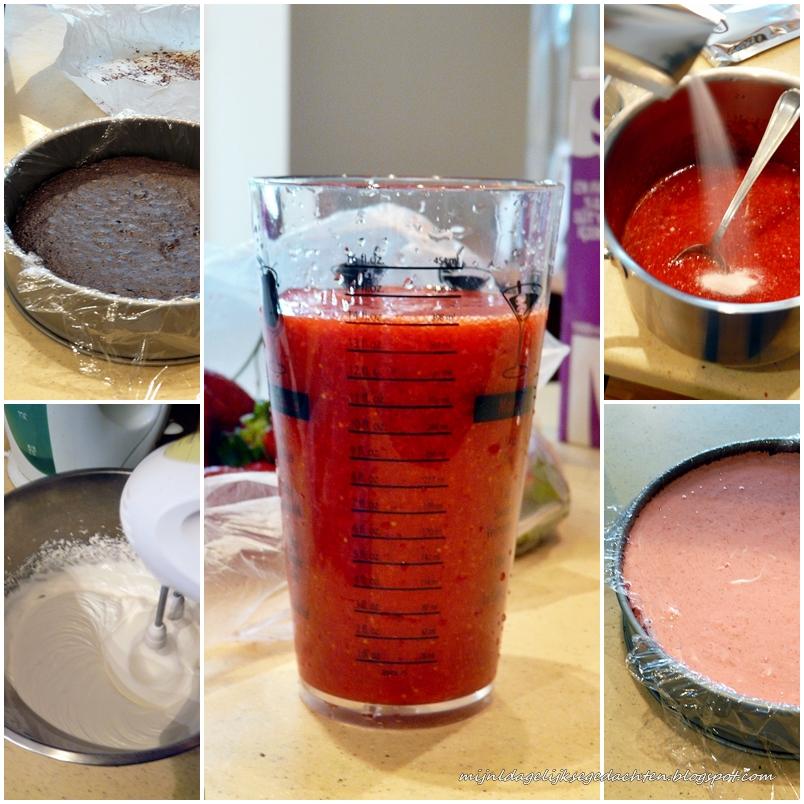 Vanilla Meringue (Pavlova recipe from here)
4 egg whites
pinch of salt
2-3 drops of lemon juice
200g sugar
1tb.s. corn starch
vanilla
Start beating egg whites with juice and salt until foamy. Add little by little all the sugar and starch and whip until stiff picks form. Preheat oven to 125C. Draw 23cm circle on baking paper, transfer whipped egg whites onto the circle and bake for an hour. Switch the oven off and leave meringue in the oven with the door slightly ajar.
Atop already hardened mousse with meringue and decorate with strawberries and chocolate. Store this cake in the fridge.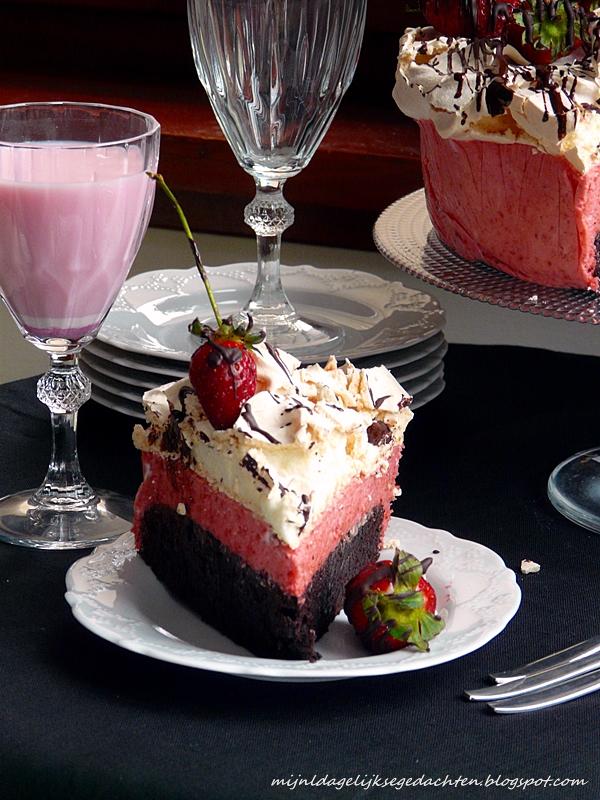 HAPPY EASTER!