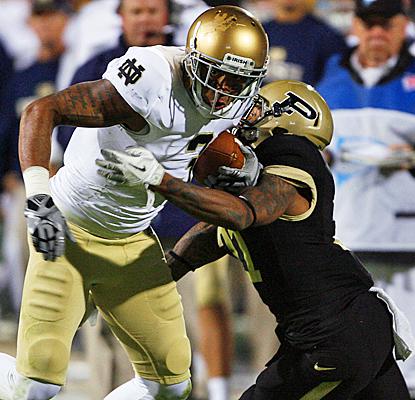 Michael Floyd and Cierre Wood led the attack for the Fighting Irish as Notre Dame rolled to an easy 38-10 win at Purdue on Saturday night.
Sure beat watching any of the baseball on my TV last night.
Floyd (pictured) caught 12 passes for 137 yards, including scoring the opening ND TD to begin the game.
Cierre Wood rushed for 191 yards on 20 carries, including a 55-yard TD gallop in the second quarter that made it 21-0. The combination of Wood and Jonas Gray (94 yards on the ground) spurred the Irish attack.
It was a solid game for Tommy Rees, who threw three TDs, and went 24-for-40 for 254 yards.
In all the Irish had 551 yards in total offense, and they dominated on both sides of the ball, as the defense held the 11th ranked Purdue rushing offense to just 84 yards on the ground.
It was the best performance of the year for the 3-2 Irish, and they take on Air Force at South Bend next Saturday.