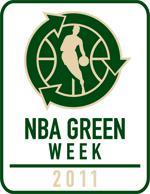 While watching a few seconds of an NBA (National Basketball Association) game the other night, I noticed that one of the teams' warm-up shirts said "NBA Green". As it turns out, the NBA launched their Green Week on April 3rd. This year represents the NBA's third annual celebration of environmental issues. Partnering with the National Resource Defense Council (NRDC), the week culminates tomorrow, Sunday April 10th. Throughout Green Week players will wear "special adidas oncourt apparel, teams will hold auctions to benefit environmental preservation organizations, and teams and players will participate in hands-on community service projects."
The t-shirts that first caught my eye are "100-percent organic cotton shooting shirts featuring the NBA Green logo. Players will also wear NBA Green headbands and wristbands made from 45-percent organic cotton during nationally broadcast games throughout the week to raise additional environmental awareness." In order to spread the word, all 30 teams across the league "will encourage fans to participate in greening efforts by hosting community service events, including tree plantings, recycling drives, park clean-up days, and the refurbishment of Reading & Learning Centers using environmentally friendly materials. In addition, teams will hold in-arena Go Green Awareness Nights featuring auctions to support environmental protection programs and promotions to encourage fans to adopt green habits"
Among the "Top 10" measures being taken throughout the NBA are
The Golden State Warriors and Esurance will team up with the non-profit organization 'Urban Releaf' to plant trees in West Oakland to beautify the area and combat pollutants naturally.
New Orleans Hornets staff members will work with 'Save the Wetlands' to plant trees along the Gulf Coast and in the marsh areas.
The Portland Trail Blazers are rolling out hundreds of new recycling/compost stations at the Rose Garden to eliminate waste, collect compostable materials and keep recyclables from reaching landfills.
[Image source]