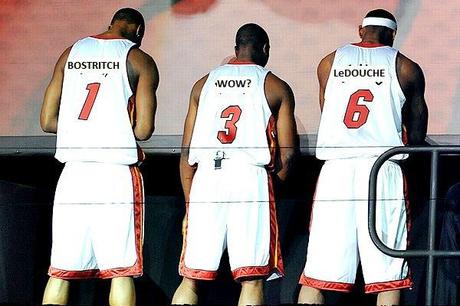 These are the jerseys they are going to wear?
Via ESPN:  So long, James, Bryant, Allen, Pierce and Garnett.  King James, Black Mamba, Jesus Shuttlesworth, The Truth and KG might be headed to the backs of NBA jerseys.  Some members of the Miami Heat have been told the NBA is considering having them and the Brooklyn Nets wear "nickname jerseys" in at least one of their four matchups this season. The NBA has not announced the plan, but teams apparently have been aware of the likelihood of it happening for at least several weeks.
Is the NBA serious here?  Could this be a douchier move?  I absolutely hate this idea and you know why?  What about the 12th man on the bench?  What's his nickname going to be?  Is it something the team calls him, his boys call him or maybe even his mom calls him?  Is that what you really want on the back of your jersey for a game that will 100% be televised on ESPN or ABC?  Such an idiot move that has someone like Lebron James' hands all over this.  He probably was sitting around a circle jerk with Ray Allen, Dwayne Wade and the Bostritch and was like, "Hey guys, how cool would it be to play a game with our nicknames on the back of our jerseys?  I bet I could convince the NBA to do it."  And just like that, the NBA is considering it.
You know who probably hates this idea, KG.  Guys a professional and doesn't care what's on the back of the jersey, he cares about the heart of the man wearing that jersey (cheesy I know, but fuck off.)  KG doesn't want to be wearing a jersey that says "The Big Ticket."  He wants to win the game and win championships.  (I don't miss KG at all, not even one bit.)
You know how I know this was a Lebron idea?  This quote from the article: Four-time NBA MVP LeBron James is expected to wear "King James." Heat guard Dwyane Wade would have any number of nicknames to choose from, with "Three" — both his jersey number and championship-ring total — being his current favorite. He also could go with his more commonly known name, "D-Wade."  Brooklyn forward Paul Pierce has been called "The Truth" for many years, and fellow new Nets forward Kevin Garnett has long been known by his initials or "The Big Ticket."
Basically it says, "We've already talked to Lebron about it and he's going to wear this name and Dwayne Wade can wear this and as far as the Nets go, we know some of them have nicknames but we don't really care about them because we only care about what Lebron wants."  Once again, screw off ESPN.
P.S.  Jesus Shuttlesworth is not Ray Allen's nickname.  He played the character.  He screwed over the Celtics to play for the Heat.  He's a douche bag in my mind.  That is all.
P.P.S.  How bad does this have to piss off those pesky NCAA football players who can't make a dime off their merchandise   Not only will the NBA players get paid for their regular jerseys, now Kobe Bryant can get extra dough for a "Black Mamba" jersey that sells like hot cakes even when he's not playing.  For real, Johnny Manziel must be so pissed he can't sell "Johnny Football" jerseys to everyone in the world right now.  Actually, he probably could and the NCAA would only suspend him a few quarters or something.