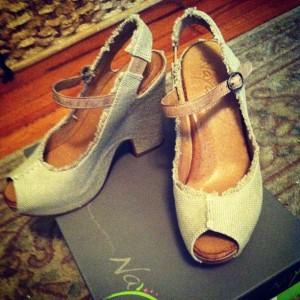 I've been very vocal on this blog about my love for Naya shoes.  I am not kidding when I say they are the most comfortable shoes I've ever owned!  Last summer I got Naya's Eternal Wedge in yellow  I can stand in them for eight hours pain-free.   I am now on my third pair (I got Naya's Gazelle boots for fall), these Naya Maeve Sandals, and I am so excited to wear them this season!  My friends over at Naya send me a pair to try out seasonally and this is the style I chose.
When I posted this photo of my Naya Maeve sandals on Instagram and Facebook Page last week, the photo got so many likes that I decided to put some outfits together using these shoes.  To me, there is a retro feel to this linen slingback style with a round, peep toe.  Feeling inspired, this is the direction I chose to go with the outfits shown below.
Check out the looks below using these shoes and definitely check out Naya shoes if you are looking for comfort and style all wrapped up into one.  Oh, did I also mention that these shoes are very eco-friendly and soft on the earth?  For shopping information on all pieces used in the looks click the images below.
Naya Maeve Sandals- Look #1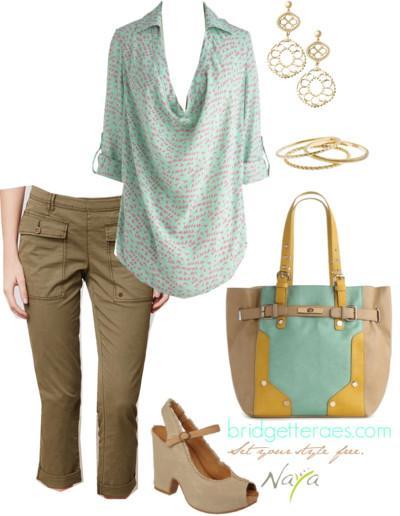 Bridgette Raes Styling for Naya Shoes – Look #1 by bridgetteraes featuring filigree jewelry
With a pair of capris and a tunic blouse, Naya's Maeve sandal upgrades the look to something more polished.  The nice thing about this shoe color is that your legs don't only look longer and slimmer because of the heel height, but tan shoes elongate your legs and also make them look slimmer.
How easy would it be to take a more casual capri look and elevate it with a pair of shoes like this?
Naya Maeve Sandals- Look #2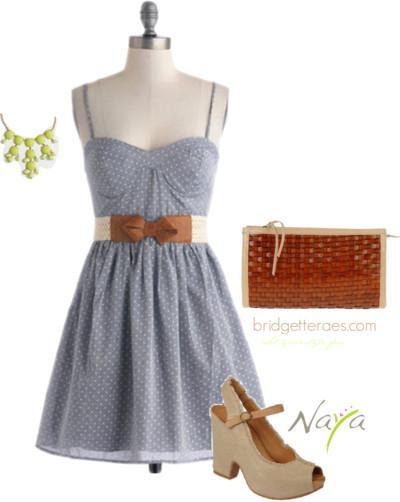 Bridgette Raes Styling for Naya – Look 2 by bridgetteraes featuring jucca
I just loved the way these Naya shoes worked back to the belt in this flirty summer dress.  These shoes make a statement without overpowering the rest of the outfit.
Naya Maeve Sandals- Look #3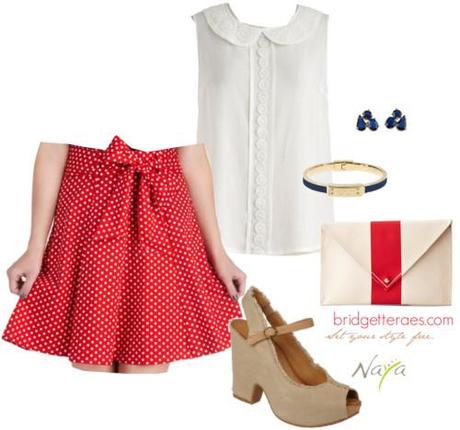 Bridgette Raes Styling for Naya Shoes- Look 3 by bridgetteraes featuring genuine leather handbags
No matter what color you choose to wear, a tan pair of shoes will always work.  In this case, the Naya Maeve has the same retro feel as the rest of the outfit, and the shoes are so comfortable that your legs will look and feel good at the same time.   You may actually be able to carry a smaller purse– no need to lug a more comfortable pair in your handbag!
Naya Maeve Sandals- Look #4
Bridgette Raes Styling for Naya Shoes – Look 4 by bridgetteraes featuring a white pearl necklace
Paired with a figure flattering fit-and-flare, trumpet style dress, the Naya Maeve shoes give an elegant summer feel to look while adding more figure flattering benefits.
Naya Maeve Sandals- Look #5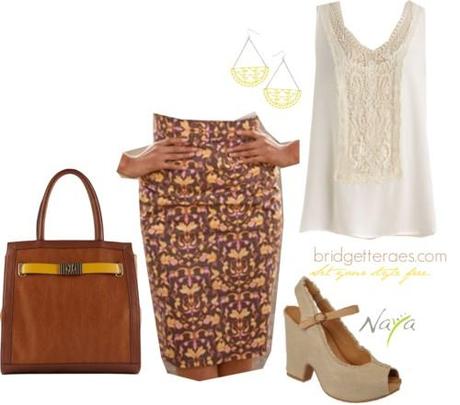 Bridgette Raes Styling for Naya Shoes by bridgetteraes featuring platform high heels
What I like about these shoes is that they can go from casual to workplace really easily.  I love the way they look with a printed skirt and top with soft feminine details.
If you're looking for comfortable shoes that won't sacrifice style, I highly recommend you check out Naya.  I've never been disappointed by a pair I've owned.
You can check out Naya's Maeve Sandals at Naturalizer stores and most shoe retailers, including ShoeBuy.com.