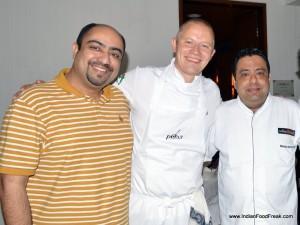 It is impossible to refuse an invitation to anything new from Indian Accent's Chef Manish Mehrotra. And if is an opportunity to also sample some of the much talked about Nordic cuisine from a Michelin starrer Chef Samuli Wirgentus  of Postres restaurant at Helsinki, it gets even better. So here we are at the Manor hotel, to taste a six course menu with signature dishes of both the chefs, paired with some excellent wines.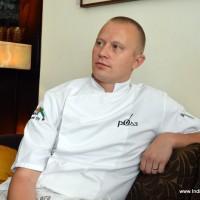 We enter the cozy, minimalistic environs of Indian Accent restaurant and meet the two chefs who have just finished the first leg of their collaboration at Helsinki from 1st to 5th October where our own maestro chef Manish Mehrotra enthralled the Finnish foodies with his four signature courses with chef Samuli cooking the remaining two. From 17th to 20nd October in New Delhi, it will be the Indian chaat loving Samuli who will be cooking his signature courses with Manish coming in with his two dishes, plus starters, palate cleansers, amouse bouche etc.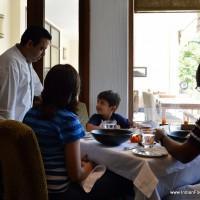 I ask Manish whether today's session will be about the two chefs cooking together creating some kind of a fusion food. To my relief he says no, and clarifies: "Chef Samuli will present some dishes that showcase the essence of Nordic cuisine – beauty in simplicity of fresh ingredients in their natural state, with each dish having very few ingredients. And I will serve some of my dishes", he adds modestly.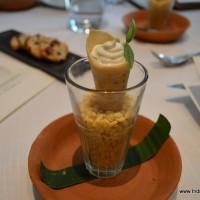 The meal starts with a comforting amuse bouche of a mini kulcha stuffed with caramelised onions and a mild Danish blue cheese. Next is an amazing mini cornetto cone filled with baingan ka bhartha and topped with goat cheese mousse, with the cone resting in a glass full of moong daal namkeen. The most refreshingly tasty starter is the one that follows – Banarsi tomato chaat topped with popped quinoa, and a papad made in a golgappa shape that is to be crumbled and added on top of the chaat. Along with this dish comes a side of a vegetarian meatball made of Kashmiri morels with the white makhani sauce. All this is accompanied by a glass of the world famous champagne brand Taittinger. Manish's playful Indian starters have excited the palate enough for some Nordic flavours.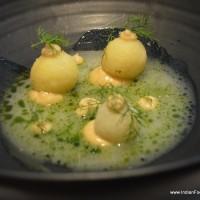 The first course showcases the essence of Nordic cuisine. It is a simple dish of potatoes with fresh dill and brown butter, topped with a broth made out of the liquor in which the potatoes had been boiled, butter and fresh dill pureed. It is delicious simplicity at its best. It is paired with a superb Californian Chardonnay of 2009 vintage.

M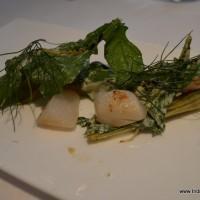 anish's signature palate cleanser of watermelon and lime chuski makes an appearance in the customary mini pressure cooker and we are ready for the next Nordic course. The hay smoked scallops with grilled fennel, sorrel and fennel pollen is another composition in perfect harmony, delivering a wonderful taste experience. Despite the obvious constraints on fresh ingredients, the chef manages to put together a wonderful combo of fresh grilled fennel, arugula (as a substitute for sorrel which is not available here), and crispy, sweet, perfectly cooked scallops. This is served with a South African Chenin Blanc, 2010.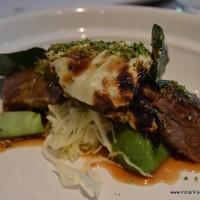 The next dish, charcoal grilled lamb with broccoli, oysters and cabbage is a composition with just three ingredients – lamb, broccoli and cabbage, made amazing in its optimum use of these three ingredients. On the plate we have a lightly charcoal grilled lamb placed over fresh broccoli puree, and topped with thinly sliced sauerkraut, broccoli leaves, stem, flower and a slightly burnt cabbage leaf. The result was a perfectly harmonic taste that delighted all senses. Accompanying the dish is a Sula dindori Shiraz 2010.

I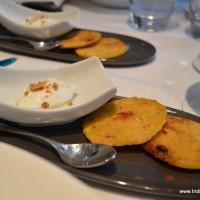 t is time to move from Finnish art to Manish's wizardry. The next dishes is an exquisite take on a childhood favorite – malai corn, sarson ka saag, white butter popcorn and make ki roti-lets. It has a wonderfully rich sarson ka saag, topped with a melt-in-mouth corn tikki and popcorns made in white butter, a combo to die for. Accompanying it are hot from the tava mini make ki rotis and freshly churned white butter topped with grated jaggery. I let out an involuntary 'oh my god' as I dig into it.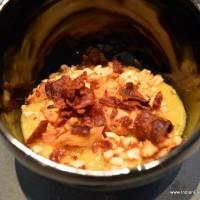 The next dish is an interpretation of khichri, a comfort food not normally known for its gourmet properties. But not here. Indian Accent's kitsch-ree is a sexier, alluring version. It is cooked with grilled chicken pieces, pine nuts, toasted garlic, and is topped with crispy thin bacon, making it a super indulgent experience. Pairing it beautifully is an Italian Chianti, 2008.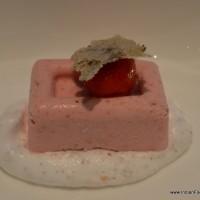 The dessert is titled Finnish summer, and has strawberries, whipped cream and grape ice, paired with a somewhat over-sweet Spanish Muscatel. It is a pleasant end to a great meal.

The Veen Connect meal is a memorable experience. Meeting the affable, unassuming and charming Manish is always a treat. The Michelin starrer chef Samuli opens our eyes to the joys of fresh, minimalistic food. And we have a foodie experience we will cherish and talk about for a long time.