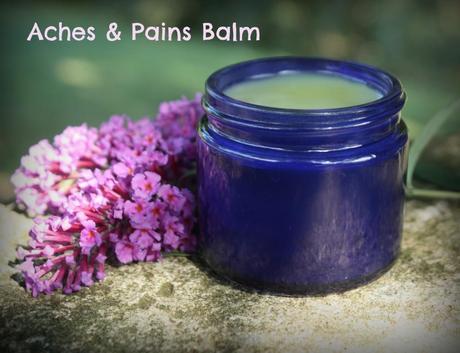 from herbsandoilsworld
No one likes having aches & pains, and what better way to get relief with an all-natural product that you've made yourself?
Tiger Balm is an old remedy that's been around for ages helping people deal with everyday muscle and joint pains and works miracles for deep relief. It's also great for; arthritis, back pain, sprains, joint pain, tension headaches, muscle strain or aches, and even offers a little relief from common cold symptoms.
When your muscles and joints feel stiff and sore, the warming effect of this all-natural ointment, linament, or balm soothes the aches, and lessens the pain when massaged into your skin. It's also great when used in conjunction with a damp heat wrap (warm compress) over the affected area.
And since your skin is the largest organ of the human body, why use products with petrolatum or other harmful ingredients? Make your own, with ingredients your body will love (it's so easy!) and your wallet will thank you too. It may seem like alot to spend at first, to get everything you need, but if you suffer from on-going pain, and do some crunching with the numbers, you will be suprised with how much you get out of them, it's quite a bit cheaper to make your own.
Wax is needed, and I like using natural beeswax instead of paraffin-based waxes. Also, I think the combination of African Shea Butter (Pure Raw Unrefined ), olive, grapeseed, and coconut oils make a perfectly balanced texture for this balm. But feel free to experiment with any of your favorite carrier oils (like sweet almond, avocado (great for dry skin), or even fractionated coconut oil (awesome for a dryer feel). You'll also need menthol crystals.
Read the rest of my infobarrel article (the entire recipe here). Below is ONLY the essential oils needed:
Essential oils:

camphor (cinnamomum camphora) essential oil 25 dps.
peppermint  (mentha piperita) e.o. 40 dps
eucalyptus (eucalyptus globulus- or any eucalyptus) e.o. 50 dps.
clove (syzygium aromaticum) e.o. 25 dps.
cinnamon bark (cinnamomum zeylanicum) e.o. 10 dps.
wintergreen (gaultheria procumbens) e.o. 10 dps.
birch  (betula alba) e.o.12 dps.
cassia (cinnamonum cassia) e.o.15 dps.
cajeput (melaleuca leucadendra) e.o. 40 dps.
thyme (thymus vulgaris) e.o. 3 dps.
oregano (oreganum compactum) e.o. 4 dps.
lavender(lavandula angustifolia) e.o.15 dps.

Read more at http://www.infobarrel.com/How_to_make_natural_Tiger_Balm_for_aches__pains
Notes About Menthol Crystals:
Using in a salve: Melt all ingredients together except for the menthol and essential oils. Remove from heat, stir in menthol crystals, re-heat until crystals are melted if needed. Remove from heat and let cool before stirring in the essential oils or they will evaporate, pour into containers.

If you don't have experience in using menthol crystals, they are quite powerful, so do wear a mask when using them and caution, you don't want to have your head right over the bowl when mixing this item.

Menthol crystals are soluble in alcohol, essential oils and olive oil but almost insoluble in water and glycerin, with a melting point that typically averages 41°C to 44°C (105.8°F to 111.2°F), and boils at 212°C (413.6°F).

Menthol is the chief constituent of mint oil and is responsible for its distinctive odor and taste and the "cooling sensation" it produces when applied to the skin.

Mentha piperita contains up to 50% menthol and Mentha arvensis contains 70-80% menthol.

Menthol and its derivatives can also be added to various peppermint type compositions to enhance the cooling and freshening effects. In ointments, liniments, and solutions menthol crystals are employed in strengths ranging from 5 to 20 per cent, and the crystals are commonly applied to cosmetics, salves and balms.

Use a few drops on the tiles of the walls surrounding your shower (not on the floor!) and the menthol will be released by the steam created by the hot water. Externally, it is employed as a local analgesic, but it must be diluted first in an adequate carrier and may be rubbed liberally on the skin. here you will notice that it produces a sensation of immediate cold, followed by numbness and partial anesthesia; it first stimulates the nerves, conveying the sensation of cold, and later penetrates the skin and paralyzes the nerve endings.
Note:
Not for use on small children or pets.
_____________________________________
Also find ingredients Here, and:
where to buy the best organic butters
and fixed oils
where to buy wax
Mountain Rose Organic carries all your natural ingredients