Natural skin care products 'should be worn daily'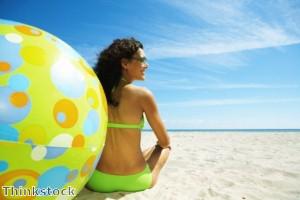 Many of us fashionistas have been taking advantage of the rising thermometer readings, but we need to be aware of applying natural skin care products during hot climates.
Renee Rouleau, a skin care expert and celebrity esthetician, has wrote for JustLuxe of some advice on the best ways to keep the body looking good when the sun is shining bright.
She explained that one product which should always be applied is sunscreen, with this form of skin protection necessary rain or shine.
Ms Rouleau explained: "Don't wait until you're playing poolside to put it on - wear it consistently and daily to yield best results and reapply often."
The expert, who has worked with such celebrities as Jessica Simpson and Katie Cassidy, went on to explain that you should look to go for more than just a little dab of sunscreen when applying such products.
Speaking to Femina.in recently, dermatologist Dr Radha Naik has recommended us Brits apply soap containing Benzoyl Peroxide to our faces when the weather is hot, to stop spots from appearing in such conditions.
by Shannon Davies