Top 5 Takeaways from the 2014 National Beer Wholesalers Association Conference
Last month, beer distributors from across the country gathered in New Orleans for the 2014 National Beer Wholesalers Association Conference (NBWA). As you can imagine, much of the conversation focused on the changing role of independent beer distributors, legislative changes, the explosive growth of craft beer (18% in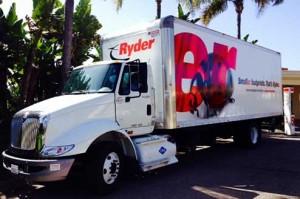 2013) and an open distribution system that brings incredible choice to the beer aisle.
Whether you were a fly on the wall or a registered attendee, you would have heard beer distributors talk about something else a little surprising: Natural Gas Transportation. In an effort to reduce fuel costs and environmental impact, several beer distributors and leading mass market brewers have already embraced the conversion to natural gas. Others are close behind, steadily adding natural-gas vehicles to their fleets. What about you? Is it time to refresh your fleet with a cleaner, greener and cost effective transportation solution? Consider these takeaways from the NBWA conference.
Key Takeaways from the NBWA Conference
It's now economically viable to consider natural gas
Just a few years ago, natural gas fueling infrastructure was in its infancy. Vehicle engines weren't as sophisticated. On-board fuel storage tanks were bulkier, heavier and couldn't hold as much fuel. Beer distributors worried about not being able to find fuel for longer-distance routes (range anxiety). Given that the biggest source of natural gas savings is the low cost of the fuel itself, these factors created real roadblocks to widespread adoption.

All that's changing. Today, there are 763 public Compressed Natural Gas (CNG) and 64 Liquefied Natural Gas (LNG) fueling stations across the U.S. While Fast-fill CNG stations still take a bit longer to refill as diesel, the fill times have decreased significantly. LNG stations fill as fast as diesel, and CNG time-fill stations enable fleets to refuel overnight. Bottom line: there are more stations and more ways to refuel than ever. So, it makes more sense to switch than ever.

Case in point: one major beer distributor reduced fuel costs by 48.4%. And with leasing, natural gas is even more economically viable – companies can add natural gas trucks without risk and without tying up capital needed for other areas of business.

New 12-liter engines are built for longer hauls and heavier weights
Just as the natural gas infrastructure has evolved to support longer trips, so have engines. A year ago, the primary natural gas engine on the market was a 9-liter engine (Cummins Westport 8.9L ISL-G). Today, distributors have access to the bigger and stronger 12-liter engines (Cummins Westport 11.9L ISX 12 G) for heavier loads and difficult geography. With multiple options, companies can use smaller engines for local deliveries to stores and larger ones to haul heavier payloads to and from distribution centers.
Environmental benefits = good corporate citizenship
One of the biggest reasons beer distributors are migrating to natural gas fleets is the environmental benefits. Natural gas vehicles generate less particulate matter and nitrogen oxide than diesel engines. They not only generate fewer greenhouse gases – they also run cleaner and quieter. These advantages support brewers' and distributors' corporate sustainability initiatives. In fact, some distributors have earned awards and significant recognition for moving to natural gas and shrinking their carbon footprints.
Drivers really like natural gas engines
Drivers like natural gas for several reasons. The engines are quieter than diesel, so drivers can actually hear the radio. When fueling, they don't have to worry about getting diesel fuel on their hands or clothes, or the pungent odor of diesel filling the cab. What's more, there's no need to go through the DPF regeneration process which eliminates a major driver hassle.

Many drivers also like the idea that natural gas is domestically sourced and contributes to American energy independence. At some facilities, natural gas drivers get preferential treatment. Finally, they like knowing they're on the cutting edge of a transportation revolution. These considerations are big, given the worsening driver shortage.

Truck manufacturers are committing more production to natural gas
As natural gas adoption increases and truck manufacturers commit more production to natural gas vehicles, prices are beginning to drop. There's also increasing competition in on-board fuel tanks/storage. In the early days, there were very few suppliers of CNG and LNG fuel tanks. Today, as more companies enter the business and increase competition, designs are improving and prices are coming down. The latest natural gas fuel tanks are stronger, lighter-weight, have increased capacities and are more aerodynamic, enabling trucks to go farther with more payload.
Rueben Stokes is Director of Business Development – Advanced Fuels for Ryder System, Inc.
He is responsible for business development in the Southeast Region. Rueben is a natural gas for transportation expert and is a frequent speaker and panelist.