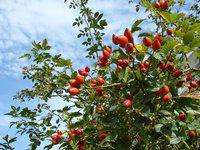 I have been using anti-aging serums and creams for more than a decade now and I believed they work fine. The last couple of years (actually, since I gave birth to my son) I became more critical towards what we, in my family, eat, drink, wear or put on our bodies. Being in an analytical mood and having quite a busy lifestyle, which does no good to my skin, I started to question if I am not actually buying fake dreams instead of really working anti-aging creams.
I am usually judging for my skin  in the morning after I wake up. Looking at me I ask: "Mirror, mirror on the wall, tell me ….. do I look well rested?". And for the last couple of years my mirror has been horribly honest. The skin on my face was looking like a thin leather whose owner hasn't read very well  its usage instructions. I had to make a change.
When I realized this I already knew that conventional skin care products are full of toxins to which I was certainly owing my unhealthy looking skin. I urgently needed a natural anti-aging serum that is simple to make (which I prefer rather than buy it), and of course, working. Having some experience with vegetable oils already, I headed straight to the Rolls Royce of them all  – the Rose Hip Seed Oil. What a miracle of the natural anti-aging skin care!
If you don't want to buy  products that include silicons and petrochemical cosmetic ingredients, here is a simple and natural anti-aging serum recipe with vitamins, essential fatty acids and essential oil.
Natural Anti-Aging Serum Recipe
Ingredients:
 - 4 tsp rose hip seed oil (for young and radiant skin)
- 2 tsp hemp seed oil (anti-aging and moisturizing)
- 6 drops rosewood essential oil (regenerating and rejuvenating)
Directions:
1. Apply a few drops of the homemade anti-aging serum on your face in the evening right after bath. Massage it for a couple of seconds.
2. If you use the serum during the day, it is necessary to apply a sunscreen on top. I personally use it only in the evening, while my morning beauty routine includes a homemade moisturizer with aloe vera and a vegetable oil.
3. Store it in the fridge.
4. Be patient. Results will come.
I don't promise that a miracle will happen overnight using this natural anti-aging serum. We have been "abusing" our skin with bad cosmetics and unhealthy lifestyle for years.  So, give it at least a month before you start seeing any results. And I am impatient to hear your success stories!