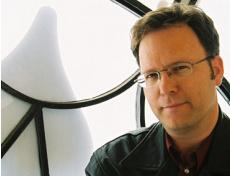 Garth Nix is the New York Times best-selling author of the Keys to the Kingdom series, and the acclaimed novels Sabriel, Lirael and Abhorsen.
 His books have appeared on the bestseller lists of The New York Times, Publishers Weekly, The Guardian and The Australian, and his work has been translated into 37 languages.
After being delayed leaving Melbourne due to an accident involving two trucks and a tunnel, Garth arrived at the Cranbourne Library to an enthusiastic audience of around fifty who had waited patiently. They knew it would be worth the wait and it was. 
Looking around the room I was instantly struck by Garth's wide appeal. His audience was made up of people ranging in ages from 10 yrs to sixty and with good reason. His writing spans junior fiction to adult and occupies the realm of the fantastic. Genre fiction, especially Fantasy, is the ideal way for us to leave the real world behind. There is nothing I love more than being persuaded by a great writer to suspend my disbelief for a time and enter the world they have created.
When writing, Garth said he often starts with something visual - an image, "one slide inside a frame" - rather than with words or a title. He had some initial advice for any would-be writers in the room (and there were a few). First - "Finish things. You never know what might happen." Second - "Be too dumb to quit." His second novel was rejected by the publisher of his first. If he had quit then, well...
He described his first published novel The Ragwitch as a darker, scarier Narnia. He submitted this novel to five different publishers and three automatically rejected it. The other two asked to see the rest of the manuscript and of those, one failed to get back to him at all and the other published the novel. He was 25 years old at the time and admits to listening to the message on his answering machine many many times, and why not! This is an exciting time for any writer.
When asked what advice he'd give to young writers his advice was simple.
Read everything. You learn a lot subconsciously. The more you read, the more you learn.
Write a lot. Garth is surprised by how many supposed writers he meets who don't actually want to write, but rather want to 'have written'.
Revise a lot. Garth said he didn't believe people who claimed to write perfect first drafts.
Submit. "It's perfectly all right if you want to write purely for yourself," he said, "but if you want to be published you must send your writing out." Do your research. Find out who publishes books like the one you have written then send it to them.
Repeat.
Then there was the advice he'd given earlier - "Finish things. You never know what might happen" - and I think this advice applies as much to life in general as it does to writing.
Find out more about Garth here.