Welcome to National Reading Month. Today is the birthday of Dr. Seuss (Theordor Geisel). Since so many children begin reading with Dr. Seuss, March has been designated National Reading Month in his honor. Nothing could be more deserving of a holiday than reading. In an era when active, visual displays and lifelike animation readily draw eyes away from books, it is more important than ever to think about what reading has done for us. As a society, no significant advancements were made beyond agriculture and shepherding until writing was developed. We needed a way to convey knowledge not only over distance, but also over time. To participate in writing is to taste immortality. To read is to communicate with those long gone or far distant. How trivial we've made it all seem. Writing was a truly remarkable achievement. The entire purpose of schooling was originally to teach our young to read and do math. So we should all celebrate National Reading Month and put down the devices for a while and curl up with a book.
Okay, well, reading on devices does count. Still, some of us can't help ourselves from acquiring books. I once visited a house of a friend's relative on a trip. It turned out that we would be spending the night. As I glanced around my new surroundings I noticed something odd. There were no books in the house. None. It felt so hollowing that I knew I could not long remain there. Every room of our apartment (except the bathroom) has books. I travel with books. Even if it's going to be a fairly brief car ride, I wonder what happens if I break down and don't have anything to read while awaiting rescue? On the bus everyday I have at least one book with me, and sometimes two or three. I'm lost without them. Libraries and book stores are my favorite places to be. Surrounded by words, comforted by communication.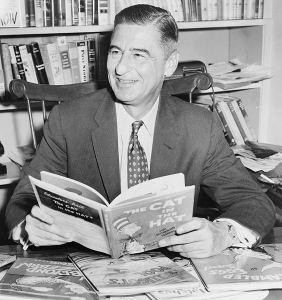 Dr. Seuss was part of my childhood reading, but not so much as Bible stories and Easy Readers. We didn't buy any Dr. Seuss, but I did check his books out from the library. When my daughter was born we corrected that misdemeanor. We purchased nearly every readily available book by Theodor Geisel, and this was in the days before Amazon. Some were difficult to locate, being in rural Wisconsin, but we persisted and instilled the love of reading into another generation. We have holidays to celebrate wars and victories in wars. Great deaths and momentous births. Love, fear, and the Irish. And yes, reading. The cracks in winter are beginning to show. Light is beginning, ever so slowly to increase. Why not celebrate the coming of the light with enlightenment for the mind? It's time to read a book.