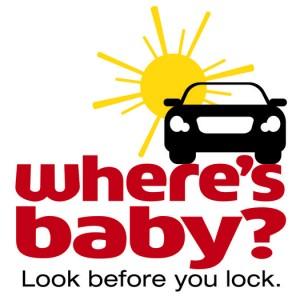 Please share information today via social media as today, July 31, 2014 is National Heat Stroke Prevention Day in the United States prompted by the National Highway Traffic Safety Administration. "Where's baby? Look before you lock" is a public education campaign to highlight dangers of vehicular-induced heatstroke. The NHTSA and KidsAndCars.org are asking everyone to share prevention information on this day in order to raise prevention awareness on social media such as Twitter #checkforbaby and #heatstrokekills.
Nineteenth Child Dies Due to Heatstroke
Tragically, the 19th child to die of heat stroke was a 3-year boy discovered Wednesday after dying inside a hot car outside of his home in Sylmar, California.  According to KidsAndCars.org press release, the entire family was napping when somehow the young boy got out of the home and entered the family vehicle.
While most parents think this could not happen to them or their family, children continue to lose their lives in hot cars. "Whether they are unknowingly left alone in a vehicle or show gain access on their own, parents and families across the country are forced to endure the worst tragedy imaginable, "said Janette Fennell, president and founder of KidsAndCars.org.  These tragedies are preventable—"Most parents try to take every precaution to childproof their homes, but unfortunately many parents do not realize the importance of childproofing their car", Fennell added.  "Vehicles should always be locked, even if they are in the garage or driveway. Also, parents should ensure that any inoperable vehicles that may be in their neighborhood are always locked so curious children cannot get inside."
These Tragedies Can Happen to ANY Family
KidsAndCars.org, the leading and only national organization solely dedicated to keeping children safe in and around motor vehicles, has noted an increase in the number of heat stroke deaths this year involving children who have entered unlocked vehicles on their own. For the past 20 years, approximately 39 percent of children die in hot cars when they get inside on their own. This year, seven of the 19, or 37 percent of children have died in these circumstances.
Forty-four children have died in 2013 because they were left unattended in a hot vehicle and 17 deaths have been reported thus far in 2014. A total of 19 children have died due to vehicular heatstroke this year. Since 1998, more half of the 606 deaths were chased by a child being forgotten in the car by a caregiver.
"The majority of these cases are accidental tragedies that can strike even the most conscientious and loving parents and caregivers, but they can be stopped," said U.S. Transportation Security Anthony Foxx. "Even one heatstroke death is one too many in a hot car is 100 percent avoidable"
Heatstroke can be caused by outside temperatures as low as the 60′s or 70 degrees Fahrenheit. When external temperatures are in the 60′s, the interior of the car can heat up above 110 degrees. A child will die of heatstroke once their body temp reaches 107 degrees, according to NHTSA.
A car can heat up by 20 degrees in just 10 minutes.
Parents and Caregivers
Parents and caregivers are the first line of defense against these needless tragedies, but everyone in the community has a role to play, " said NHTSA's Acting Administrator David Friedman. "Prevention means never leaving children unattended in a vehicle and always checking the backseat before walking away. If a child is in distress in a hot car, a bystander should call 911 immediately".
Bystanders & Community Members
Bystanders can call immediate service technicians such as Pop-a-Lock at 1-800-Pop-a-lock. The nearest responder will "leave all other priorities aside to arrive as soon as possible" to unlock the car. This program was launched in 1991, the free community service has saved over 350,000 children locked in caregivers' vehicles.
Bystanders are also encouraged to break a car window if the child is not responsive, and to remove the child as quickly as possible. NHTSA recommends cooling the child by spraying them with cool water, but not in an ice bath.
Automakers & Innovators
A 2012 study by NHTSA and the Children's Hospital of Philadelphia found that weight-measuring devices that connect to a child safety seat are unreliable. New products are coming to market. In 2013, TOMY International debuted a smart car seat that sends an alarm to a smartphone if the seat gets too hot. Other apps that connect to Bluetooth devices are hitting the market as well. Additionally, automakers and suppliers are being pushed to develop internal car sensors that can warn drivers of living beings, including pets, forgotten in cars.
Some Cheap and Easy Reminders
NHTSA and KidsAndCars.org have some easy reminders such as keeping a teddy bear or large stuffed animal in the car seat when it's empty. Then when you put the child in the car seat, move the teddy bear to the passenger seat. Resist the urge to let the child have the teddy bear.
A fifth grader, Andrew Pelham developed the EZ Baby Saver which is a neon strap that connects from the rear seat or child seat to the driver's door handle. The thinking is when you buckle baby in, drape the strap over your seat like a seat belt, then when you sit down and buckle in, you connect the strap to the door handle–it prevents you from getting out. This clever kid is offering free instructions and video tutorial on his website.
As well, please visit KidsAndCars.org for more helpful reminders to keep your children safe by clicking this link.
Help these find organizations spread the prevention news with everyone, so these needless tragedies can be reduced and stopped!
You may also be compelled to join KidsAndCars.org in signing a petition to authorize the Department of Transportation to prevent children from dying in hot vehicles by doing the follow:
provide funding for research and development of innovative technology,
identify, evaluate and test new technology to accelerate implementation of the most feasible and effective solutions;
require installation of technology in all vehicles and/or child seats to prevent children from being left alone in vehicles;  click here to find and sign the petition.
At The Cagle Law Firm, we support the efforts of KidsAndCars.org because they are working for the safety of all of our children. KidsAndCars.org is the only national organization working to raise awareness of prevention and actually works on legislative initiatives to improve child safety in and around vehicles.  Today, they have 92,291 signatures for the petition and only need 7,709–won't you be a part of supporting the cause of finding and funding technology to reduce child death and injury?  You never know…………it might save a child of yours or mine!
National Heat Stroke Prevention Day begins with mourning the loss of another child: California boy becomes 19th child vehicular heat stroke victim. KidsAndCars.org Press Release. 7/31/14
Duffar, R. W. Campaign launched to prevent heatstroke deaths from children left in cars. Chicago Tribune. 7/31/14