National Enquirer, the humble supermarket tabloid that has broken story after story (e.g., Democratic VP candidate John Edwards' adultery and 'love child'), claims Ted Cruz — whom Glenn Beck touts as the savior of the U.S. Constitution in what Mormons believe to be the end days — has had 5 mistresses.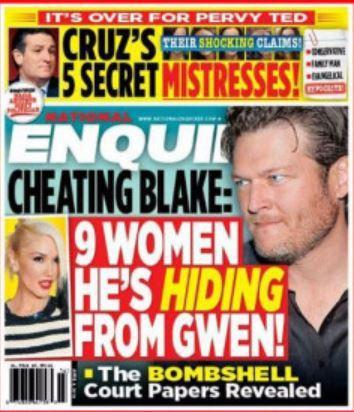 I saw the headline on Enquirer online yesterday, but sat on it. Now, the cover story, available on in the Enquirer's latest print edition, has now been picked up by the non-tabloid media like ZeroHedge and California Political Review, and has gone viral.
From New York magazine, March 25, 2016:
Donald Trump and Ted Cruz have been beefing back and forth about their wives this week, which makes for rather interesting timing for a salacious report in the National Enquirer. The new issue of the infamous tabloid out this week has the SHOCKING CLAIMS that "pervy" Ted Cruz has had at least five mistresses on the side. The tabloid prints five photos, each with a black bar across the eyes of the alleged Cruz lovers, a phrase that doesn't at all feel natural to write.

The juicy details aren't available online, but according to the catnip teasers the National Enquirer has posted, at least one of the women is a "foxy political consultant and a high-placed D.C. attorney." That should make you either more skeptical (usually these stories involve women who are marginal to the political process) or less skeptical (Alabama governor Robert Bentley, just this week, was revealed to have something going on with a top aide).

Today's Twitter parlor game: Try to guess the identities of all five.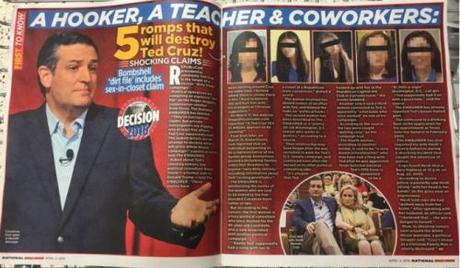 On Facebook, Ted Cruz vehemently denies the Enquirer's story: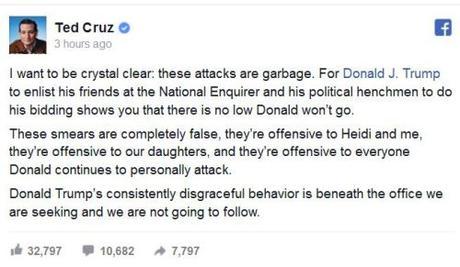 For his part, responding to Cruz's accusation, Trump vehemently denies he's the source of the Enquirer story:
"I have no idea whether or not the cover story about Ted Cruz in this week's issue of the National Enquirer is true or not, but I had absolutely nothing to do with it, did not know about it, and have not, as yet, read it. I have nothing to do with the National Enquirer and unlike Lyin' Ted Cruz I do not surround myself with political hacks and henchman and then pretend total innocence. Ted Cruz's problem with the National Enquirer is his and his alone, and while they were right about O. J. Simpson, John Edwards, and many others, I certainly hope they are not right about Lyin' Ted Cruz. I look forward to spending the week in Wisconsin, winning the Republican nomination and and ultimately the Presidency in order to Make America Great Again."
If the rumor is true, this ZeroHedge reader perfectly articulates my reaction:

UPDATE:
Conservative Outfitters quotes the Enquirer:
"Private detectives are digging into at least five affairs Ted Cruz supposedly had," claimed a Washington insider. "The leaked details are an attempt to destroy what's left of his White House campaign!" The ENQUIRER reports that Cruz's claimed mistresses include a foxy political consultant and a high-placed D.C. attorney!
The Enquirer did not name names and only printed pixelated photos, but Internet users on Twitter, Reddit and 4chan quickly went to work to determine the identity of all five women while using the hashtag #CruzSexScandal.
Three of the women are said to be Katrina Pierson (who previously had worked for Cruz and is now Trump's spokesperson!), Sarah Isgur Flores (who had worked as Carly Fiorina's deputy campaign manager), and Amanda Carpenter.
Recall that last July, for some strange reason a Ted Cruz super PAC gave $½ million to Carly Fiorina's campaign — money that Conservative Outfitters claims was "hush money". (See my post "Something stinks: Ted Cruz's Super PAC donated $½ million to Carly Fiorina's campaign".) Karl Denninger of Market Ticker says that "if that was 'hush money' it may well have been a criminal offense and the FEC is already looking into it….."
Drew Johnson of the Washington Times confirmed on Twitter Thursday night that two of Ted Cruz's mistresses named by the National Enquirer are accurate: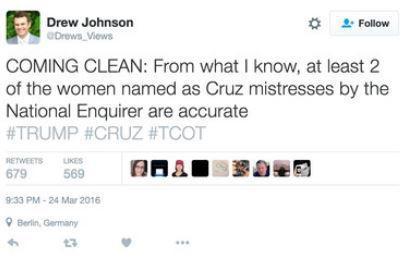 Breitbart had the story about Ted Cruz's affair back in February but did not publish.
~Eowyn