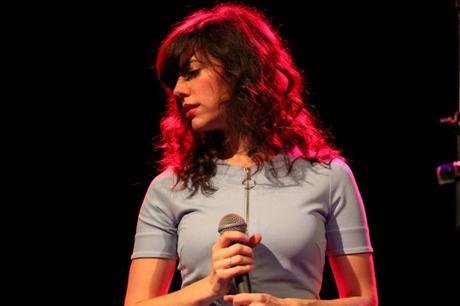 After having to cancel her originally scheduled date back in May, Nashville singer-songwriter Natalie Prass returned triumphantly to New York to play a sold-out show at Bowery Ballroom on Monday. Though she eschewed the hard-to-reproduce lush string and horn arrangements of her self-titled debut album for a more stripped-down guitar-based sound, Prass and her band managed to effortlessly capture the magical atmosphere that captivated so many critics upon the album's release and translate it perfectly to live performance.
Her set was a whimsical ride from start to finish, with album standout "Bird of Prey" shedding its delicate skin and becoming a bouncy jangle-pop anthem, and fairy-tale number "It Is You" featuring Prass ditching her guitar and instead fluttering freely around the stage as though casting a spell. She debuted a number of  brand new songs as well, including "Jass" and "The Last Time" — beautiful tracks sure to stun when they appear on her next release.
Prass, charismatic and unexpectedly hilarious, peppered the show with ad-libs and non-sequiturs in between tunes. "Guys, I'm on antibiotics," she confessed near the top of the show, perhaps explaining to some degree the impromptu sing-along of B-Rock & The Biz's "That's Just My Baby's Daddy" she conducted with the audience, or the bananas she threw into the crowd (yes, really) with a cheerful cry of "Who wants some 'nanners?!"
Towards the end of the night, the disco ball above the stage began to turn as Prass sung "Violently", transforming the Ballroom into the perfect prom for lovers of lilting melody and lovely lyrics. Prass's effervescent stage presence and undeniable talent lent themselves to a truly enchanted evening, one that is sure to stick with everyone who was lucky enough to be there.