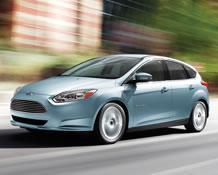 It's not often that we mention NASCAR. In fact, the term shows up twice, on back to back days three years ago. There's good reason. The amount of resources (tires, fuel, motor oil, asphalt, etc) consumed by the association (NASCAR stands for National Association of Stock Car Auto Racing) boggles the mind and does not represent sustainable consumption.
There is now a shred of good environmental news from the racing circuit. ESPN reports that the electric version of Ford's Focus will perform the pace car duties this weekend at the April 28th Sprint Cup race in Richmond, Virgina. In 2009, Toyota's Camry Hybrid became the first gasoline-electric hybrid to serve as a pace car for a race.
The ESPN story contradicts a story of theirs from 2009 that claimed the Camry was the first hybrid. According to the more recent article, "Ford also was the first to use a hybrid vehicle as pace car when the Fusion Hybrid led the field at Homestead in 2008." While the days of racing hybrids and electric cars on the "circuit" may never come, the ESPN story said Ford will use the Fusion for NASCAR competition in 2013.
[Image source]