NASA's Dawn spacecraft has managed to take a few close-up photos of the dwarf planet Ceres, while it's closing in to arrive on its orbit on March 5th, these photos shows some mysterious lights appearing on Ceres and all our scientists are still trying to figure out what it is.
The images were taken on February 19. Dawn spacecraft was only 29,000 miles (46,000 kilometers) away from Ceres when it snapped these photos. The bright spot on Ceres now appears to have a slightly dimmer companion.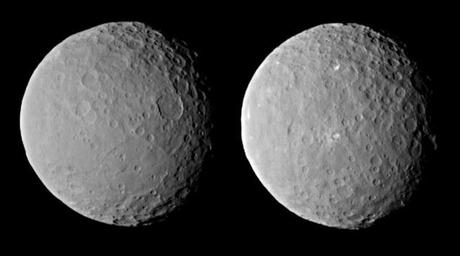 "Ceres' bright spot can now be seen to have a companion of lesser brightness, but apparently in the same basin. This may be pointing to a volcano-like origin of the spots, but we will have to wait for better resolution before we can make such geologic interpretations," said Chris Russell, principal investigator for the Dawn mission
Read Also: NASA Releases Stunning HD Image of "Pillars of Creation"
As he says, it could be something like a volcano erupting. Although, a dwarf planet is actually a planetary-mass object that is neither a planet nor a natural satellite. Which is why it's the perfect cover for the aliens to hide. Either way, we can find out what it really is when Dawn gets closer to Ceres in a few days.
[ Via: Space.com / NASA ]
(All images, trademarks shown on this post are the property of their respective owners)
Follow @nrjperera – Roshan Jerad Perera