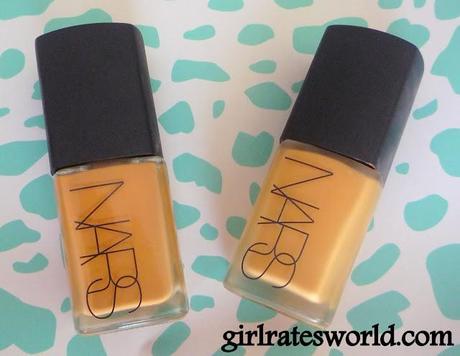 Girl Rates World spotlights lots of budget-friendly products and even dupes to many popular, pricier brands. So it's no surprise that I had been thinking of purchasing the oh-so-famous NARS sheer foundation for some time now. But I just couldn't justify the cost. It all boils down to I ♥ makeup and after hearing all the raves over and over again….I just had to give NARS' sheer foundation a go!
NARS' sheer foundation better have me looking like Halle Berry with a side of Beyonce and a dash of Kim Kardashian. That's what I said to myself after buying not 1…but both the NARS Sheer Glow and the NARS Sheer Matte foundations. I must say that so far it's defintely living up to the hype. I didn't magically become Halle, Beyonce or Kim…but the finish was absolutely gorgeous and fit for a celebrity.
I'm still not sure on which I prefer – the glow or the matte. I have oily skin and I've been able to wear both successfully. And you only need a teeny-bit. I really feel these bottles will last me a lifetime because I get so much coverage with so little. I have purchased the 
NARS Sheer Glow
 and the 
NARS Sheer Matte
 foundation in the same shade – Tahoe. Oddly, they are very different hues. The glow formula is a bit darker. Nonetheless, both formula/shade combinations were great matches for my skin tone. I've updated 
Perfect Shades of Me
 so be sure to check that out.
Nars Sheer Glow Foundation
Overall rating: 5
Reviewed by:
Girl Rates World