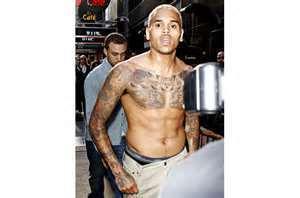 Chris Brown: Full of himself
Narcissism: a generalized personality trait characterized by egotism, vanity, conceit, or selfishness.
Chris Brown: I feel like Jesus Christ on the Cross after fight with Frank  Ocean over a parking lot space
NY Daily News: Chris Brown is feeling crucified. One day after the violent R&B star was accused of landing a punch in a  fight with rival singer Frank Ocean, Brown posted an Instagram photo of Jesus on the cross with the caption, "The way I feel today." "Focus on what matters!" he added.
Brown, 23, who remains under probation for beating up on-again, off-again  flame Rihanna in 2009, is under investigation for the fight over a parking space  at a recording studio in West Hollywood Sunday night, cops said.
Ocean, 25, spoke to cops after the melee and wants Brown prosecuted, said  Los Angeles County Sheriff's Department spokesman Steve Whitmore.
Some Brown supporters rushed to his defense. "People, please make sure you're perfect before you attempt to judge this  young man," Jamie Shay, a fan, wrote on the Instagram page.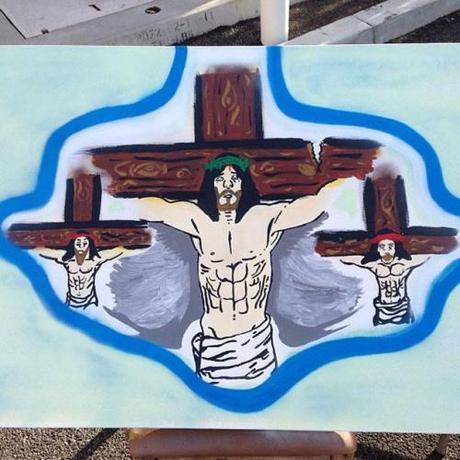 The way Chris brown feels…
But another follower, John-Michael Bond, was less sympathetic. "I remember all the times Jesus hit women and started fights over parking spaces. Truly a fitting comparison," he posted.
Brown was one of six men involved in the brawl at the Westlake Studio around  8 p.m., authorities said. According to the celebrity website TMZ, Brown became upset when Ocean  refused to shake his hand after the two verbally jousted over parking lot  protocol.
Ocean reportedly laughed at Brown's gesture, and Brown "coldcocked" Ocean to  start the all-out brawl, an eyewitness told TMZ. "Got jumped by chris and a couple guys. lol. I only wish everest was there,"  Ocean later wrote on Twitter, referring to his Bernese Mountain Dog. Brown had left by the time cops arrived, but is willing to speak with  investigators, a law enforcement source told The News.
The two singers have been virtually feuding on and off for years. The quarrel started in 2011 when Brown described Ocean as a successor to at  least one R&B singer-songwriter who wrote for him in the past: James  Fauntleroy II. "I f— with Frank Ocean! Reminds me of a young James Fauntleroy or Kevin  (Cossom)," Brown tweeted.
Ocean took offense and responded by saying Brown reminded him of a young Ike Turner, the singer famous for beating his wife, Tina Turner. "I just dont like underhanded comments. thats all im saying," tweeted Ocean,  a member of the alternative hip hop collective Odd Future. "F— odd future! Make sure y'all smalltime n—-s stick yo chess out when u  speak to me," Brown shot back.
This Chris Brown is so full of himself. How dare he compare himself Jesus. Brown makes me ill!
DCG