July 1, 2019 Leave a Comment
Nannari sharbat is the perfect drink for Indian summers! Made from the roots of the herb, Sarsaparilla, it cools the body, purifies the blood, aids digestion and is perfectly kid-safe.
Nannari sharbat is a refreshing drink and a wonderful summer coolant made from the roots of the herb, Sarsaparilla. Nannari is the Tamil name of Indian Sarsaparilla. It is known as ananthmool in Hindi and Naruneendi in Malayalam. The Nannari root has many health benefits like being a natural body coolant and blood purifier.
The root is used to make a Nannari syrup, also called 'sugandha syrup'. The best part is that it can be easily made at home with just 3 ingredients, and is perfectly kid-safe!
Nannari Sharbat for Kids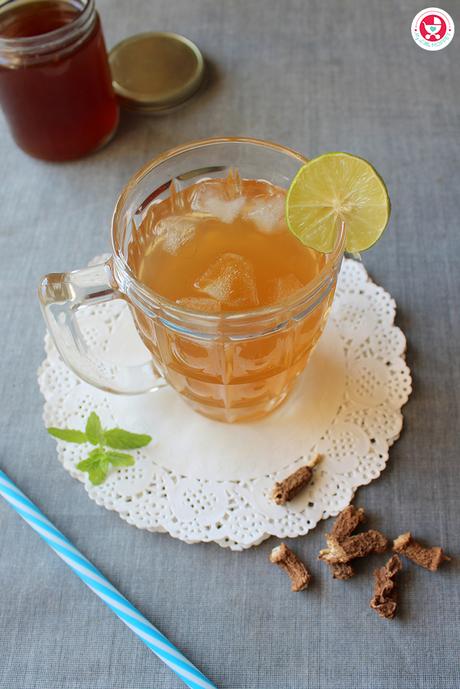 Ingredients for Nannari syrup:
50 grams Nannari Roots
200 grams Rock Sugar / Mishri
1 teaspoon lemon juice
3 cups water
Ingredients for Nannari Sharbat:
1 glass water
2-3 tablespoon nannari syrup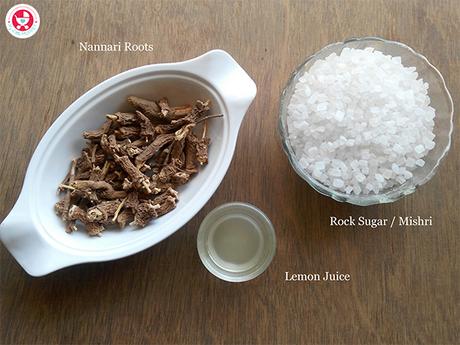 Method for preparing Nannari syrup:
1. Wash the nannari roots thoroughly in water until there is no dirt or clay and the water runs clear.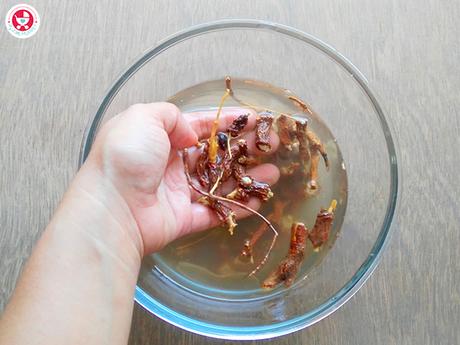 2. Dry the roots on a clean kitchen cloth for few minutes.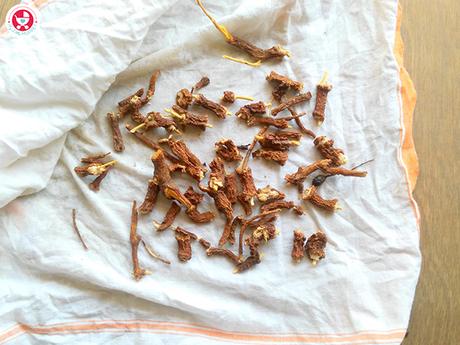 3. Now using a mortar and pestle break the roots into 2-3 parts so that they loosen and you can separate the inner white part from the rest brown part. Discard all the white part. We will use the brown part alone. If the pieces are big break them further using mortar and pestle or grind them in a grinder jar.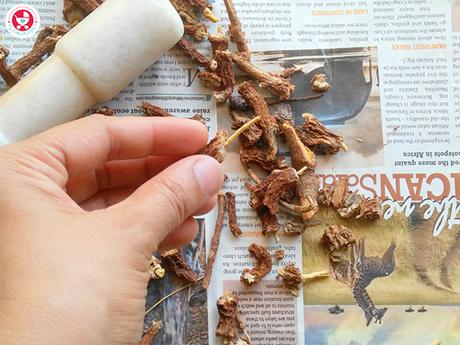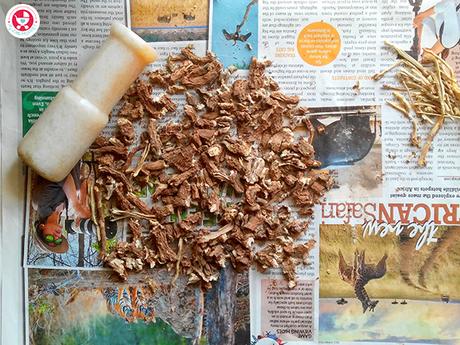 4. Now heat 3 cups water in a sauce pan. Once you see bubbles appearing in the water put off the flame. Add the ground brown part of nannari roots to it. Cover the sauce pan and keep undisturbed for 6 hours or overnight.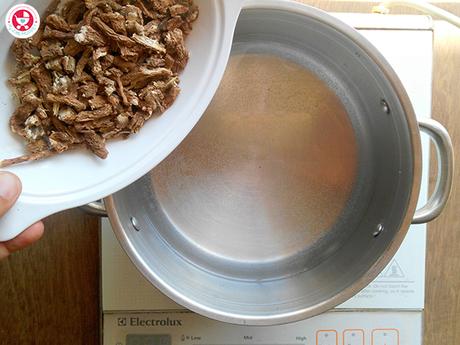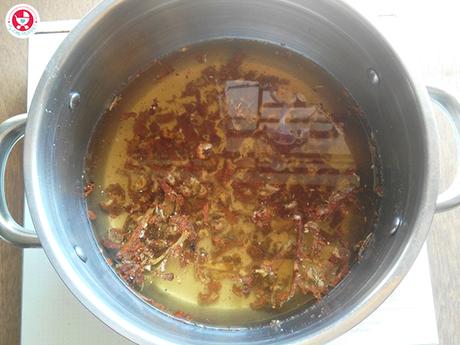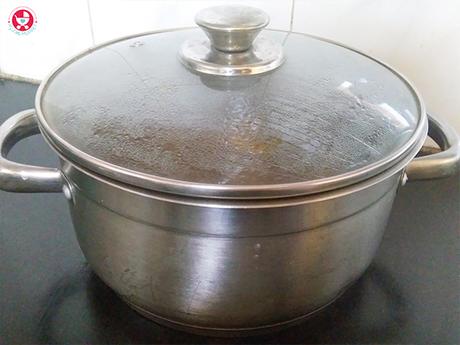 5. Next day allow this water with roots to boil for about 5 minutes.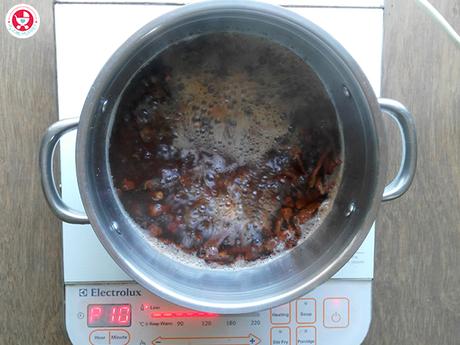 6. Now strain it using a clean kitchen towel. Collect the juice in a sauce pan.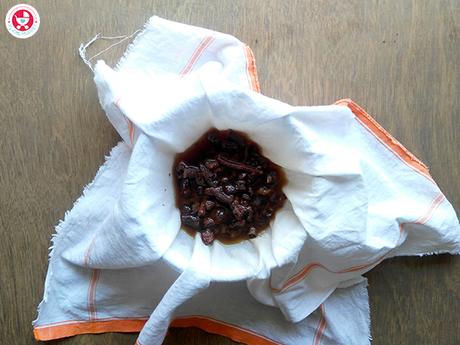 7. Add rock sugar to the root extract and heat the sauce pan on medium flame until all the sugar dissolves and the liquid attains a one string consistency. This will take around 20 minutes.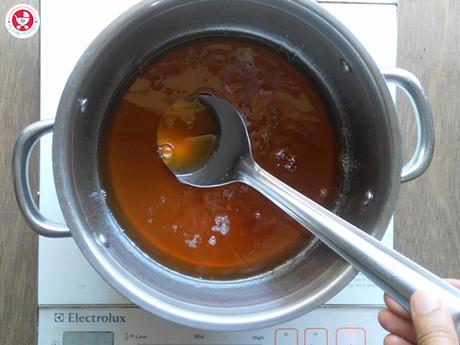 8. Put off the flame. Lastly add lemon juice and give a quick stir. Allow the nannari syrup to cool down completely before transferring it to an air tight, sterile dry glass container. The nannari sharbat thickens further on cooling and takes on the color and consistency of honey, so adjust the cooking time accordingly.
9. Strain the boiled nannari root extract to ensure there are no fibers in the syrup. Refrigerate the nannari syrup until use. Nannari syrup remains good for about a month on refrigeration in an airtight, clean and sterile glass jar.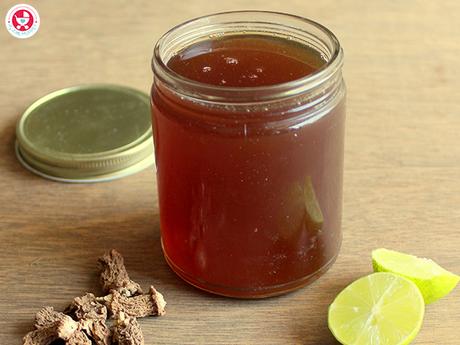 10. To make the nannari sharbat, dilute the homemade nannari syrup/ concentrate with drinking water. Add about 2-3 tablespoon of nannari syrup to 1 glass of cold drinking water. Give a good stir and serve. You may add 1 teaspoon of lemon juice if desired.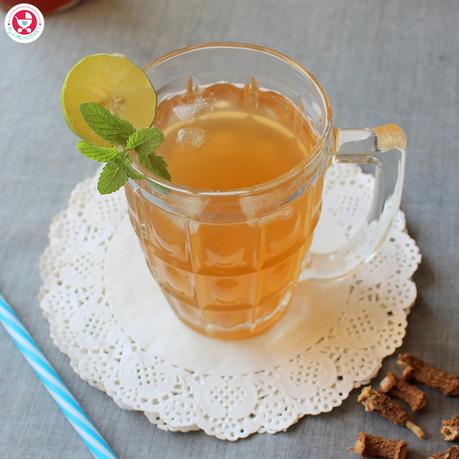 The method to make nannari syrup at home is a bit laborious and time consuming but believe me the end results are worth it. Homemade nannari syrup is far more healthy than the store bought ones. Free of refined sugar, artificial colors and preservatives, this is going to be your kids' next summer favorite!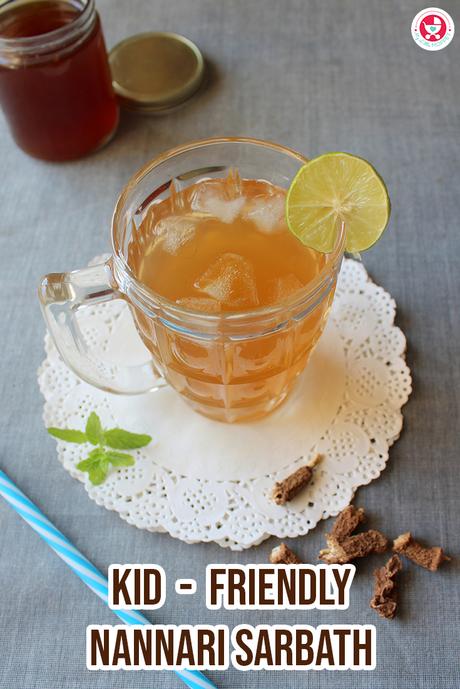 Buy Homemade Baby & Toddler Food from a Doctor Mom's Kitchen
Organic · FSSAI Certified · NABL Lab certified Buy Sprouted Sathumaavu Health Mix powder for Babies / Homemade Cerelac Dry Fruits Powder for Babies/Toddlers Pancake Mixes for Toddlers
Tweet
Pin
Share
WhatsApp
Email
Filed Under: Drinks, Toddler Food Recipes, Toddler Recipe Tagged With: home made summer drink, Homemade Sharbet, nannari drink, Nannari Sharbet for Kids, Nannari Sharbet recipe, Nannari Syrup recipe, refreashing drink, Sharbet recipe, summer drink