My loved cookie since childhood...Nankatai!!
I have fond memories attached to this cookie. Every year, during school holidays I used to stay at my aunts place in Panajim and she used to pamper me with all kind of goodies, fish varieties :)
She used to bring me this Nankatai from Cafe Central, which is a very famous bakery/shop located in heart of Panajim. Their products are to die for...its a must to try if you are in Panajim!!
So, if you visit Goa , do visit this awesome place and try their Patties,cookies,cakes and other stuff which is super good!!
I used to wonder how they make such wonderful cookies, super crunchy,flaky,crispy and melt in your mouth...always wanted to recreate that magic...and finally I did it!!!
Do try my version and enjoy!!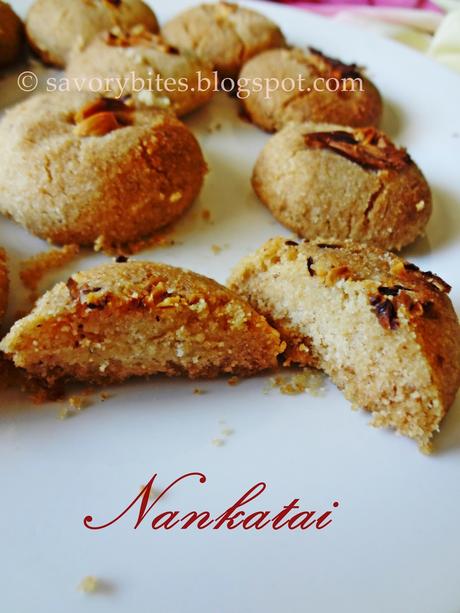 Ingredients:

1/2 Cup Maida
1/2 Cup Wheat Flour
1/4 Cup Semolina / Sooji / Rava
3/4 Cup Ghee / Clarified Butter
1/2 Tsp Cardamom Powder
1/2 Tsp Nutmeg Powder
3/4 Cup Sugar
1/8 Tsp Baking Soda (optional)
Pistachios/ Almonds for Garnish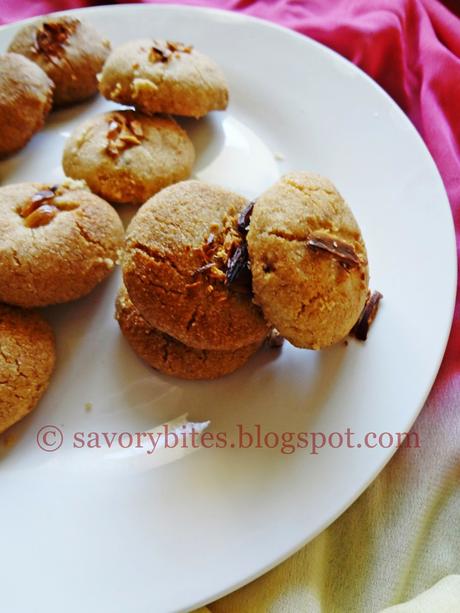 Method:

In a bowl, add maida, wheat flour,semolina,sugar,baking soda and sieve 2 times.
Now, add cardamom powder and nutmeg powder and add ghee little by little to make soft dough out of this.
Do not put pressure when making dough. Use soft touch to make this dough.
Cover the dough and keep it aside or refrigerate it for 15 mins.
Line the baking pan with parchment paper.
Make small flat pedas / balls out of this dough. Slightly flatten the ball with your palm.
Place all the balls on baking pan. Keep some space between each dough ball, this will give them space to rise.
Keep this aside for another 10 mins.
With your pinkie make a slight depression at the center of each of the balls and garnish the dough balls with almonds or pistachios.
Preheat the oven at 350 Degrees F for 10 mins.
Now, bake the dough balls for 20 to 25 mins or till the cookies are done.
Enjoy with a cup of hot tea!!!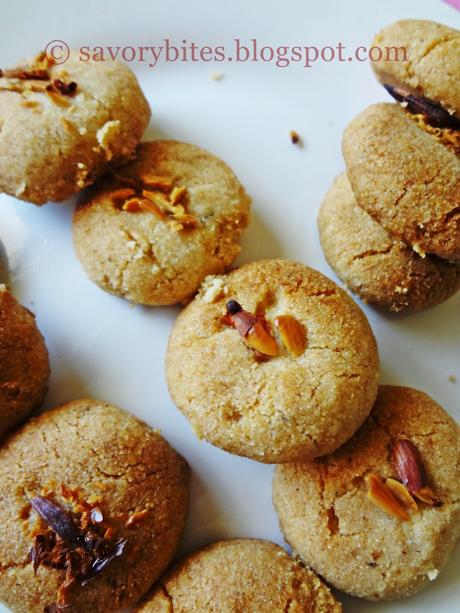 Tips:

Using wheat flour is optional. You can use entire maida or entire wheat flour.
Baking soda is optional too. You can skip that too.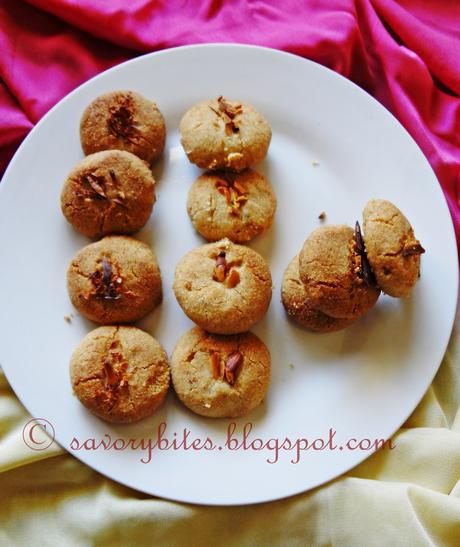 Enjoy Eating!!