Hey Eric & Sookie Lovers!
Jessica Tuck (who plays Nan on True Blood) says her character takes on an increasingly significant role in Season 4. She recently spilled some beans about her character during the upcoming season on True Blood!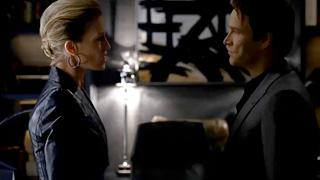 This is what she said…
"It would be foolish to think that her efforts were just about making humans and vamps one big happy family," Tuck tells True Blood's Nest of Nan's work to mainstream vampires. "There is an agenda behind her agenda but that is not for me to reveal right now. Stay tuned."

And while we see her ordering Bill around quite a bit, the actress says there's something more underneath their adversarial relationship.

"All I can say is that Nan and Bill have a history," she says. "Details of that history will be revealed in Season 4. If I say anything more than that, I'll get myself in trouble."

"Relationships between the characters get much more complicated and redefined," Tuck also says. "I love this season – I think there is a lot to sink your teeth into. You won't be disappointed."
Source: zap2it.com
What should we call them…Nill…Ban?

What do you think their history might be? Voice your thoughts below!