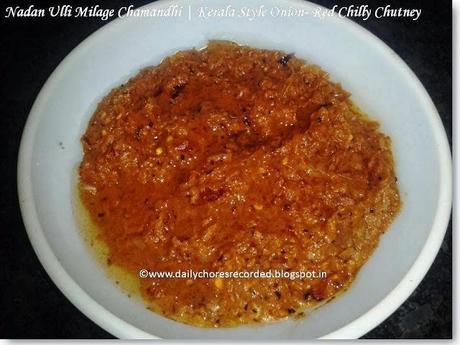 Nadan Ulli Milage Chamandhi | Kerala Style Onion Red Chilly Chutney
This Ulli Chamandhi is the best accompaniment for Rice Porridge, Tapioca Stir Fry, Dosa, Idly, Adai and for any tiffin items. Usually this is ground in the stone grinder (Traditional one). I have done the same in the mixer grinder. Its my all time favorite. This will stay good for a week when refrigerated and will not last more than hours of grinding because we will finish it off so soon :). The chutney is very hot and adding coconut oil adds a twist in the flavor.
For Dosa Recipes CLICK HERE, for idly recipes CLICK HERE  for more chutneys 
CLICK HERE.
Ingredients:
 (Serves 6)Onion-8Red Chilly- 24Water- 3 tbspSalt as per tasteCoconut Oil- 3 + 2 tbsp
Method: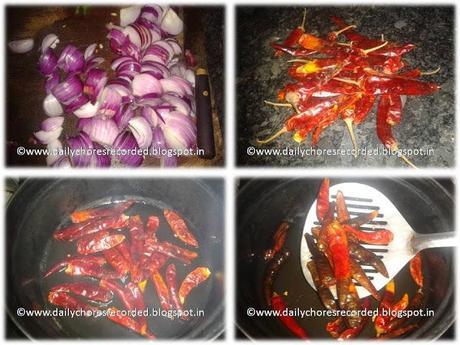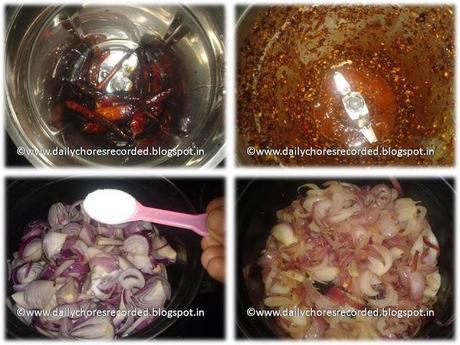 Chop onions after peeling and washing.Heat a wok with 2 tbsp of coconut oil.Add red chillies and fry till a nice roasted aroma arises. (Use low flame or you will end up burning the red chillies)Remove them and place them in a mixer grinder. Let the red chillies cool a bit.Add 3 tbsp of water and grind the red chillies well.Now in the same wok put the sliced onions and add salt.Fry well till onions turn translucent.Put off the flame and let the onions cool down too.Once onions are cooled add them to the ground red chilly in the mixer grinder and just inch 10 to 12 times.Do not make onions to fine paste, it should be little rough.Transfer to a bowl and add 3 tbsp coconut oil and mix.Serve hot with any dosa or idly.