What is the first thing that grabs your attention on a website?
Isn't the design and typography? I bet it is.
As long as your blog has a bad design, people keep bouncing away from it no matter how informative and useful your articles are.
Finding theme directories is not a tedious task as there are many of them. Then the question arises; from where can you download flawless WordPress themes for your blog?
I have an answer for the question. Read on further to find out details.

MyThemeShop Review
I am sure that you have heard this name at least once in the past. MyThemeShop is one of the most popular WP theme stores where you can download themes according to your requirements.
The astonishing fact about MyThemeShop is it is not one of the oldest in the business. Yet, the quality and captivating design of their themes brought them all the way up to the top.
Having said other WP theme marketplaces are available, we are going to find out the incredible features of MTS.
Features of MyThemeShop
Knowing the exclusivity of a product is pivotal before using the same. That's why I have included the significant and unique features of MyThemeShop here.
#1. Availability of Free Themes
Whoa! You can't find free themes on every WP theme shops. But MTS has got about fifteen of them to excite you.
If you are a blogger who can't invest on a premium design, downloading a free theme is nothing wrong. But I can't deny the clear edge of premium themes over freebies either.
You don't have to pay anything in order to register for MyThemeShop. Downloading any free theme is possible after a simple form filling. And, you can upgrade to a premium theme anytime you want.
NEVER think about a free theme if you can arrange a few bucks.
#2. Search Engine and Mobile Friendliness
We all know what type of traffic has the highest conversion rate, don't we?
Yeah, it's organic traffic. Comparing with direct, social and referral traffic, page views from search engines render the highest profit, be it from ads or affiliate.
A poorly coded theme can ruin all your on-page and off-page SEO efforts. And, that's why you should buy a premium theme from a reputed marketplace to ensure the legibility of the codes.
All themes of MTS are search engine friendly. Moreover, they are mobile optimized too.
As Google started taking mobile optimization as a ranking criterion, you can't deny the importance of it.
#3. Frequent Updates and Responsive Customer Support
WordPress guys are rolling out updates regularly. So chances are you will find some themes incompatible with the new update if they are old. But as a MyThemeShop customer, you don't have to worry about the updates at all. They keep on updating the themes regularly to inculcate new features and avoid incompatibility issues.
Do you face problems in customizing themes? Yeah, it can happen as a coding novice. In case any issue occurs, you can approach their customer support or community to solve the issue like a walk in the park.
#4. Built-in Theme Panel
A theme panel is the Swiss army knife for those who don't want to wreck their site by editing complicated code snippets. Sadly, some theme developers are not keen in adding such a useful feature with their theme. But not MyThemeShop.
Every MTS theme has come up with an inbuilt theme panel using which you can customize certain aspects of the theme including colour scheme, header, SEO options etc.
MTS developers also made your customization efforts hassle-free by instilling shortcodes and impressive widgets as well.
#5. Impeccable Design
All the themes are designed to capture the attention of audience. They coded every aspect, even the subtle elements of themes to make you a say wow.
The design is the exclusive medallion of your site. When someone thinks of your site, the design and header logo are the first two things that go through their minds. If you clone any other site's design, you will lose the exclusivity maybe the trust as well.
But you can be original using an MTS theme with your own personalization using the easy-to-use theme panel.
#6. Low and Sensible Pricing
MyThemeShop has two pricing packages; both of them vary in features.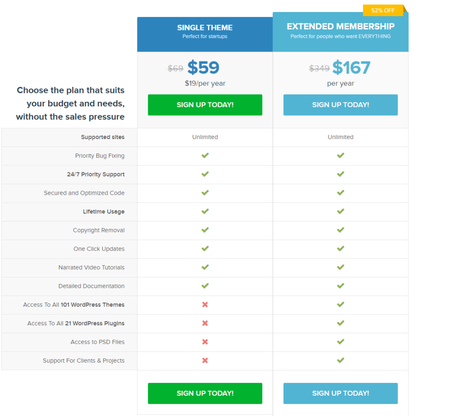 The first one allows you to have only one theme at a price of $59. But the extended membership gives the access to all 101 themes and 21 useful plugins (yeah, plugins!).
Both the membership packages provide you with the lifetime access with bug fixing and 24/7 customer support.
Two Favorite Themes from MTS
Here, you will find out two most popular MyThemeShop themes.
#1. Socially Viral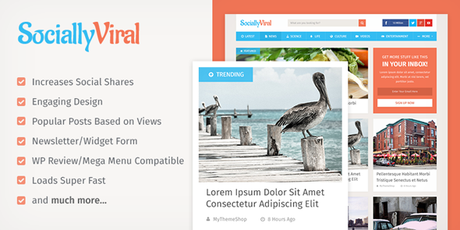 Socially Viral is comparatively new in the MTS theme section. Barring the newbie label, it has gone on to become one of the popular themes of all times.
You will get two different homepage layouts with this theme. And, it is designed to skyrocket your social shares and subscribers. Inbuilt sidebar subscription forms along with social share buttons beside the header are the highlights of this theme.
#2. Schema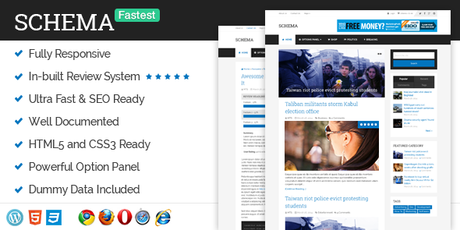 Schema is yet another ultra-fast, responsive theme from MTS that set the blogging world on fire. Along with all the general MyThemeShop features, the default review system is what made Schema popular. You won't need any third-party plugin to display the review stars.
Dummy data is included to check the efficient functioning of the theme specs to check the value for money.
Moreover, the theme is optimized for the maximum ad earnings.
Wrapping Up
First impression is the best impression. If your site's design is unable to convince the visitors' eyes, your online existence will be at stake.
Now you have got an amazing marketplace to download themes from. So, what are you waiting for??
Just visit MyThemeShop, browse through the themes and choose the perfect one for you. Consider subscribing to the extended plan if you can.
Did you like this article?
1. Please share it with your network, we'd really appreciate it!
2. Would you like to write for Computer Geek Blog?
3. Keep subscribe us and follow us on Facebook and twitter for more tips & ideas about new technology.

Savita Singh is the author of computergeekblog, She has a superlative knowledge of Graphic and Web designing. She is a part time and award winning tech blogger who loves to write about latest technology, social media and web design. Her blog focuses on creative things of designing and tech, providing professional opinions on designing products, performances and a variety of business.