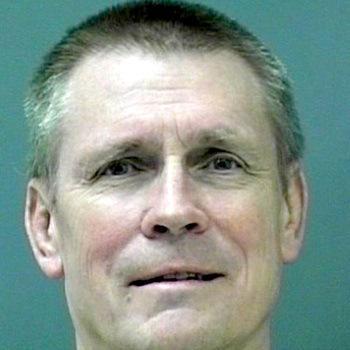 Dr. Kent Hovind
[courtesy Google Images]
Bible
I interviewed Dr. Hovind on radio last January and February and also published two articles concerning his trials and tribulations at Kent Hovind's Spiritual War, and Welcome to the Best Legal System in the World.
Dr. Hovind should've already been released, but the government kept him in prison in anticipation of another trial that should've happened today.  Today's trial threatened to cause Dr. Hovind to be sentenced to another 20 years–which would probably have been a death sentence.  Again, I have little doubt that a fundamental reason for trying to keep Kent in prison for another 20 years is found in his advocacy of Creationism.  To great extent, Dr. Hovind has been and remains a "political prisoner" in a spiritual war.
However, yesterday, I heard that three of the remaining four charges against Dr. Hovind had been dismissed and so he only faces criminal contempt of court.  Today's trial has been canceled.
Dr. Hovind is still in prison, but he's a lot closer to freedom than he was just a few days ago.  His approaching victory is due to the Good LORD but also to the persistent and even exhausting efforts of scores of people who supported Dr. Hovind.
Among those supporters are Rudy and Erin Davis–whose tireless efforts were nearly astonishing–and others like Julie Borik who sent me the following email today:
Hello Al,
Maybe you heard…
https://www.youtube.com/watch?v=lmOqccjO7MU
But the big news is world-unrenowned pianist, Julie Borik, accompanied by the Holy Spirit, performed a celebratory introduction to the historic news delivered to world-renowned creation evangelist as he heard the news that his case was dismissed.
Never won the Van Cliburn, never entered the Tchaikovsky Competition, but I got to serenade an angel.
Just had to share.
Julie
Her email helped me see something I hadn't previously recognized:  The people who helped Kent Hovind may have been more greatly blessed by their struggle than even Kent will be, when he's finally freed.
Here's my reply to Julie:
Hi Julie,
I heard yesterday.  I'm not yet sure that I've heard exactly what's happened, but it appears that, thanks to the Good LORD–and thanks to people like yourself, Rudy & Erin–Kent Hovind's "trials and tribulations" may be nearing an end.  You've all helped to accomplish a victory in spiritual warfare that might be deemed "miraculous".
You folks have engaged in spiritual warfare–which is certainly intimidating–and  won.  That's not just a (near) victory for Kent Hovind.  That's a huge victory for the people who worked hard to support and free Kent Hovind. You've all learned that you can engage in spiritual warfare, you can face off against the forces of evil–and win.  That's a powerful and unforgettable lesson that will help carry all of you through much of the rest of your lives.
Your faith should be hugely enhanced and empowered by the lessons you're seeing in your own lives.  Think of how much that you and others who supported Kent have gained.  You now know that victory is possible.  You know that resistance is not "futile".  Through your efforts to support Kent, you've been blessed with that knowledge.
In some regards, those who supported Kent Hovind may have gained even more from this struggle than Dr. Hovind will gain when he's finally set free.
"Mysterious ways," hmm?
Blessing on y'all.
Al
PS  Nice piano.  I'm impressed.