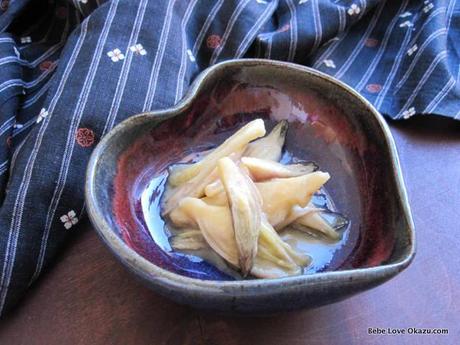 One of the benefits of visiting my parents on a weekly basis is that my Mom is sure to feed us something new and interesting. My Mom's latest side dish, and a new favorite of mine is myoga no misozuke.
Myoga, also known as myoga ginger, is native to Japan and Southern parts of Korea and is an edible flower bulb which grows similar to a root beneath the dirt. When I was younger I always wondered what this strange vegetable-root-like-flower-bud-looking food was. Yet, despite the way it looked, I still ate it, and have always liked the way it tasted.
I've mentioned myoga previously in my post regarding cold tofu or hiyayakko. Thinly sliced myoga is refreshing when served as a garnish atop cold tofu. My Mom often adds sliced myoga to sunomono (follow link for recipe) and it imparts a refreshing yet mild ginger-like flavor to the sunomono salad. She also adds sliced myoga to miso shiru or miso soup (follow link for recipe).
Myoga no misozuke is something my Mom recently learned from an elderly friend of hers who had invited her over for lunch. I often wish that I too was invited to these lunches. :) The misozuke, or miso marinade, is savory and tart with a hint of sweetness. To me, the misozuke perfectly complements the gingery flavor of the myoga.
The other week when I visited my parents my Mom's friend had given her a small handful of myoga from her garden. As always, my Mom never sends me home empty-handed and I happily left with a small bag filled with a few fresh myoga. I asked my Mom for her misozuke recipe, but as is the pattern with her, she quickly rambled off a list of ingredients but without any guidance as far as the measurements. I have to give myself a little pat on the back because I think I managed to recreate the flavor of my Mom's misozuke fairly well (recipe below).
Although my week started off a bit rocky as I was fighting a cold and Bebe E was still recovering from hers, I got a nice little pick-me-up when I received an email from my sister-in-law's parents. I had no idea that they grew myoga in their backyard, but apparently their crop of myoga is in full swing and growing abundantly. They asked if I would like some, and of course I said, "YES!" Hurray!
I am now the very happy recipient of organically grown myoga. If you've ever seen myoga at your local Mitsuwa or Nijiya Japanese supermarket, you'll find that they are very expensive, somewhere in the range of four (4) myoga flower bulbs for about $6.00. It's not something that I purchase at my local Mitsuwa, and I usually rely on the generosity of my Mom and her friends. I'm so very grateful to be the happy recipient of fresh myoga from my sister-in-law's family! They are so sweet.
When Bebe E and I went over to pick-up the myoga after nursery school, Bachan-U and Jiichan-U (my sister-in-law's parents) asked us to join them for lunch so we happily did so. Thank you for the fresh myoga, warm cookies (yes we got fresh baked cookies that Bachan-U baked too), and a wonderful lunch with nice conversation. You're both so sweet and we're lucky to have such great family!
At home, I'm the only one that eats myoga so I'm looking forward to making more myoga no misozuke and enjoying it  in other dishes as well!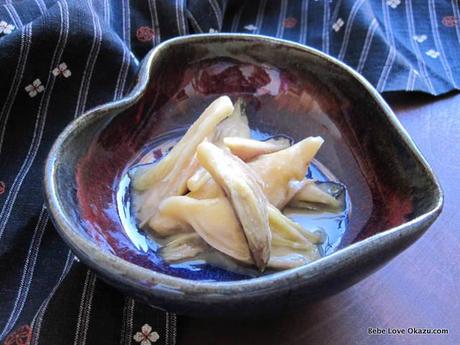 Print
Myoga no Misozuke Author: 
Judy | Bebe Love Okazu
Recipe type: 
Appetizer
Cuisine: 
Japanese
  Ingredients
1 cup shiro miso (white miso)
½ cup sugar
¼ cup rice vinegar (add 1 – 2 additional tablespoons to taste)
3 tablespoons water
Instructions
Combine ingredients and cook on medium heat until sugar dissolves, about 10 minutes, and mixture is incorporated.
Remove from heat and allow to cool to room temperature. Store in airtight plastic container.
Slice myoga lengthwise. In a small plastic container add ½ cup miso mixture and sliced myoga. Place in refrigerator for 2 days.
Remove myoga from misozuke (miso marinade) and serve. Keeps in the fridge for over a week.
3.1.02