Have you signed up for my weekly newsletter?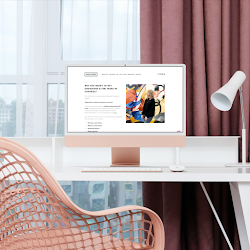 You can subscribe at www.sarahstewart.co.uk
For those that are long time followers, you will recall that I started my online presence with this very blog, Glasgow Mummy, that I began on the 16th June 2011. Gosh - that seems like a lifetime ago now. To the outside world, I was happily married with two young children, living in our beautiful home in Glasgow (hence the blog name!). However, on the inside, I was struggling. The blog became my therapy and I (over) shared my life for a number of years. I separated from my husband that same year, on the 29th December 2011. The divorce was difficult, and prolonged; and I think on some levels I'm still recovering from this. 
I moved from Glasgow Mummy to Ethel Explores... this was in response to my ex-husband who felt that my son would be bullied for being a 'mummy's boy' if I continued with my original branding. However, it was hard to establish myself under this new name (I gave it a couple of years!), and a lot of my followers didn't make that transition with me. Eventually I reverted back, although the blog faded with time. I felt that I wasn't being authentic and sharing my true self. In the back of my mind, I was always worried about what my ex would think, say or do. I was missing the creativity of having a blog; my own space to share and store memories.  
Fast forward a few years and I threw myself into a new creative outlet... painting. Following (another) break-up, this time with my boyfriend of 2 years (Rick), I joined a local acrylic painting night class. Every Tuesday night, the 2 hours flew in as I immersed myself in color mixing and putting brush to canvas. I loved it. 
The children have now grown into my soon-to-be 13 year old son, and my 11 year old daughter. I am so proud of them, and despite everything we've been through they are (mostly) a delight to be around. (They have their moments, like any kids!)
Before Covid-19, I was very occupied with work (by day I work in the pharmaceutical industry in program management) and the children... rushing from the office to the school to their extra-curricular classes. I was always on the go, and painting took a back seat. I didn't prioritise myself as a person; I was 'just' a mom.
The pandemic has been a wake-up call. I am truly devastated for the loss of life, and the suffering that it has caused. However, for me, I've seen some positives. I was in the shielding category, as I take immunosuppressants for Crohn's Disease, and so I was forced to stay at home for a number of months. I got my paintbrushes back out, and set up a make-shift studio at my dining table. I've been revelling in the slower pace. I have been doing lots of inner work, and have taken time out for myself. I'm in a place now where I feel confident to share my work, and have been selling it too.
If you'd like to have a look at my artwork, you'll find it on my website here. I love sharing my story through this medium.
I just checked the dates, and it was two years ago (the time has flown in!!) I started writing email newsletters for my subscribers list. I feel more comfortable sharing more personally via email now than I do on these pages... so my weekly newsletter is definitely the place to be! 
I'm also continuing to write on both my blogs; here on Glasgow Mummy and also on my personal website Sarah Stewart where I blog about time management, productivity, home organisation and small business know-how.
Let me know in the comments if there's anything in particular you'd like me to write about.
Sarah x