It has been a fairly quiet week and I did try to get some more photos for this post after last week's fail of an update. This week has consisted of numerous last minute shopping trips with my Mum as her and my Dad left for Turkey yesterday, leaving me to keep an eye on the house and my 18 year old bother (oh dear). I recently started using the X.Fit machine at a local tanning salon which is basically a vibrating place intended to give you an hour's worth of exercise at the gym in a 10 minute wobbling session and I can definitely see a change so far which is fab. Another 20 odd sessions and I should be all set for our holiday at the end of July.  I'm typing this as I start yet another One Tree Hill marathon so that will probably be the majority next week's update, just a heads up!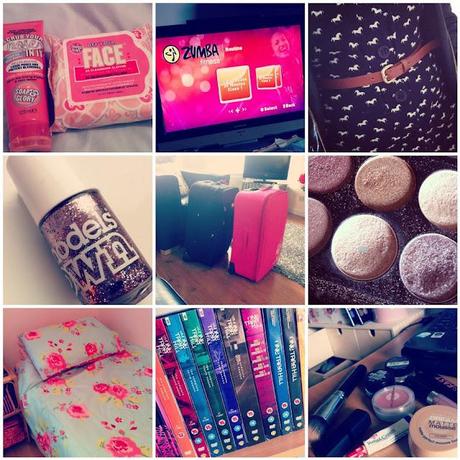 Giving my skin some much needed TLC with the help of Soap & Glory · 

Plenty of dancing and jumping around with Zumba on the Wii 

· 

Whipping out my horse print playsuit again 

· 

My new favorite nail polish, Models Own Pink Fizz 

· 

Mum and Dad all packed and ready to go on holiday 

· 

Hitting pan on my MUA Heaven & Earth palette 

· 

Nothing beats freshly changed covers, especially when they are my favorite floral ones 

· 

Planning to make a start on yet another OTH marathon since my collection is now complete 

· 

..and a busy desk when blogging is involved.